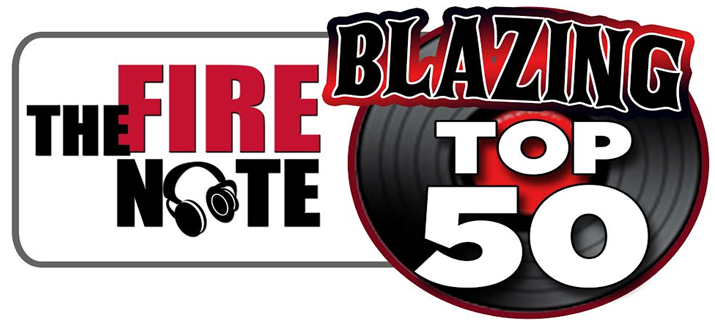 #50
M Ross Perkins


M Ross Perkins
SofaBurn Records [2016]
It was a good year for Dayton, Ohio native M. Ross Perkins. He had a track premiered by the High Times website, an album feature/stream on AllMusic, and recorded both his own solo album and a record with fellow Daytonians Me Time. His self-titled record pulls from a well of influences that include the obvious (The Beatles, CSNY, The Beach Boys) and not-so-obvious (Harry Nilsson, Todd Rundgren, "Lola"-era Kinks). M. Ross Perkins' debut LP shows that sometimes all you need to make a great record is yourself.
M Ross Perkins: M Ross Perkins [Fire Note Review 11/21/16]
#49
Cymbals Eat Guitars


Pretty Years
Sinderlyn [2016]
It would have been easy to write off Cymbals Eat Guitars with the rotating band members but Pretty Years has the main drive of original member singer D'Agostino which is still full of fresh steps. With more synthesizers roaming in the background the band's foundation of guitars, drums and bass are still well intact. Cymbals Eat Guitars separates themselves from the so-called dying indie genre and reinvented their music for 2016. Pretty Years was another solid album in their catalog.
Cymbals Eat Guitars: Pretty Years [Fire Note Review 11/17/16]
#48
Alejandro Escovedo


Burn Something Beautiful
Fantasy [2016]
Supported by Decemberist drummer John Moen, guitarist Kurt Bloch (The Fastbacks), Los Lobos' Steve Berlin on baritone sax and strong vocal performances by Corin Tucker (Sleater-Kinney) and Kelly Hogan (Neko Case and Minus 5), Escovedo's long fascination with Mott the Hoople style glam rock shines through crunchy rock tracks on his 12th overall album and first in four years. This no holds bar fire keeps Burn Something Beautiful moving as Escovedo celebrates the noisy possibilities of our existential crisis.
Alejandro Escovedo: Burn Something Beautiful [Fire Note Review 11/7/16]
#47
Martha


Blisters In The Pit On My Heart
Dirtnap Records [2016]
Martha is the first UK band that Dirtnap Records has worked with and you can hear how their sophomore record fits in the with the label's pop punk vibe. The band has a nice balance of pop and punk as their songs can rip and bounce at the same moment. Martha is an English band with a political agenda which gives them substance and drive. Once you wrap it up in songs you can sing along with really loud it completely worked and is volume knob heaven.
Martha: Blisters In The Pit On My Heart [Fire Note Review 11/30/16]
#46
Steve Gunn


Eyes On The Lines
Matador Records [2016]
Gunn's Matador debut is full of masterful psychedelic guitar groovers. Eyes On The Lines feels like summer, it feels like hanging out with your friends and having your favorite album on while you're drinking some beers. It has a comfortable, confident vibe, and then suddenly you realize that it's been twenty minutes and you haven't said a word to anybody because you got lost in the guitar grooves that Steve Gunn has been laying down. That is what landed this record in the Top 50.
Steve Gunn: Eyes On The Lines [Fire Note Review 6/22/16]
#45
Charles Bradley


Changes
Dunham/Daptone Records [2016]
They don't call Charles Bradley the screaming eagle of soul with a heart of gold for nothing. Changes housed some of his truest confessions of love and soul this year. Bradley's delivery is heartfelt, consistent and a straight shot that plays to his honest strengths. If you are looking for just a complete honest performance, Bradley is your man because he has nothing to hide and lays all of his card on the table.
Charles Bradley: Changes [Fire Note Review 5/3/16]
#44
OMNI


Deluxe
Trouble In Mind Records [2016]
Atlanta's OMNI plays a low-fi indie rock that has the similar post-punk vein of Parquet Courts but with a bit more laid back mood like Spoon. OMNI keep a consistent vocal, guitar, drum and bass but shake it up with an undertone of hooks and running riffs. There is no fire here, there is no last breath, and there are no exploding moments but OMNI make up for it with little treasures that sneak up on you again and again. Deluxe was a true indie sleeper.
OMNI: Deluxe [Fire Note Review 8/11/16]
#43
The Julie Ruin


Hit Reset
Hardly Art Records [2016]
Kathleen Hanna is all you need to say here as her resume includes Bikini Kill and Le Tigre. The Julie Ruin's new album, Hit Reset, was smart, snappy and sassy. It is full of tight songs that let Hanna just run wild and also allows her to state her world views, teach younger artists a lesson and it highlighted how well written punk songs can go a long way!
Julie Ruin: Hit Reset [Fire Note Review 7/21/16]
#42
Tim Easton


American Fork
Last Chance Records [2016]
Tim Easton is the singer/songwriter that you just can't stop from delivering a pure heartfelt record. His eleventh, yes eleventh, record American Fork feels and sounds like an artist at the top of his game which has no care in the world except providing the absolute best sonic effort for your ears. Tim Easton is one of the best under the radar songwriters out there and American Fork once again backs it up with quality writing, singing and production. When you add drummer Jon Radford (Justin Townes Earle, Steelism), bassist Michael Rinne (Rodney Crowell), the pedal steel playing of Russ Pahl (Ray Lamontagne, John Hiatt), and multi-instrumentalist Robbie Crowell (Deertick, Turbo Fruits) to the equation, American Fork absolutely could not fail.
Tim Easton: American Fork [Fire Note Review 9/9/16]
#41
Weezer


Weezer (White Album)
Crush/Atlantic Records [2016]
On this tenth studio album (and the fourth with eponymous title), Weezer returned to it's LA/Southern California roots with a host of songs that played around in territory covered by the Beach Boys. Guess what? It was catchy good! Cuomo & Co. are not just having fun with the music (although clearly they are), lyrically they turned the Beach Boy summer fantasy clichés on their ears, and make obscure references to Darwin's trip to the Galapagos islands on the ship. It was a summer sing along record that still holds some of that classic Weezer magic today.
Weezer: Weezer (White Album) [Fire Note Review 4/25/16]
#40
Guided By Voices


Please Be Honest
Guided By Voices Inc. [2016]
Guided by Voices returned as a one-man band this go around as Robert Pollard was responsible for playing every instrument. Please Be Honest is a little rough around the edges and is one of those records that takes a few listens to fully appreciate: its hooks aren't as immediately apparent, and its melodies aren't as instantly catchy. But, Please Be Honest contains the sprawling "My Zodiac Companion," which featured one of Pollard's most effortless melodies in recent memory, so even though this was not the most consistent GBV effort, it did capture that indefinable GBV spirit. That spirit is why it is still Top 50 material.
Guided By Voices: Please Be Honest [Fire Note Review 4/26/16]
#39
Votaries


Psychometry
Wharf Cat Records [2016]
There is a good chance this record would be higher up on the list if we heard it earlier in the year. Votaries is Jackson Scott's new project, which has now released their first LP, Psychometry, and it is a rather stunning collection of psychedelic drone-rock. Psychometry exceeded expectations with its blend of My Bloody Valentine drone, slithering vocals and psychedelic flourishes that will remind you of artists like Wand and Mac DeMarco. This is truly a grower of an album but once you get bit by the Votaries bug – it is really hard to turn down or turn away!
Votaries: Psychometry [Fire Note Review 11/29/16]
#38
Nada Surf


You Know Who You Are
Barsuk Records [2016]
Nada Surf returned with their first batch of new tunes since 2012 as You Know Who You Are was the group's eighth LP and marked its first as an official quartet with the addition of the super talented guitarist Doug Gillard (Guided By Voices, Death of Samantha, Cobra Verde). Sometimes it takes time to absorb an album and our intial score on this record was a bit too harsh. With more time and perspective, the album's bursting moments sound bigger, its angular driving sections are more intense and it really does represent the Nada Surf formula that is hard to replicate. Nada Surf haven't changed much over the last four years and You Know Who You Are is not only ultra-catchy but just kept getting better and better everytime we put it on.
Nada Surf: You Know Who You Are [Fire Note Review 3/8/16]
#37
White Lung


Paradise
Domino Records [2016]
White Lung have to be one of the more under the radar great female fronted rock bands currently on the scene today. Deep Fantasy (2014) was great and with Paradise they showed that it was no fluke. White Lung is full of piss and vinegar with a touch of melody and memborable hooks. The result was a 29-minute record that blows you away with frontwoman Mish Barber-Way's commanding vocals and a tight guitar-drum-bass combo roll that never allows breaks. It is harder and harder to find this sound as Paradise is full of essential rock elements. This record is full speed and made cranking up the volume a given!
White Lung: Paradise [Fire Note Review 5/24/16]
#36
Kyle Craft


Dolls Of Highland
Sub Pop Records [2016]
The debut from singer/songwriter Kyle Craft will be one of the more interesting and entertaining records you will hear this year. I really thought Craft would break out more but that was not Dolls Of Highland's fault. His floating tenor and talented musicianship is uniquely addicting with great storytelling, a 70's folk/glam sound and surprising song shifts. Kyle Craft is a new artist that is completely worth the hype and Dolls of Highland is a record that deserves your ear! Be on the watch because you probably have not heard the last of him.
Kyle Craft: Dolls Of Highland [Fire Note Review 5/5/16]
#35
Sleepies


Natural Selection
Mirror Universe Tapes [2016]
Wake up people! Sleepies third album needs your attention. This band has a knack for crafting quirky, off-kilter and unpredictable rock. Just when you think you know where a song is going, these guys pull the rug out from underneath you and hit you with something unexpected. Natural Selection finds Sleepies evolving their sound into a hybrid of power-pop-punk mash-up with occasional flourishes of psych-rock. They have a nervous edge to them that has bits of Pixies, Parquet Courts, and McLusky which is just one more reason the Sleepies ended up in the Top 50.
Sleepies: Natural Selection [Fire Note Review 9/7/16]
#34
Fascinating


Dice Game
Quality Time Records [2016]
Fascinating is a trio out of Cleveland, Ohio that is one of many projects from Quality Time Records' Ricky Hamilton. Fascinating comes at you 100mph with their lower fi post punk that sounds like you are in the best sounding basement in the world. This debut has it all with a raw laid back delivery, roughed up edges and strategically gives a crap when it creates its own little sing along moments with choruses that stick. Dice Game is a 21-minute blast that earned its way onto the list as Fascinating is the real rock n roll deal!
Fascinating: Dice Game [Fire Note Review 10/25/16]
#33
Danny & The Darleans


Bug Out
In The Red Records [2016]
Danny (Dan Kroha) was a founding member of the legendary Gories so their second LP, Bug Out, seemed like a must to check out. The best thing about the record is that Kroha returns to his garage rock Detroit roots and plays from the hip with hard hitting Rn'B style jams. Bug Out's raw and un-filtered sound is exactly what you want from this record and Danny & The Darleans deliver. Bug Out was one of the best garage rock albums you could pick up this year!
Danny & The Darleans: Bug Out [Fire Note Review 12/7/16]
#32
Wilco


Schmilco
ANTI-/dBpm Records [2016]
The quick return of Wilco was a surprising addtion to the music releases last year. After the louder Star Wars, it was no surprise that Schmilco took a more stripped down approach this time out. In fact, Schmilco would have made a great second record in the set. It was easier to forget about this one because of its style but repeated listenings revealed that this music is not as simple as it first sounds. It took longer to get into Schmilco but still offered all of the Wilco rewards in the end.
Wilco: Schmilco [Fire Note Review 9/6/16]
#31
TUNS


TUNS
Royal Mountain Records [2016]
TUNS was Canadian power pop heaven. The band consists of Sloan's Chris Murphy, The Inbreds' Mike O'Neil, and Super Friendz's Matt Murphy. All 90's veterans of the Northern scene and without even trying, TUNS soars with its upbeat harmonic indie pop that is most closely related to Sloan's style. The surprise here was that TUNS was a much more cohesive record than other recent "supergroup" projects you can think of. The backing falsettos, the sharp lyrics and the multitude of memorable choruses makes TUNS one of our more fun listens this year!
TUNS: TUNS [Fire Note Review 10/12/16]
#30
Wussy


Forever Sounds
Shake It Records [2016]
This Wussy record came out in March, so I believe it was a little forgotten but should be pulled back out. At this stage in their career, you must give a standing ovation to Chuck Cleaver and Lisa Walker for Wussy's growth. Forever Sounds is their sixth full length and is a testament to their longevity. For Weaver, this is his second shot at stardom, as his Ass Ponys were part of the 90's alt-rock explosion that many of us still hold near to our listening heart. All of this experience, that includes Mark Messerly, Joe Klug, and John Erhardt can be heard on Forever Sounds as it goes down many different rabbit holes such as hope, heartbreak, and the supernatural. The sharing of songwriting duties, trading lead vocals, and harmonizing together still existed on Forever Sounds and seemed effortless which of course made this album one of their best yet.
Wussy: Forever Sounds [Fire Note Review 3/4/16]
#29
Frank Ocean


Blonde
Self-Released [2016]
It's easy to automatically reject Frank Ocean here because he is outside our normal music coverage. With that said, that is why Blonde succeeds because it has much to offer for all fans of music. So, why was Blonde so good? There are so many moments that demand your attention, like big choruses, chilling harmonies, power ballads and a spectaculer gospel side that worked. Blonde deserves all of the praise it has recieved from all and if you give it a chance, we think you will hear its uniqueness as well.
Frank Ocean: Blonde [Fire Note Review 9/13/16]
#28
Mitski


Puberty 2
Dead Oceans [2016]
Here is a record that just missed us. We scrambled to get a review for it becuase it was worthy of this Top 50 spot. TFN described Mitski's sound as PJ Harvey meets Angel Olsen croon, electronic drum machines meets Pixies-ish style guitars, while quiet moments can become feverish mayhem on a turn of a dime. If that doesn't get you a little bit excited than I am not sure what would because Puberty 2 was a refreshing listen with its diversity. Just when we think we have heard it all, a record like this comes along and you can hear how different it is. Mitski's voice soars, her compositions are energizing and Puberty 2 would just keep climbing the chart if we spent more time with it.
Mitski: Puberty 2 [Fire Note Review 12/12/16]
#27
Told Slant


Going By
Double Double Whammy [2016]
How about a cross between Modest Mouse, Sufjan Stevens and Hayden? That is exactly what we heard on the new engagingly addicting sophomore record from Told Slant. It is a slower moving album, so I think some listeners were lost with it but if you kept going you found yourself hanging your ear on every lyric, every strum and every music transition. Told Slant created a fantastic space out of the real space between notes. Going By sucks you in with this quiet intensity and we believe it took many of us by surprise.
Told Slant: Going By [Fire Note Review 7/1/16]
#26
Big Eyes


Stake My Claim
Don Giovanni Records [2016]
The music scene needs Big Eyes more than ever. This 10 song 24-minute rocker titled Stake My Claim is a great combo of classic rock riffs and pop punk hooks that has swagger and attitude just busting out from all of its edges. This brashness starts from lead singer Kait Eldridge and her slightly roughed out Joan Jett vocals which take command of each song. Stake My Claim is catchy, strong and memorable as it had a very high replay value. Its balance of pop, punk and rock is well blended till the end as Kait Eldridge is clearly a new force on scene to be reckoned with. TFN thinks that this record is just the spectacular beginning for Big Eyes!
Big Eyes: Stake My Claim [Fire Note Review 8/16/16]
#25
Nick Cave & The Bad Seeds


Skeleton Tree
Bad Seed LTD. [2016]
Although Skeleton Tree may be the least accessible of Nick Cave's works, he has never tried to soften the blows of life in creating music for his listeners. Filled with pure, unbridled pain, Nick Cave & The Bad Seeds once again exorcised their demons and delivered an album that looks death in the face, and doesn't look away. In a year when we have lost such luminaries as Bowie, Prince, and others, this music offers a final sense of release that allows the mourner to look up and begin to live again. It wasn't an easy record to listen to nor your favorite put on play album but Skeleton Tree was an important listen even if it was only once.
Nick Cave & The Bad Seeds: Skeleton Tree [Fire Note Review 9/19/16]
#24
Ultimate Painting


Dusk
Trouble In Mind Records [2016]
Jack Cooper and James Hoare, better known as Ultimate Painting, came back with their third album, Dusk, which contained 10 tracks of some of the finest guitar pop you are going to hear this year. Comparable to bands like Television, Yo La Tengo, and Luna, and influenced by the majestic third lp from The Velvet Underground, Ultimate Painting hit all the right notes with their jangly guitars as they spiraled around and weaved in and out of their strong melodies. Dusk was easily their best release to date and is honestly a record that just gets better everytime we revisit Ultimate Painting's world.
Ultimate Painting: Dusk [Fire Note Review 10/24/16]
#23
Thee Oh Sees


A Weird Exits
Castle Face Records [2016]
Thee Oh Sees are one of TFN favorite bands right now and upon first take we were a bit harsh on A Weird Exits. It was a record of muscular pulse and experiement, which are very easy to get lost in but every time you combined the garage rock with its guitar chug we became more addicted. A Weird Exits was very comfortable in spots for fans but when it changed directions is when the diverse front man John Dwyer excells. He wants to keep things fresh and challege his audience. We were not with every oddity that showed up here but as a whole, it made A Weird Exits one of the better albums of the year that we truly enjoyed.
Thee Oh Sees: A Weird Exits [Fire Note Review 9/28/16]
#22
Thao & The Get Down Stay Down


A Man Alive
Ribbon Music [2016]
Thao & The Get Down Stay Down have been putting out quirky indie rock since their 2008 debut We Brave Bee Stings and All. Bandleader Thao Nguyen continues to get stronger with her presence and on the band's fourth long player, A Man Alive, you can hear her in full control. We really liked Thao's last album, We The Common [2013] but with repeat listens, A Man Alive stands tall and competes for title of best album in her catalog. A Man Alive made this list because of its fun side and timeless appeal that never lets down.
Thao & The Get Down Stay Down [Fire Note Review 5/11/16]
#21
Drive-By Truckers


American Band
ATO Records [2016]
I really don't think that the Drive-By Truckers could make a bad record. It is more about how good their album is. With American Band, the group really seems to have found a new energy and is firing on all cylinders once again from previous lineup changes that plagued some past releases. Patterson Hood and Mike Cooley now seem on an equal platform and American Band is better becuase of it. They really push each other, which in turn pushes the entire band to a higer level. American Band is not only one of the finest albums of the year; it's also one of the most important with its political charge.
Drive-By Truckers: American Band [Fire Note Review 12/9/16]
#20
GØGGS


GØGGS
In The Red Recordings [2016]
Ty Segall has his hands in several projects but GØGGS may require stitches after it takes you for a blitzed out pounding. With Fuzz bandmate Charles Moothart, and frontman Chris Shaw of Ex-Cult, this trio is a loaded army of buzzsaws that never slows down. GØGGS style in 2016 felt fresh because their in your face approach was a salute to the hardcore 80's LA punk scene that brought back the sweat and energy of Black Flag or T.S.O.L. It comes at you with no excuses, and no apologies. There were just not many records released this year that compare to GØGGS sound, as it easily earned its spot at number 20.
GØGGS: GØGGS [Fire Note Review 7/6/16]
#19
Sturgill Simpson


A Sailor's Guide To Earth
Atlantic Records [2016]
With A Sailor's Guide To Earth, Sturgill Simpson expanded the boundaries of country music employing strings, horns and some big jazzy blues. You might think his roots were lost but that is just it – Simpson still is bona fide country. It was easy to get all wrapped up in his excellent cover of Kurt Cobain's "In Bloom," but musically, A Sailor's Guide is a pure delight, taking full advantage of the fine musicians Simpson brought together for the experience, while taking country music into areas previously assumed as off limits.
Sturgill Simpson: A Sailor's Guide To Earth [Fire Note Review 6/2/16]
#18
Whitney


Light Upon The Lake
Secretly Canadian [2016]
When the Smith Westerns called it quits we really thought we would be talking about frontman Cullen Omori's solo release here but instead Westerns' guitarist Max Kakacek and singing drummer Julien Ehrlich (also in Unknown Mortal Orchestra), released the superb Light Upon The Lake under the new moniker Whitney. This new group features the same type of whimsical warm indie rock but keeps things more simple and low key with included brass and plenty of swaying moments. Light Upon The Lake has plenty of cool jazzy undertones which gave the album another depth, while Ehrlich's quiet vocal inflections pull you into the albums core. Whitney's debut was a strong statement and we can't wait to hear what comes next.
Whitney: Light Upon The Lake [Fire Note Review 6/14/16]
#17
Honey Radar


Blank Cartoon
What's Your Rupture? [2016]
I don't know why more lo-fi fans have not found Honey Radar. Blank Cartoon is a wonderful patchwork of songs that bring to mind an early era of Guided by Voices. At 18 tracks long, there is zero filler on Blank Cartoon and most tracks are under 3 minutes long, so Honey Radar delivers just the right dose. We feel Honey Radar is a group that should be bigger than our small corner of the music world and we couldn't feel any stronger about Blank Cartoon landing at number 17. If that is not a statement about their quality, we are not sure what else we can do!
Honey Radar: Blank Cartoon [Fire Note Review 7/1/16]
#16
Pinegrove


Cardinal
Run For Cover Records [2016]
The honest voice of Evan Stephens Hall here is the initial attraction to Pinegrove with his ever so slightly weathered vocal and complete sincerity. The group has solitude like Elvis Depressedly and Bright Eyes, can rock like Car Seat Headrest or early Wilco and would be fine opening for Ryan Adams or Built To Spill. Cardinal took some time to click but when it did it really clicked. It is an emotional rollercoaster of an album that is indie rock with a country tweak that lyrically deals with its demons but comes through fine on the other side. It has a youthful flow to it that makes each track unique and a clear spotlight in 2016.
Pinegrove: Cardinal [Fire Note Review 12/1/16]
#15
Hamilton Leithauser + Rostam


I Had A Dream That You Were Mine
Glassnote Records [2016]
The Walkman's frontman Hamilton Leithauser has one of those instantly recognizable voices so I never doubted that he could do well in a solo setting. His 2014 debut was OK but after he teamed up full time with former Vampire Weekend producer/instrumentalist Rostam Batmanglij they created one to remember. Leithauser and Rostam are excellent story tellers and each song here could catch you with its lyrics and different intricate musical pieces that brought on new discoveries with each repeat listen. I Had A Dream That You Were Mine from Hamilton Leithauser + Rostam is the best collaborative album this year and overall one of the true highlights in 2016.
Hamilton Leithauser + Rostam: I Had A Dream That You Were Mine [Fire Note Review 10/27/16]
#14
Frankie Cosmos


Next Thing
Bayonet Records [2016]
Next Thing is that special record for creator/singer Greta Kline's Frankie Cosmos, as it is that moment she goes from being known by a few to being known by many. The record is a short and interesting perspective of spoken word except that it is accompanied by the catchiest of jangles. This is the mix that makes Frankie Cosmos so damn enjoyable as her sophomore album Next Thing was made for a bigger audience but also retained what makes Kline great in the first place. The songs are still personal, the music still gives you shivers and the closeness of her sound makes you feel like the only fan on this earth.
Frankie Cosmos: Next Thing [Fire Note Review 4/6/16]
#13
ESP Ohio


Starting Point Of The Royal Cyclopean
GBV, Inc. [2016]
ESP Ohio was the third Robert Pollard release this year and because of the lineup, the most exciting. The new project reunited him with guitarist Doug Gillard (Nada Surf, Guided By Voices) which has historically yielded some great indie pop moments, then he added current GBV bassist Mark Shue and drummer Travis Harrison (Lifeguards producer). This record had everything you want if you are a Pollard fan, such as riff rockers, hook filled jams and then of course the jangly carefree songwriting. ESP Ohio also brought horns to the party which was a new twist that worked. This project really works because it's being allowed the freedom to be whatever it wants to be. The songs move to their own internal compass and the band sounds energized and tight as hell. We really hope that ESP Ohio will back for another run soon!
ESP Ohio: Starting Point Of The Royal Cyclopean [Fire Note Review 11/14/16]
#12
Jeff Rosenstock


WORRY.
SideOneDummy Records [2016]
Punk has been taking a backseat for some time now so it was ear opening to play Jeff Rosenstock's new album WORRY. This record moves Rosenstock lightyears ahead of his catalog as this album collects all of his ideas in one place and harnesses a powerful and explorative record that has peaks, valleys, gut punches, rip shit up moments and cry in a corner times that all equate a thrill ride from beginning to end. WORRY. was the best punk release for 2016 and has no problem sitting this high on the list.
Jeff Rosenstock: WORRY. [Fire Note Review 10/12/16]
#11
Bon Iver


22, A Million
Jagjaguwar [2016]
I never thought that Bon Iver's Justin Vernon would stay contained to one style, sound or genre but the turn he took on his third record 22, A Million was not expected. It was a perplexing shift but if you stuck with it, Bon Iver captured the same engagement here as previously praised releases. This album has its spacey and ethereal moments that were highlighted by synthesizers, electronic beeps and well-placed beats. What makes this record exciting and one of the better releases of the year is that Vernon's artistic inclusion of "quiet" space was held by isolated instruments like saxophone, metal drum, and trumpet while using samples at moments you don't expect. Artistry won us over big on this one.
Bon Iver: 22, A Million [Fire Note Review 10/6/16]
#10
Connections


Midnight Run
Anyway Records [2016]
The sound found on Midnight Run was not new for Connections but it was perfected. Midnight Run, highlights that they know exactly what they are doing at this point with their brand of lo-fi fuzz guitar rock that soars with melodies, stands up with guitar solos and is just weird and disjointed enough in parts to keep the record interesting. This album translates on your headphones and will easily play loud on the stage. Connections already have three solid records in their arsenal but Midnight Run took their talent to the next level!
Connections: Midnight Run [Fire Note Review 7/20/16]
#9
Parquet Courts


Human Performance
Rough Trade Records [2016]
It has to be hard to keep cranking out top notch releases and nobody has done it better over the years than Parquet Courts. Their quick shift changes circulated throughout Human Performance as the record looked to take chances. There was intricate conga play, psychedelic movements for a different realm and much more time spent on the creative process to arrive with this final result. Human Performance has a slacker meets swagger attitude which was infectious and most certainly helped propel the record upwards to number 9.
Parquet Courts: Human Performance [Fire Note Review 4/12/16]
#8
King Gizzard & The Lizard Wizard


Nonagon Infinity
ATO Records [2016]
If you have read TFN long enough, you know that we have been telling you about Australia's King Gizzard & The Lizard Wizard for some time now. Nonagon Infinity was the eighth studio album by the psych rock group and it is an infinite loop, with every song flowing into one another, including the closing and opening track. Nonagon was much heavier than previous records, which gave it a special edge as it even won the Best Hard Rock/Heavy Metal album at the ARIA Music Awards of 2016. It really does not fit that category but I think it just shows that this record was the most in your face album the group has produced and we loved it!
King Gizzard & The Lizard Wizard: Nonagon Infinity [Fire Note Review 4/28/16]
#7
Radiohead


A Moon Shaped Pool
XL Recordings [2016]
Radiohead anymore just seems to be at a different level. Some people still don't get it but Radiohead are truly a great band. A Moon Shaped Pool isn't catchy. It's actually almost terrifying in a certain way but that was one of its greatest strengths because it doesn't have to be catchy – beauty, art, and poignancy are what it is all about and it really sinks in the more you listen. You walk away from this album feeling like you just had an experience. That is something many artists will never achieve – Radiohead seem to do it time and time again.
Radiohead: A Moon Shaped Pool [Fire Note Review 5/12/16]
#6
Dinosaur Jr.


Give A Glimpse Of What Yer Not
Jagjaguwar [2016]
At this point, the reunited classic Dinosaur Jr. lineup has now recorded more albums than they did on their first go round. I don't think any of us ever saw this coming when they announced they were reforming over a decade ago. They band that could only keep it together for a few short years originally has now held it together for over a decade. This is showcased in the music on Give A Glimpse Of What Yer Not because it is one of their finest moments. With plenty of classic Dino barn burners, smoking riffs, throbbing bass, and thunderous drums, Dinosaur Jr. not only returned but they showed everyone how band driven indie rock still exists.
Dinosaur Jr.: Give A Glimpse Of What Yer Not [Fire Note Review 8/9/16]
#5
Angel Olsen


My Woman
Jagjaguwar [2016]
Initial impressions of a reviewer don't always hold the collective view of others and we feel that way on Angel Olsen's third record My Woman. Not only was My Woman her best album to date, it is easily one of the best records this year. The remarkable single "Shut Up Kiss Me," started the campaign for this record as My Woman finds Olsen hitting the big time with production, confidence and swagger. Tempos absolutely didn't matter here as each song would get in your head and never leave. That staying power is exactly why My Woman is number 5. Expect to see plenty more of Angel Olsen moving forward as she has crossed over into a new level of artistry.
Angel Olsen: My Woman [Fire Note Review 9/18/16]
#4
The Hotelier


Goodness
Tiny Engines [2016]
The Hotelier evolved on their 2014 breakout LP, Home, Like No Place Is There, but Goodness found them elevating their game even higher. It is thrilling to witness a band at the very peak of their creative prowess, when they believe that they can do anything. Goodness is that moment for The Hotelier. The music is cerebral, it's emo, it's quiet, it's loud, it's thoughtful and it's direct. Not sure where The Hotelier go from here but right now Goodness is the bar!
The Hotelier: Goodness [Fire Note Review 6/20/16]
#3
Kevin Morby


Singing Saw
Dead Oceans [2016]
From the surreal instrumentation to a voice that at times sounds like a young Dylan, Kevin Morby hits all the right notes on his third full length Singing Saw. His first two solo records were on Woodsist so Singing Saw not only finds Morby moving to a bigger label but also features his biggest sound. The growth is incredible here, which is why it is so engaging. On Singing Saw, he connects with his LA surroundings and notices the abstract about the city which is lonely but yet comfortable. The closing line of the final track "Water," is the perfect conclusion to the record as Morby exclaims with a heightened sincerity "If you find water / Please call my name / Put me out like a fire / Cover me in rain." Kevin Morby is an emerging artist that no matter how much he wants his flame to simmer, the beauty and freedom on Singing Saw turns into an uncontrollable wild fire and lands it at number 3!
Kevin Morby: Singing Saw [Fire Note Review 7/13/16]
#2
David Bowie


Blackstar
Columbia Records [2016]
I really don't think that words can even do justice here. Nobody, execpt Bowie knew that he was going to die very soon. That very piece of information is why Blackstar is such a compelling listen. It is a mature, calculated performance, in a genre that stretches beyond anything we've previously heard from Bowie. In the title track he sings of a "solitary candle in the center of it all," a fitting image of his unique artistic path. As a sonic eulogy, Blackstar haunts the listener, and demands to be heard again and again.
David Bowie: Blackstar [Fire Note Review 1/13/16]
#1
Car Seat Headrest


Teens Of Denial
Matador Records [2016]
I am so tired hearing about the death of indie rock. It died 3 years ago, it died last year, 2016 was the final death of indie rock – we have heard it all. Then you get an artist like Will Toledo's Car Seat Headrest. Just a young dude making music and releasing it for free on Bandcamp. Then Matador Records picks it up and puts out a reworked greatest tracks last year and builds some buzz. Fastforward to Car Seat Headrest's debut of all new material, Teens Of Denial, and after you hear the opening line "I'm so sick of – fill in the blank," out of founder and singer/songwriter Will Toledo's creative brain you just proved the haters wrong. Its sonic boom and attack represents the first real song Car Seat Headrest has released with a full band recorded in a real studio and gives you an early glimpse of the cleaver wordplay that fills the album and the indie rock that soars throughout. Teens of Denial is challenging, not afraid to push limits and boundaries and most certainly is not scared to have you turn up the volume. This record is a win for indie rock and we can only predict that this is a true beginning for Car Seat Headrest's next stage that hopefully will produce more exciting music in years to come. You should get onboard now, as Teens Of Denial is our pick for the best album of 2016!
Car Seat Headrest: Teens Of Denial [Fire Note Review 5/19/16]
Latest posts by Fire Note Staff
(see all)