Weezer


Weezer (White Album)
Crush/Atlantic Records [2016]


Fire Note Says: This is the album for your summer vacation!
Album Review: It seems like every new album from Weezer comes with a tale about how Rivers Cuomo has finally recaptured the lighting in a bottle that sparked those great songs from the band's 1994 self-titled debut – "My Name Is Jonas," "Buddy Holly," "Say It Ain't So" and the notorious "(Sweater Song) Undone." What was "Back to the Shack," the breakout single from 2014's Everything Will Be Alright in the End, if not an attempt to return to the lost innocence and seminal energy that gave the band it's earliest successes?
On this tenth studio album (and the fourth with eponymous title), Coumo does push Weezer toward a return to it's LA/Southern California roots with a host of songs that play around in territory covered by the Beach Boys. From the opening "California Kids" to the closing "Endless Bummer," and sound in between like "Thank God for Girls" and "L.A. Girlz," Cuomo and his co-writers sound especially tuned into Brian Wilson's more idyllic portrayal of life and love on the beach.
One could easily see the Beach Boys delivering the opening lines of "(Girl We Got A) Good Thing," right down to keyboard intro, the stacked vocal harmonies, and the cheery reference to a "destination wedding" before the guitars come in and the up-tempo lyrics briefly suggest something a bit darker.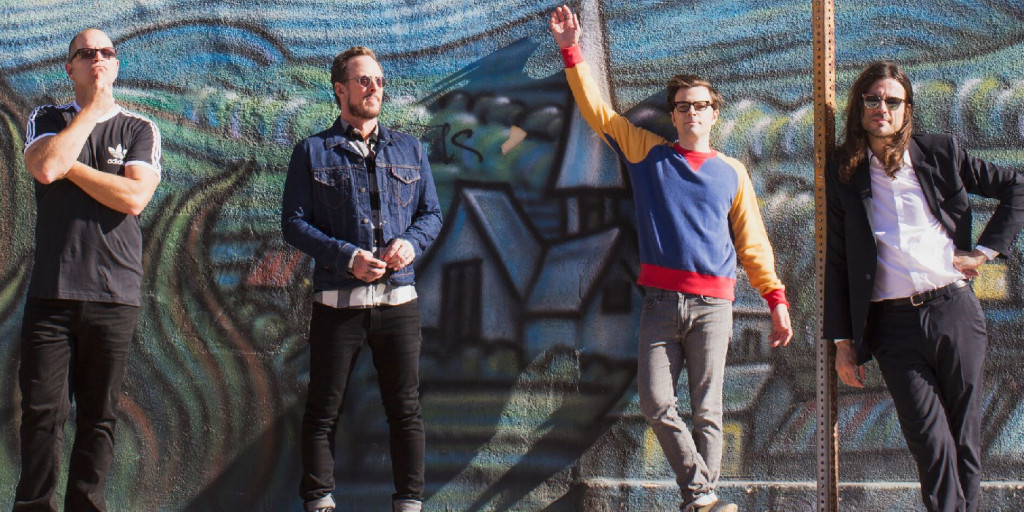 But of course, this is not Brian Wilson. It's Weezer. While the band's MO has always included catchy melodic hooks, guitarists Cuomo and Brian Bell have never held back when it comes to crunchy chordal riffs and searing solos, which are both central to "Do You Wanna Get High?" and "King of the World," and that remains true here.
And Cuomo & Co. are not just having fun with the music (although clearly they are), lyrically they turn the Beach Boy summer fantasy clichés on their ears, and make obscure references to Darwin's trip to the Galapagos islands on the ship, The Beagle ("Wind in Our Sails"). In "Thank God for Girls," Cuomo stoops to retelling of the Genesis story of woman's creation from the rib of Adam, with the suggested punch line to be careful what you ask for.
In "Endless Bummer," Cuomo sings "'Kum Ba Yah' makes me get violent, I just want this summer to end." This time, track for track, Weezer has come close to matching the fun, energy and pathos that set Weezer (The Blue Album) apart, at least close enough that when you reach the end, you'll want to hit replay again and again. Almost in spite of itself, Weezer (The White Album) is a fun summer album, perfect for those road trips to the beach.
Key Tracks: "Thank God for Girls" / "Do You Wanna Get High?" / "King of the World"
Artists With Similar Fire: Pixies / Kiss / Green Day

Weezer Website
Weezer Facebook
Crush/Atlantic Records
– Reviewed by Brian Q. Newcomb
Brian Quincy Newcomb has found work as rock critic and music journalist since the early 80's, contributing over the years to Billboard Magazine, Paste, The Riverfront Times, and The St. Louis Post-Dispatch.
Latest posts by Brian Q. Newcomb (see all)
Please follow and like us: