Tim Easton


American Fork
Last Chance Records [2016]


Fire Note Says: Another heartfelt delivery from singer/songwriter Tim Easton.
Album Review: Tim Easton is the singer/songwriter that you just can't stop from delivering a pure heartfelt record. His eleventh, yes eleventh, record American Fork feels and sounds like an artist at the top of his game which has no care in the world except providing the absolute best sonic effort for your ears.
More recently, Easton's albums have been more of a one stop musical shop of entertainment because Tim can do it all with a harmonica in a neck holder and guitar in his hand. American Fork changes the game as he brings in some jazzy saxophone on the opening track "Right Before Your Own Eyes," which really lights a new spark in his catalog. This rich and expansive sound runs throughout American Fork and shines again during "Killing Time" that includes an infectious sing along "na na na" moment that pulls you into the song. One thing I have always found with a Tim Easton record is that he never is afraid to have fun. Either with a more acoustic offering or full on sound, like American Fork, Easton is always in a musical mood which is highlighted with the playful harmonica playing that opens up "Elmore James." The track salutes early years' blues artist Elmore James better known as the "King of the Slide Guitar." The foot tapping track builds and keeps things moving with the "Elmore James" call out and response section.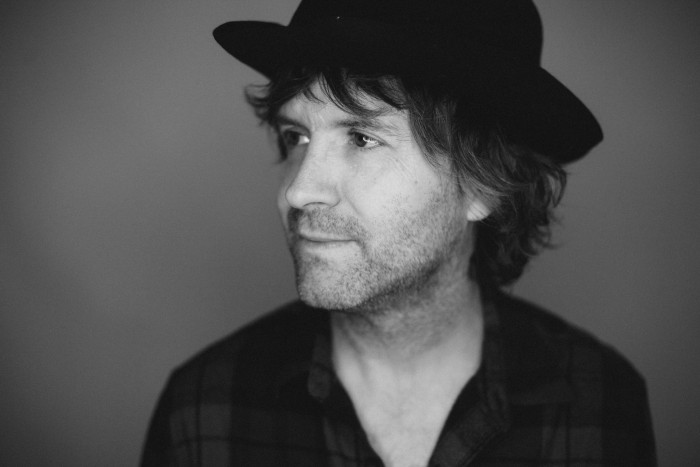 Tim Easton is one of the best under the radar songwriters out there and American Fork once again backs it up with quality writing, singing and production. When you add drummer Jon Radford (Justin Townes Earle, Steelism), bassist Michael Rinne (Rodney Crowell), the pedal steel playing of Russ Pahl (Ray Lamontagne, John Hiatt), and multi-instrumentalist Robbie Crowell (Deertick, Turbo Fruits) to the equation, American Fork can't fail. When the backing vocals of Ariel Bui, Emma Berkey, and Megan Palmer are also included this record becomes a no brainer.
All it takes to win you over on Easton is one listen to the touching closing track for Easton's five-year-old daughter titled "On My Way." When he sings "Like the trucks out on the highway – like the seasons and the days – like the river that passes through your town – I really must be on my way" you can feel the torn emotion of doing something you know must be done but not wanting to leave the space you are in. We have all been there and this song nails it. Achieving that next level of emotional response defines a true singer/songwriter and Tim Easton should be added to the definition in the dictionary with American Fork.
Key Tracks: "Right Before Your Own Eyes" / "Elmore James" / "On My Way"
Artists With Similar Fire: Jay Farrar / Jimmie Dale Gilmore / Jason Isbell
Tim Easton Website
Tim Easton Facebook
Last Chance Records
-Reviewed by Christopher Anthony

After spending the early 90's managing a record store, the mid to late 90's producing alternative video shows and 00's blogging about the music scene Christopher Anthony is always ready to hear new music.

Latest posts by Christopher Anthony (see all)
Please follow and like us: