Alejandro Escovedo


Burn Something Beautiful
Fantasy [2016]


Fire Note Says: Rock & roll celebrating the noisy possibilities of our existential crisis.
Album Review: In a recent open letter to the Rock & Roll Hall of Fame, Jay Minkin of No Depression calls out a few of the institution's most blatant omissions, artists who have defied simplistic categories but have inspired many and by both the depth and breadth of their musical contributions deserve the nominating committee's consideration. As I read, I thought "I could have written that letter myself," as the writer pointed to talented artists who have for too long been overlooked: Lucinda Williams, Steve Earle, John Hiatt, John Prine, Ian Hunter, Todd Rundgren, Warren Zevon, and of course, Alejandro Escovedo. Okay, I would have added Los Lobos to that list, and perhaps a few more.
Now, Escovedo may not be a household name, but that's not for his lack of creative effort, a distinguished musical catalog and regular tours and a lengthy pedigree that includes family members like Pete and Coke Escovedo who played with Santana, and Pete's daughter Sheila E., the well-known singer/percussionist who's solo career got off the ground with the support of Prince. Alejandro E. developed his own songwriting chops with 80's alt/country bands like Rank and File and True Believers, but throughout the 90's and early 00's produced a series of critically acclaimed solo albums that honored his family's immigrant history and turned a keen observer's eye toward chronicling both the agony and ecstasy of the creative life.
In 2003, Escovedo who had lived with Hep-C, suffered an attack on stage that led to a lengthy hospitalization and rehab. Later, the event was captured in the song "Arizona," on the 2006 release, The Boxing Mirror, which found the roots rocker making use of a strong string section and some of the choicest cello and violin passages on a rock album. In 2008, Escovedo delivered Real Animals, co-writing with Chuck Prophet and produced by Tony Visconti, celebrating the raw poetry of the early NYC punk scene and groundbreaking spirits like Patti Smith and Lou Reed, with songs like "Chelsea Hotel '78" and "Sensitive Boys," including his earliest West Coast band, "Nun's Song." But, the inclusion of "People (We're Only Gonna Live So Long)" suggests that his close encounter with death continued to impact his perspective.
That somewhat darker awareness has permeated his work ever since, including his latest album, Escovedo's 12th overall and first in four years, Burn Something Beautiful, co-written and produced by R.E.M's Peter Buck and Scott McCaughey, a long-time R.E.M. collaborator who's worked with Buck in The Minus 5 and the two backed up Robyn Hitchcock on his latest tour. With their support, Escovedo has delivered one of the strongest albums of his career, a thoughtful introspective collection that manages to escape gloomy naval gazing thanks to the full band roar that McCaughey and Buck have developed around his voice.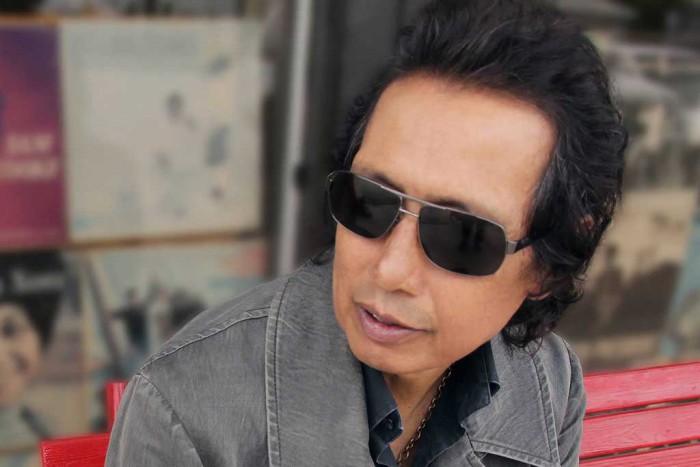 Supported by Decemberist drummer John Moen, guitarist Kurt Bloch (The Fastbacks), Los Lobos' Steve Berlin on baritone sax and strong vocal performances by Corin Tucker (Sleater-Kinney) and Kelly Hogan (Neko Case and Minus 5), Escovedo's long fascination with Mott the Hoople style glam rock shines through the crunchy rocking opener "Horizontal," "Shave the Cat" and "Beauty of Your Smile," the latter which sounds like Reed on the verses.
"Heartbeat Smile" is a punchy pop/rock tribute to one who has passed on ahead, with guitars ringing out with Byrds-like chimes which are continued in "Sunday Morning Feeling," which declares that "I've seen better days, but that's alright." One of the quieter, more reflective pieces, "Redemption Blues," remembers his long ancestral struggles and hopes for they day when "I'll find some redemption, find a little peace." Escovedo is thinking existentially when he faces the emptiness of merely going through the motions in "I Don't Want to Play Guitar Anymore," but in the very next song he advises a young protégé to "play guitar son, you'll always have a friend/never be alone, the romance never ends (in "Beauty and the Buzz")."
An ominous gloom hangs over "Johnny Volume," which acknowledges that "some think I'm dead" before the discordant guitar solo defines the desire to "start all over again," while the folk rock duet of "Suit of Lights" wonders about the possibilities that exist amid the pleasures and the pains, matched by the simple beauty of the acoustic guitars that shape the song's coda. "Farewell to the Good Times," which sounds the most like an R.E.M. song blends up-tempo pop rhythms with the downer thought that "there's nothing left to believe in," yet for all the album's stark lyrical content, the music's creativity and energy seem to be the required antidote.
The disc's hidden final track, "Thought I'd Let You Know," has the feel of one of those spacey Wilco noise jams where the music slows down and seems to fall apart," with Escovedo acknowledging that the "party's over," yet we live inside the paradox that "we are not alone/we are all alone."
So, rock & roll celebrating the noisy possibilities of our existential crisis, where we choose each day whether we're going to be falling apart or pulling it together… sure why not? Escovedo's rocking inclination and lush musical textures express a deep appreciation of the music's history and evolution and provide the perfect soundtrack for the mixed bag of human emotions and questionable evolution that defines our time.
Key Tracks: "Horizontal" / "Suit of Lights" / "Beauty Of Your Smile"
Artists With Similar Fire: Ian Hunter / Lou Reed / Los Lobos
Alejandro Escovedo Website
Alejandro Escovedo Facebook
Fantasy/Concord Music Group
– Reviewed by Brian Q. Newcomb
Brian Quincy Newcomb has found work as rock critic and music journalist since the early 80's, contributing over the years to Billboard Magazine, Paste, The Riverfront Times, and The St. Louis Post-Dispatch.
Latest posts by Brian Q. Newcomb (see all)
Please follow and like us: