King Gizzard & The Lizard Wizard


Nonagon Infinity
ATO Records [2016]


Fire Note Says: Once Nonagon Infinity starts it's really hard to stop!
Album Review: Ever since their formation, septet King Gizzard and the Lizard Wizard have always released something interesting. We originally got started with the heavy "connected" psychedelic jams of 2014's I'm In Your Mind Fuzz. Then they came back with the stylistic, progy 10:10 divide 4 tracks of 2015's Quarters. Finally, they returned again in 2015 with the mellow folk of Paper Mâché Dream Balloon. My esteemed colleague Christopher Anthony had the pleasure of reviewing each record but I also closely followed each release. With that said, ever since I heard mentions that Nonagon Infinity was a possibility – I knew I had to have it!
Nonagon Infinity is King Gizzard and the Lizard Wizard's most interesting and ambitious work to date. Recorded at Brooklyn's Daptone Studios, Nonagon Infinity is the full realization of an idea kicked around the Gizzard camp since I'm In Your Mind Fuzz. An intricately produced and assembled nine track (nonagon) album that flows infinitely and loops into its self. Could track nine, "Road Train" theoretically be the beginning? You could say that. But, it isn't until you hear Stu say "Nonagon Infinity opens the door" for the first time that you've truly begun. "Robot Stop" is a driving man vs. machine conundrum that Easter eggs "Hot Water." "Big Fig Wasp" matches vocals to guitar that culminates in a steep, vertigo inducing climb.
The most satisfying moment on the album has to come from the "Big Fig Wasp"-"Gamma Knife" transition. Like a roller coaster climb to the top of a hill, it's the adrenaline release that comes from the decent. It's also the start of King Gizzard's "legalize drugs and murder" pact. "Gamma Knife" has monks enact a ritualistic mutilation in order to attain a certain truth. "People-Vultures" has never-satiated consumers breeding and feeding parasites.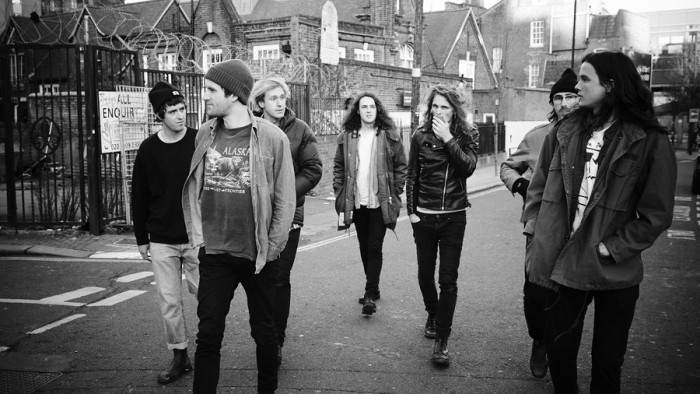 Even when Nonagon Infinity shows its "softer" sillier side things still play fine. While a bit more diversion that connection tracks like "Mr.Beat" and "Wah Wah" will still have you humming their choruses. But, on a heavy album it's really the "heavy" parts that reign supreme. "Evil Death Roll," the longest song on the album, wields it riff like a sharpened battle ax. "Wah Wah" bounces along until it unfolds into a Mars Volta like chaos that connects the final track. "Road Train" is a song that would make Mad Max's Furiosa proud. It's a high octane desert run that sets it sights on the beginning.
King Gizzard and the Lizard Wizard's Nonagon Infinity could almost equate to a "greatest-hits" of sorts. While there's no flute, Nonagon takes the heavy, muscular psych from Mind Fuzz, the mellow, progressive tones and tempos from Quarters, and the slight folky undertones from Paper Mâché Dream Balloon. While not for everyone, you have to give credit where credit is due. Nonagon Infinity is a cultured, powerful, self-referential, Easter egg to a lot of the heavy heroes and anti-heroes of the 60's and 70's. For a fan like me, you should never be disappointed to have "Nonagon Infinity open the door." Don't be too surprised if we see this one again come album of the year time.
Key Tracks: "Gamma Knife" / "People-Vultures" / "Road Train"
Artists With Similar Fire: Indian Handcrafts / Wand / The Murlocs

King Gizzard & the Lizard Wizard Website
King Gizzard & the Lizard Wizard Facebook
ATO Records
-Reviewed by Christopher Tahy

Along with TFN, Christopher Tahy writes for several music publications and has a modest (but growing) vinyl collection that spans genres and generations, while being a guitarist at heart. He enjoys the Dayton music scene and can never turn down a great rock riff!

Latest posts by Christopher Tahy (see all)
Please follow and like us: