Honey Radar


Blank Cartoon
What's Your Rupture? [2016]



Fire Note Says: Lo-fi pop gems that are similar to Guided by Voices, if GBV was part of the Elephant 6 Collective.
Album Review: Blank Cartoon continues Honey Radar's trend of releasing incredibly catchy lo-fi gems at a steady clip. This is their second full length release since 2014's Chain Smoking on Easter, however since 2011, Honey Radar have released a more than ten 7" singles and EPs on various labels.
Blank Cartoon is a wonderful patchwork of songs and sounds that are drenched with a lo-fi vibe that brings to mind my favorite era of Guided by Voices. An era in the 90's that saw the release of Vampire on Titus, Propeller, Bee Thousand and a slew of singles and EP. Try not to picture Propeller in your mind when you hear "Coughing Cop" and "Scorpions Bought Me Breakfast."
Jason Henn, the mainstay of Honey Radar, has that same knack for constructing a pop rock gem that Robert Pollard does. He has a steady body of work that is as compelling as it is catchy. What sets Honey Radar apart from being a GBV clone is a touch of dipped-in-LSD psychedelic charm not unlike the early bright pop melodies found in Elephant 6 Collective artists like Of Montreal, The Minders, or The Gerbils.
The pieces and parts of a Blank Cartoon work well when played as an album instead of cherry picking tracks for singles. Album opener "Tones" is 56 seconds of odd noises and well…tones, but when paired with the second track, "Caterpillar," it makes sense and the two tracks merge into one woozy song that pulls and tugs at you like an ocean tide. All the tracks on Blank Cartoon tend to blend into each other and it is difficult to listen to just an individual track without wanting to hear the rest of the record. The lo-fi oddities blend with the hooks and the album comes into shape.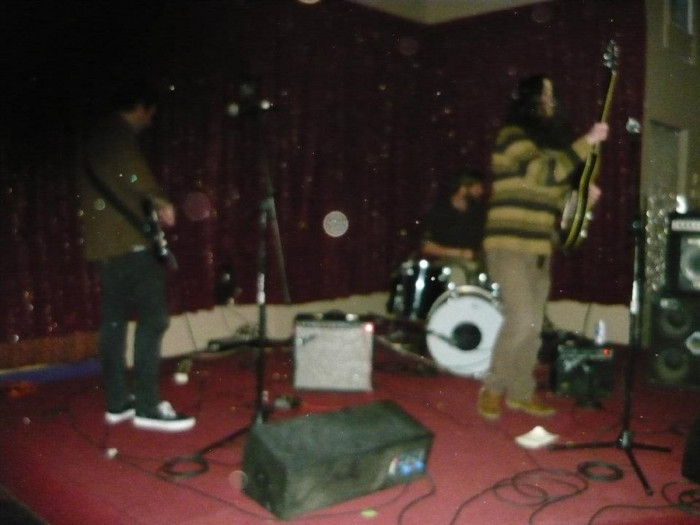 Many of Honey Radar's songs like "Pinwheel" and "Jet Rope" sound like they are being run through an old cassette player. The tape needs to be tightened up with a ballpoint pen and the batteries are precariously close to draining out of juice. That aesthetic adds to feeling that these songs are found treasures off long forgotten mixtapes.
At 18 tracks long, there is zero filler here. Most tracks, minus 2 of them, are under 3 minutes long, so Blank Cartoon just zooms by at a pleasant pace.
If you don't mind lo-fi catchy songs with softly breathed vocals that will at once remind you of Guided by Voices and Olivia Tremor Control, pick up Blank Cartoon and dig into Honey Radar's discography.
Key Tracks: "Caterpillar" / "Coughing Cop" / "Scorpions Bought Me Breakfast"
Artists With Similar Fire: Guided by Voices / Olivia Tremor Control / The Gerbils

Honey Radar Website
Honey Radar Facebook
What's Your Rupture?
– Reviewed by Daniel Taylor
Photographer/journalist for the U.S. Navy for 26 years. Music fan since forever. Music really hit him in the early 90's when he heard the Pixies' Doolittle LP. After that came Pavement and then Guided by Voices. His love for those bands formed his taste in music and he continues to search for that musical "high" today. Married for 18 years and currently lives in Japan.
Latest posts by Daniel Taylor (see all)
Please follow and like us: