Nick Cave & The Bad Seeds


Skeleton Tree
Bad Seed LTD. [2016]


Fire Note Says: Filled with pure, unbridled pain, Nick Cave once again exorcises his demons.
Album Review: There may be nothing more painful to experience than pure unadulterated grief. Which is why many will choose to pass on the latest album from Australian post-punk rocker Nick Cave & his band The Bad Seeds, as Skeleton Tree, from start to finish, in tone and style, a funeral dirge. And it's not like he was that much of a cheerful camper on his previous 15 albums; we are after all talking about the guy who has chosen to give his albums names like Your Funeral… My Trial, Murder Ballads, and Abattoir (Slaughterhouse) Blues.
The opening track, "Jesus Alone," a dark, mournful piece that finds Cave talk singing over a dense bed of synth loops, is both haunted and haunting. As it turns out, it's been reported that Cave's 15-year-old son Arthur died in an accident falling from a cliff after much of the 8 songs had been written, but Cave changed several lyrics to express his new found sense of loss and grief, and deeper questions of existential wonder and confusion. "Nothing really matters when the one you love is gone," he sings half moaning, in "I Need You."
Cave fans will not find these themes of spiritual yearning, human angst and woe all that unfamiliar. This is the guy who began his most romantic ballad, "Into My Arms," with the words "I don't believe in an interventionist god, but I know darling that you do" after all. And we are talking about the guy whose last album featured the nearly 8-minute song dedicated to the so-called god particle, "Higgs Boson Blues."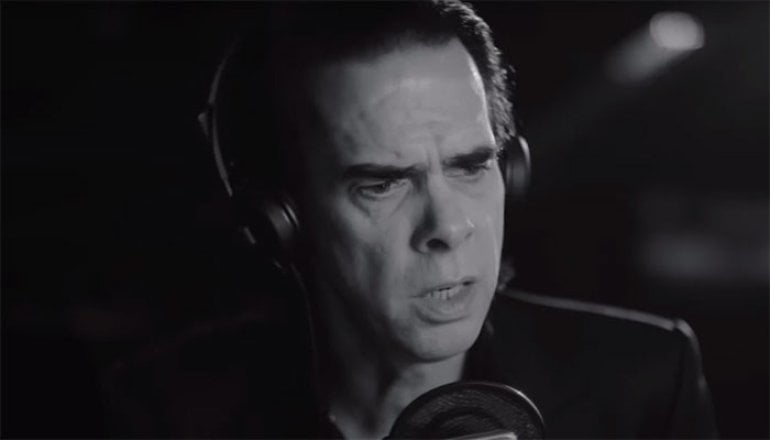 Much of the music here leans toward ambient sounds, atmospheric synths and keyboard loops over brooding rhythms, with Cave's voice floating in the wash of sounds to utter poetry of longing. In the past, critics and fans have composed reviews comparing Cave's literate storytelling to the dark and at times humorous stories of Flannery O'Conner, the human struggle in the characters of a Faulkner or Steinbeck novel, or compared him generously with rock's greatest songwriters, Dylan and Springsteen. There are still signs of his poetic sensibility, but at times on Skeleton Tree it's as if he is allowing his rawest emotions to pour out in a stream of consciousness.
Although this may be the least accessible of his works, and he's never tried to soften the blows of life in creating music for his listeners, but it is very likely also one of his best. Filled with pure, unbridled pain, Nick Cave & The Bad Seeds have once again exorcised their demons and delivered an album that looks death in the face, and doesn't look away. In a year when we have lost such luminaries as Bowie, Prince, and others, this music offers a final sense of release as the album reaches its emotional climax in the beautiful ballad duet, "Distant Sky," sung with Else Torp, and the album's title track closer. It's the last gasp of grief that allows the mourner to look up and begin to live again.
Key Tracks: "Rings of Saturn" / "I Need You" / "Distant Sky"
Artists With Similar Fire: PJ Harvey / The Cramps / The Birthday Party
Nick Cave Website
Nick Cave Facebook
– Reviewed by Brian Q. Newcomb
Brian Quincy Newcomb has found work as rock critic and music journalist since the early 80's, contributing over the years to Billboard Magazine, Paste, The Riverfront Times, and The St. Louis Post-Dispatch.
Latest posts by Brian Q. Newcomb (see all)
Please follow and like us: