Wussy


Forever Sounds
Shake It Records [2016]


Fire Note Says: Wussy delivers one of their best sonic experiences to date.
Album Review: At this stage in their career you must give a standing ovation to Chuck Cleaver and Lisa Walker for Wussy's growth. Forever Sounds is their sixth full length and is a testament to their longevity as their debut came out in 2005. For Weaver, this is his second shot at stardom, as his Ass Ponys were part of the 90's alt-rock explosion that many of us still hold near to our listening heart. All of this experience, that includes Mark Messerly, Joe Klug, and John Erhardt can be heard on Forever Sounds as it goes down many different rabbit holes such as hope, heartbreak, and the supernatural. What does not change here is the band dynamic of Cleaver and Walker sharing songwriting duties, trading lead vocals, and harmonizing together which of course is a win-win-win.
The blue collar expertise of Wussy shines right from the opening track "Dropping Houses" as the group finds a new mystical quality. Walker softly tells the story as Cleaver's unmistakable drawl is mixed into the background and cohesively swirls around the song. It doesn't take long though for Wussy to rev up the darkness on the pulsing Cleaver led "She's Killed Hundreds," which has the same cool sinister vibe that the excellent "Rainbows & Butterflies" possessed from Attica! (2014). Wussy does an excellent job of really melding their noisy undertone with a modern shoegaze that completely works. On the over five minute "Donny's Death Scene," which is about Donny in the Coen Brothers movie The Big Lebowski, Walker sings like she is on her last breath hitting some serious high notes for her range that just pulls you in. It sets a groove that you will hear again and again. Cleaver has the same sort of sonic experience on "Gone" as the song rocks a bit harder but still has this instrument stretch around his vocals that simply hypnotize the listener.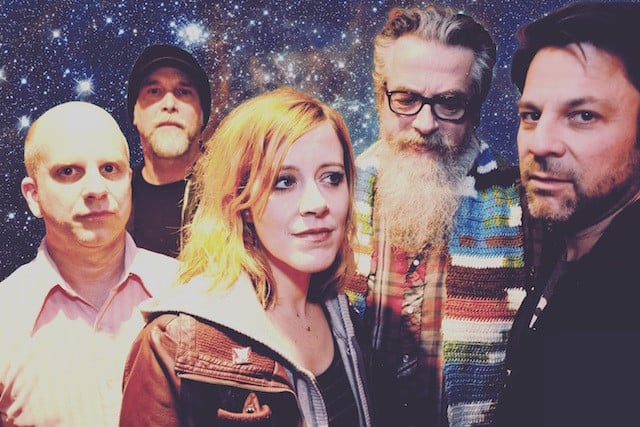 Forever Sounds has both moments of R.E.M. and Ride all mixed into one tight thoughtful package that uses the interplay of Walker and Cleaver's vocals to spin an indie web that you have been looking to hear. The last three tracks especially hit you as they all have a slower overall vibe and just let you drift off. The album also finds John Hoffman and Jerri Queen (both of Vacation) joining the production side of things along with longtime aide John Curley (Afghan Whigs) which I believe gives the album a tweak of fresh perspective. All of this new synergy helps propel Forever Sounds upward and makes it one of Wussy's best that is right at your doorstep. I hope everyone out there lets them in!
Key Tracks: "Dropping Houses" / "Gone" / "Majestic-12"
Artists With Similar Fire: Lab Partners / Ride / Sonic Youth

Wussy Website
Wussy Facebook
Shake It Records
– Reviewed by Christopher Anthony

After spending the early 90's managing a record store, the mid to late 90's producing alternative video shows and 00's blogging about the music scene Christopher Anthony is always ready to hear new music.

Latest posts by Christopher Anthony (see all)
Please follow and like us: