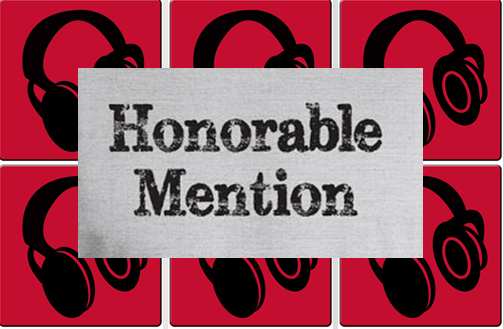 Let's face it – not every album we enjoyed can end up in our year end Blazing Top 50. Many times, there are records that almost make the cut and honestly probably could have replaced another record but for one reason or another they were just left out.
Realizing that, you will find 12 of those such records below that came so close to making the Top 50 but still deserve a highlight, so they are now included in The Fire Note Honorable Mention Albums of 2016.
Honorable Mention
Beach Slang


A Loud Bash Of Teenage Feelings
Polyvinyl Records [2016]
TFN has been all over Beach Slang's Replacement style rock n roll since their pair of EP debuts back in 2014. A Loud Bash Of Teenage Feelings brought back the exact same formula as the band wanted to make another record that was for the fans. It feels like volume 2 from their debut as it just never takes its foot off the accelerator. A Loud Bash of Teenage Feelings is an energetic rush from beginning to end that we just couldn't turn off!
Beach Slang: A Loud Bash Of Teenage Feelings [Fire Note Review 9/27/16]
Honorable Mention
Various Artists


Start Your Own Fucking Show Space
Famous Class Records [2016]
We typically do not feature a live compilation like this in the Top 50 but Start Your Own Fucking Show Space still needs a highlight. This 3 LP set from Famous Class features 26 live tracks from various artists that captures the last days of the popular Brooklyn Death by Audio venue. It is an amazing grouping of artists that finds bigger names like Deefhoof, Parquet Courts, Thee Oh Sees, Ted Leo and Ty Segall with others you might not know as well such as Nots, Sleepies, Pampers or The Numerators. It is pure example of why the live show will never die!
Various Artists: Start Your Own Fucking Show Space [Fire Note Review 8/10/16]
Honorable Mention
Bent Shapes


Wolves Of Want
Slumberland Records [2016]
TFN is easily drawn to a well-done power pop record and Boston's Bent Shapes was a stand out with their sophomore outing Wolves Of Want. The record dealt with some bigger subject matter but disguised it with quality catchy power pop precision. Its 10 songs clocking in at 28 minutes also made it super easy to ingest and go back for more while leaving you humming every last line!
Bent Shapes: Woves Of Want [Fire Note Review 3/24/16]
Honorable Mention
EZTV


High In Place
Captured Tracks [2016]
If your record features Jenny Lewis and Real Estate's Martin Courtney and Matt Kallman then you must be doing something right. High in Place found EZTV returning quickly after last year's debut as they kept things simple and consistent without much alteration to their laid back soft indie rock. EZTV have a very soft power pop sound that throws back to The Byrds or Dwight Twilley while giving nods to Teenage Fanclub and I still have not figured out why they just don't get more press. Oh well – we like them!
EZTV: High In Place [Fire Note Review 11/8/16]
Honorable Mention
Robert Pollard


Of Course You Are
Fire Records [2016]
Robert Pollard can crank out a record from start to finish faster than most people can think about recording one. 2016 was another productive year for him and Of Course You Are was another great solo performance. This record was somewhat of a continuance from last year's Ricked Wicky as all of the instruments on Of Course You Are were played by Ricked Wicky's Nick Mitchell. This direction shook things up a bit for a slightly different vibe that still fits neatly in Pollard's catalog.
Robert Pollard: Of Course You Are [Fire Note Review 3/3/16]
Honorable Mention
Lost Boy?


Goose Wazoo
Little Dickman Records [2016]
The rule at TFN is that if an album does not receive a review it is not eligible for the Top 50. Lost Boy?'s excellent Goose Wazoo unfortunately falls to HM because of this law. It is too bad because this record is Top 50 material with its lo-fi pop that is both catchy and quirky. With a good mix of old school Elephant 6 collective sounds stirred with some Ween like moments, Lost Boy? will stick with you if you just take the time to discover them right now!
The Friday Fire Track: Lost Boy? – "Goose Wazoo" [Fire Note 9/23/16]
Honorable Mention
Paul Orwell


Organized Blues
Heavy Soul Records [2016]
Paul Orwell followed up last year's '60s style rocker, Blowing Your Mind Away, with an album of 12 heavy Hammond organ instrumentals. Guess what? It is fantastic and with some well-placed horns, drums and guitar plus an ending cover of Neal Hefti's Batman theme, Organized Blues was one of the biggest surprises we listened to in 2016. It also was a vinyl only release which was just one more reason to get the turntable spinning!
Paul Orwell: Organized Blues [Fire Note Review 8/4/16]
Honorable Mention
Thee Oh Sees


Live In San Francisco
Castle Face Records [2016]
Castle Face's Live In San Francisco series has been a hit since day one with great sets from the Ty Segall Band, FUZZ, Destruction Unit, White Fence, OBN III's and the newest being Feral Ohms. Thee Oh Sees of course set a new bar for the series on this one as it was the first double LP in the series and included a DVD. If you are a Thee Oh Sees fan, Live In San Francisco is a must own. The songs come to life in this settling and the guitars just come through your speakers. It not only sounds and feels like you are at the show but this just may be the best release in the series yet.
Thee Oh Sees: Live In San Francisco [Fire Note Review 7/27/16]
Honorable Mention
Rob Crow's Gloomy Place


You're Doomed. Be Nice.
Temporary Residence Ltd. [2016]
Pinback's Rob Crow publicly withdrew from music early last year so this release was a great surprise. He has one of the best voices in indie rock and with his new band made up of close friends, Crow sounds inspired. The vocal interplay, the muscular guitar work and the pounding drums all swirl in and out which gave Rob Crow's Gloomy Place a fresh starting point in his catalog and deserved much more press than it received.
Rob Crow's Gloomy Place: You're Doomed. Be Nice. [Fire Note Review 3/1/16]
Honorable Mention
Ty Segall


Emotional Mugger
Drag City Records [2016]
Ty in the scary baby mask is how we will remember Emotional Mugger as it was released way back in January. This album was paranoid, claustrophobic and itching for trouble, as Segall offered big riffs with twists and turns until it wrapped Emotional Mugger into a pretzel. It may not have been as catchy as his last two efforts but it also wasn't too bad either!
Ty Segall: Emotional Mugger [Fire Note Review 1/26/16]
Honorable Mention
Band Of Horses


Why Are You OK
Interscope Records [2016]
Why Are You OK is Band of Horses best major label record to date and it was an album that became catchier everytime we listened. "Casual Party" was fun while "In A Drawer," with J. Mascis on backing vocals, is still one of our favorite singles this year. I really want Band Of Horses to succeed and the more attention to detail on Why Are You OK gives me hope that the band has not been lost forever to the major labels.
Band Of Horses: Why Are You OK [Fire Note Review 6/23/16]
Honorable Mention
Pink Mexico


Fool
Burger Records [2016]
If you like fuzz-laden rock, then you should not be missing out on Pink Mexico. The band can stuff a melody right between two walls of sound and not blink. That is exactly what you consistently get on Fool with fast tempo rockers and mellower numbers that catch you in their trippy chorus. Really, we were sold on Pink Mexico when we typed fuzz-laden!
Pink Mexico: Fool [Fire Note Review 8/16/16]
Finally, below are several other albums that never made the review page. We recommend checking them out as well as they were great listens but unfortunately not eligible for a spot!
They are:
Tim Presley – The Wink (Drag City);
Leonard Cohen – You Want It Darker (Columbia);
A Tribe Called Quest – We Got It From Here… Thank You 4 Your Service (Epic);
LVL UP – Return To Love (Sub Pop).
I am sure there were more but that is enough to keep you busy! The Blazing Top 50 of 2016 posts tomorrow.
Latest posts by Fire Note Staff
(see all)