Ricked Wicky


King Heavy Metal
Guided By Voices Inc. [2015]


Fire Note Says: Pollard's Ricked Wicky sparks your rock n roll juices!
Album Review: The journey for Robert Pollard's Ricked Wicky continues just five months after their debut with the sophomore album, King Heavy Metal. Sure, it is a quick turn-around but c'mon – what did you expect! Well, I will tell you that what Pollard and his crew, consisting again of Daytonian guitarist Nick Mitchell, long time collaborator Todd Tobias (Circus Devils) and drummer Kevin March (Guided by Voices), have in store for you is an album for the men in the crowd. A record for those of us that attended the shows at the classic Dayton showplace Hara Arena (and ones like it across the US), those who secretly still turn up the volume when they hear 80's bands like Dokken, Hanoi Rocks and Twisted Sister, and listeners out there, like me, which still enjoy a good guitar solo once and a while.
That is right, what started out on I Sell The Circus, continues on King Heavy Metal with a stitch more song wizardry, longer song structures and an equal consistent polished studio sound. The opening "Jargon of Clones" feels controlled and mature when Pollard sings "I know them / that's a joke / have you trusted in them?" with a conviction that sells you on his wisdom that carries the mid-tempo number. "Come Into My Wig Shop" is a much more disjointed affair that cuts and turns with a pulsing rhythm that doesn't stop until Pollard screams the title line. Once again, King Heavy Metal features Nick Mitchell stepping up to the mic on 80's sounding rocker "Imminent Fall From Grace" and one of my favorite tracks on the album – "Weekend Worriers." The latter finds Pollard taking the big chorus, with Mitchell stepping in for the rest of the vocals. The song has an epic Who sound to it as Pollard lets out "Fear not you weary warriors, escape from life is nigh / God save you weekend worriers from days that passed you by" and then Mitchell joins for "tonight we drink – for Monday we shall cry." It is a line for all ages and another shout out to all of us that hold onto the glory days through our music!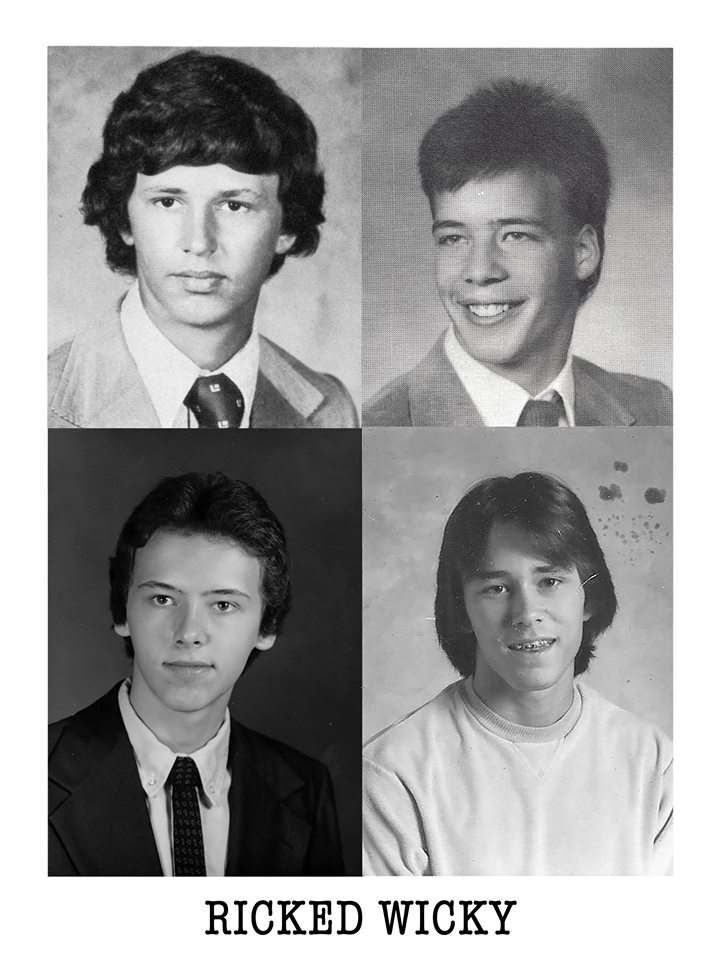 There is plenty else on King Heavy Metal that makes it stand tall in the Pollard side project catalog. Other highlights include the sprawling guitar solo on closer "Map and Key," the deep acoustic ballad "Too Strong For No One To See You," the voice-over montage opening to "Tomfoole Terrific" which also mentions the album title, the heavy sludge riff in "Ogling Blarest," and the longest song on the album at 5:46, "This Has Been My Picture," shows off Ricked Wicky's commitment to the lost art of rock.
People who scoff at Ricked Wicky and dismiss King Heavy Metal as just another Pollard release will be losing out. If you are looking for a fresh set of rock tunes, creativity within an old genre and 36 minutes of easy repeat listens, this is your record. Ricked Wicky is Pollard's creative mind at its best with superior support at every instrument. King Heavy Metal not only holds to its title but its glistening crisp sound will keep the volume up and put away any notion that rock is dead!
Key Tracks: "Jargon Of Clones" / "Tomfoole Terrific" / "Weekend Worriers"
Artists With Similar Fire: The Who / Black Sabbath / Thin Lizzy

Ricked Wicky Website
Ricked Wicky Facebook
Rockathon Records
– Reviewed by Christopher Anthony

Latest posts by Christopher Anthony
(see all)