Iggy Pop


Post Pop Depression
Loma Vista [2016]


Fire Note Says: Iggy Pop at his best!
Album Review: At this late date, one imagines it would be difficult to make new music with Iggy Pop. With such a unique and established artist, whose excessive live performances are the stuff of rock music legend, it would be too easy to slide into self-parody, too tempting to fall into cartoonish excess. We are after all talking about the voice/face of The Stooges, an early 70's predecessor to all things punk, a true rock icon, often photographed shirtless with a goofy smirk on his pliable face. This is the guy who gave the world "I Wanna Be Your Dog," one of the most covered songs of the punk era, covered by both Sonic Youth and Uncle Tupelo, the original alt-country/punk trio. Pop went on to make a long list of solo albums, including high water marks produced by David Bowie, 1977's Lust for Life, and Don Was, 1990's Brick by Brick.
So for this 17th solo project then, it's great to hear Pop collaborating with producer Josh Homme, who leads his own band Queens of the Stone Age, has participated in Eagles of Death Metal, Them Crooked Vultures with fighting Foo Dave Grohl and Led Zep's John Paul Jones, and has worked on Dessert Sessions with folk like PJ Harvey, Mark Lanegan, and Twiggy Ramirez. Homme is a perfect foil for Pop, giving him structure and musical support, both as producer and guitarist, supported by guitarist and multi-instrumentalist Dean Fertita (also from QotSA) and Arctic Monkeys' drummer Matt Helders.
Pop has described Post Pop Depression as an attempt to come to terms with "what happens whey your utility is at an end, and dealing with your legacy." In other words, like a Woody Allen movie, Pop is coming to terms with being 68 years old, and still a loose cannon rocker somewhat obsessed with sex and death. Homme matches Pop's latter day angst with strong guitar-driven garage jams, refined with just enough melodic structure and studio finesse to keep Pop on point.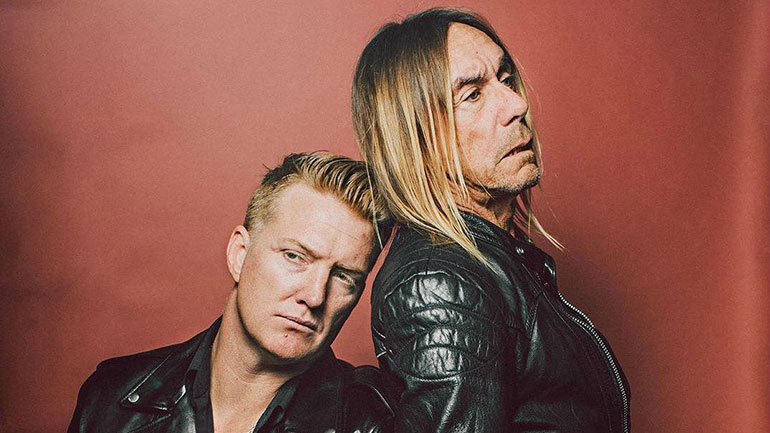 "Break Into Your Heart" is the perfect opener, a fitting mid-tempo rocker wuded down for Pop's deeper baritone range, with Iggy willing to do what it takes to "get under your skin." There's a touch of nostalgic homage in "American Valhalla," with it's simple keyboard open recalling his hit with Bowie's "China Girl," while "German Days" recalls Pop's work with Bowie in Berlin, "champagne on ice."
"Gardenia" proves Pop still has plenty of lust for life, here focused on the mysterious goddess in a shabby raincoat with the "hourglass ass." For "In the Lobby," Pop channels his best Jim Morrison as he hopes he's "not losing my life tonight." Here Homme matches Pop's grim warnings with thin guitar lines, while the drums turn a bit tribal. Throughout, Homme brings just the right instrumental tone to respond with Pop's vocals. On the nine songs that make up Post Pop Depression, we get Iggy Pop at his best, where life's challenges are turned into art and "shit turns into chocolate drops."
Key Tracks: "Break Into Your Heart" / "American Valhalla" / "Chocolate Drops"
Artists With Similar Fire: David Bowie / Velvet Underground/Lou Reed / Queens of the Stone Age
Iggy Pop Website
Iggy Pop Facebook
Loma Vista
– Reviewed by Brian Q. Newcomb
Latest posts by Brian Q. Newcomb
(see all)