Smug Brothers


On The Way To The Punchline
Gas Daddy Go! Records [2014]




Fire Note Says: Smug Brothers offer listeners a mature and hook-laden album packed with incredibly catchy and unpredictable Dayton rock.
Album Review: I was a bit surprised when I had read that On the Way to the Punchline was Dayton Ohio's Smug Brothers first physical full-length release in their 10-year existence. Their prior full length, Fortune Rumor (2009) was self-released digitally in 2011. I have been a steady listener since 2010's Stock Romeo EP and 2011's Fortune Rumor, both available on the band's Bandcamp page (Well worth checking out too).
Let me get this out of the way first; Smug Brothers remind me of Guided by Voices. In fact, I discovered them on Bandcamp while searching through the site for GBV related bands. Bands must hate it when reviewers go for the easy "they sound like" line, but rest assured that was just the hook to get my attention. There is a lot more to Smug Brothers than just a GBV vibe.
On the Way to the Punchline is peppered with catchy tracks. "It was Hard to be a Team Last Night" is a punchy rocker that will get your head-a-nodding. "Investigative Years" starts with a lo-fi sound then bursts into a steady foot-stomper. The precise percussion from Don Thrasher (ex GBVer and Swearing at Motorist) keeps this album moving forward until the quiet acoustic track "Over and Outside" comes on and dazzles with a catchy chorus not unlike something from The Wrens.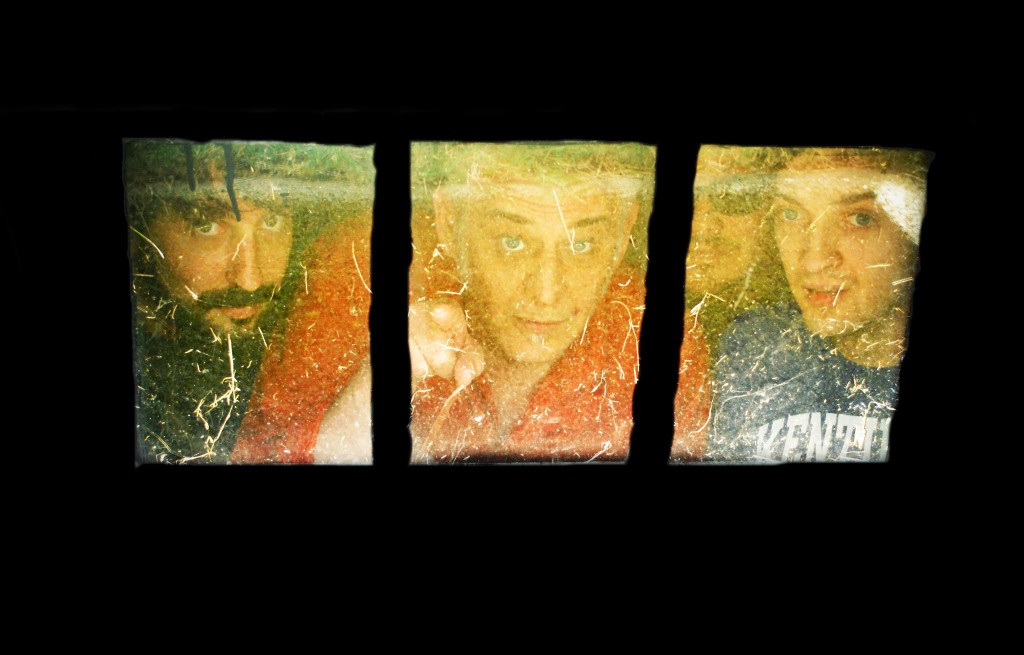 "St. Paul at the Helm of Wyoming" is a noisy rocker that could be a lost track from Pavement's Westing (By Musket and Sextant). It meanders around, lost in a forest of guitar noise and drums. Then around the minute and a half mark, the song finds a path in the noise and delivers another dose of Smug Brothers' signature vocal and guitar hooks. Incredibly satisfying track.
Both "Talk at the Gates of August" and "Quick to Illustrate January" smacked into me like a ton of bricks. "August" moves along at a steady tempo before shifting into a gorgeous shimmering guitars ending that turns you into an armchair rock star. "January" opens with a chugging bass and guitar and then slams you with a shift that is so disarming that it brought a smile to my face. Both are amazing tracks that rival "Granada Smith" from their Treasure Virgin EP (2011) as some of my favorite Smug Brothers tunes.
The overall tone of On the Way to the Punchline is a bit more melancholy and weary/wary of the world than their past releases. Seems the band has had some challenges in its past and this album did not come about without some changes in the lineup. Kyle Melton's unaffected vocals keep everything on an even keel and the guitar hooks offer moments of hope and just plain rock. To say I was eagerly anticipating this release would have been an understatement. Smug Brothers delivered the rock and then some.
Key Tracks: "St. Paul at the Helm of Wyoming," "Talk at the Gates of August," "Quick to Illustrate January "
Artists With Similar Fire: Guided By Voices / The Wrens / Motel Beds

Smug Brothers Facebook
Gas Daddy Go! Records
– Reviewed by Daniel Taylor
Photographer/journalist for the U.S. Navy for 26 years. Music fan since forever. Music really hit him in the early 90's when he heard the Pixies' Doolittle LP. After that came Pavement and then Guided by Voices. His love for those bands formed his taste in music and he continues to search for that musical "high" today. Married for 18 years and currently lives in Japan.
Latest posts by Daniel Taylor (see all)
Please follow and like us: