Guided By Voices


Down By The Racetrack (EP)
GBV Inc. [2013]

Fire Note Says: Guided By Voices starts off their 2013 output with the excellent Down By The Racetrack EP!
Album Review: When the news hit that Guided By Voices was kicking off 2013 with an EP those on the outside probably thought why bother creating an EP when your band leader can make an entire record on a napkin in less than 20 minutes. Well the answer is all about the hidden truth behind GBV records – there is a method to the madness, a flow and precision to every one minute track and a lyrical balance to the always interesting word scramble.
That leads us to a band that released three full length records in 2012, so there should be no surprise that not every composition would land on the carefully planned track listing, hence Down By The Racetrack is born. Like its mid-'90s predecessor EPs, such as Get Out Of My Stations and Clown Prince of the Menthol Trailer, Racetrack has the same carefree vibe to its song structures and offers a free flowing 10 minutes of all things GBV.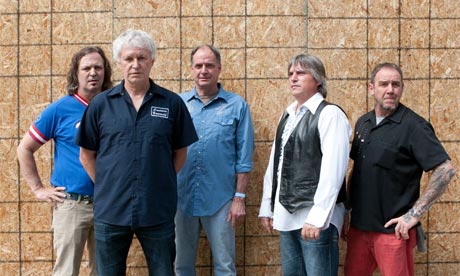 Opening track "It Travels Faster Through Thin Hair" begins with a countdown as Pollard's lo-fi hush vocals are a welcoming beginning as the track never rises above this simple tone and concludes in just over a minute. That guides the listener into the wildest track on the EP, "Pictures Of The Man", which comes complete with background hand claps, looming repetitive deep moaning and a swirling of instruments. Tobin Sprout settles things back down with his soft and short "Amanda Gray" while one of my favorite tracks on the EP, "Copy Zero", swoops in and places Pollard's clean vocals up front as the strolling almost ballad leaves plenty of wordplay clashes in your head long after the track ends. The closing title track is probably the most surprising of the six here as Sprout leads the guitar fuzzed song with a soaring repetitive "down by the racetrack" chorus to a fantastic finish.
Compared to the dynamic full lengths of 2012, Down By The Racetrack is not quite at that level but feels way bigger than its 10 minute running time. It is easily still an essential listen and pick up for Guided By Voices fans as it possesses those little qualities that make even the shortest GBV songs memorable. With their fourth album, English Little League, just around the corner this nice package of tracks will do just fine tiding over the masses and will instantly have you going back into time and reliving classic songs like "Matter Eater Lad" and "Melted Pat." I am sure 20 years from now Down By The Racetrack will get that same revisit!
Key Tracks: "It Travels Faster Through Thin Hair", "Copy Zero", "Down By The Racetrack"
Artists With Similar Fire: Wire / Sebadoh / Cheap Trick
Guided By Voices: The Bears For Lunch [Fire Note Review 11/1/12] (#3 Top 50 2012)
Guided By Voices: Class Clown Spots A UFO [Fire Note Review 6/5/12] (#3 Top 50 2012)
Guided By Voices: Let's Go Eat The Factory [Fire Note Review 12/9/11] (#3 Top 50 2012)
Guided By Voices Website
Guided By Voices Facebook
Guided By Voices Inc.
-Reviewed by Christopher Anthony

Latest posts by Christopher Anthony
(see all)