Guided By Voices


Let's Go Eat The Factory
Guided By Voices Inc. [2012]


Fire Note Says: Oh yeah, did you hear? Guided By Voices are back!
Album Review: I can't think of many other upcoming 2012 albums that people have been waiting 15 years to hear, so the new record from the "classic line up" Guided By Voices goes well beyond a highly anticipated status for both longtime club members and kids new to the game. With that type of high hopes, it will certainly arrive with all sorts of critics, so I think it is important to note right away that LGETF is not Bee Thousand [1994] or Alien Lanes [1995] but instead a modern blend of past, present and future Guided By Voices.
Even with all the original boys from Dayton, Ohio back, trying to recreate past glories is an impossible feat to expect and with that said, Let's Go Eat The Factory thrives because of it. Track one serves as your reunion because "Laundry And Lasers" offers the perfect first impression with its feedback filled fuzzed out rocking momentum that quickly builds into a fast wall of sound while Pollard vocally charges ahead through the noise like the band never went away. Of course, "Lasers" only runs a mere 2:38 before your ear is captured on track three with the new GBV classic, "Doughnut For A Snowman", which truly highlights the pop essence of the band, as it shows the world how to package a catchy hook into 20 seconds.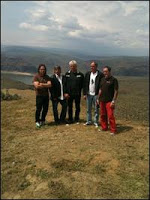 Now, if you have been a faithful listener through the years that includes both later era GBV, Pollard solo material and the multitude of side projects, I am sure there has always been a piece of you that missed the musical input of Tobin Sprout. Let's Go Eat The Factory addresses that history of GBV as Tobin wrote or co-wrote and sings on 6 of the 21 tracks here, while also injecting some new avenues from him as "Spiderfighter" is one of the rowdiest and longest Sprout numbers you have heard before, as it features his singing over a strong beat for the first two minutes before a hard shift into a piano driven 1:35 falsetto finish. The other Sprout tracks on LGETF mostly follow his traditional soft structure and serve as nice changes of pace and balance among the louder material.
The rest of Let's Go Eat The Factory works your ear like the classic records once accomplished by supplying you little pieces of each song that stick with you well after their conclusion. "Hang Mr. Kite" is a fine example of this as it features Pollard's soaring vocals from an echoing above direction which is not only memorable but easily one of my favorite moments on the record. The simple, calm and quiet Pollard repeating of "My Europa" will have you humming along, while the building guitar riff on "God Loves Us" keeps your feet tapping and is instantly recognizable the next time you hear it. The excellent closer, "We Won't Apologize For The Human Race" will have you singing along with its big harmony moment right in the middle of its 4 minute duration and once again skillfully will grab your attention each and every time it comes across your stereo.
All of this leads to the final conclusion on Let's Go Eat The Factory, which is that the record is Guided By Voices down to the core and once again, like their previous earlier outings, what makes the album so special is not so much how the songs stand on their own but how all of the 21 compositions support each other. This not only makes Let's Go Eat The Factory a true GBV record that is a real grower in a traditional sense but already a favorite of 2012!
Key Tracks: "Doughnut For A Snowman", "Hang Mr. Kite", "We Won't Apologize For The Human Race", "Old Bones", "Chocolate Boy", "The Unsinkable Fats Domino"
Artists With Similar Fire: Superchunk / The Capstan Shafts / Big Star
Guided By Voices Website
Guided By Voices Facebook
Guided By Voices Inc.
-Reviewed by Christopher Anthony

After spending the early 90's managing a record store, the mid to late 90's producing alternative video shows and 00's blogging about the music scene Christopher Anthony is always ready to hear new music.

Latest posts by Christopher Anthony (see all)
Please follow and like us: