Fourth Of July


Empty Moon
High Dive Records [2013]



Fire Note Says: Fourth Of July return with another batch of infectious indie jangles.
Album Review: Lawrence, Kansas band Fourth Of July are as indie rock as you can get with their laid back vocal approach, tight musicianship, and memorable lyrics. Empty Moon is their third full length and once again finds three years passing since their last release. Fourth Of July is a band of brothers as the quartet consists of Brendan Hangauer (vocals, guitar), Patrick Hangauer (bass), Brian Costello (drums, vocals) and Brendan Costello (guitar) which helps explain how they can wait so long between records and still pull off such a consistent album. Empty Moon truly finds the guys once again coming right back to the scene fun, lighthearted and meaning business with their craft.
A majority of their songs have the standard slower almost spoken versus with a burst of tempo and melody that easily connects with the listener. These tracks show off the most muscle from Fourth Of July as "Drinking Binge" is a good example that almost has the guys shouting the lyrics to match the increased guitar intensity that comes and goes throughout the track. Then you have the poppy "Eskimo Brothers" which bounces along with a very Pavement like jangle as Hangauer delivers the line "so here's to my friends and my Eskimo brothers" several times that just imbeds in your head. These upbeat tracks keep Empty Moon moving and never come off too strong.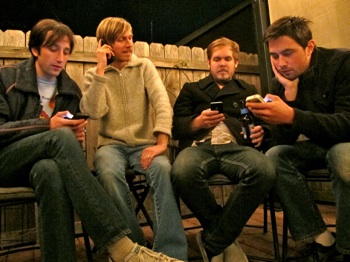 The bigger change in sound on Empty Moon happens right in the middle of the record with "The Cost" and "Before Our Hearts Explode." Not only are they both the longest songs that Fourth Of July have ever put on record at almost 7 minutes and 5 minutes respectively but they also slow things down with a country flare. Lead singer Brendan Hangauer comes off with a very David Lowery (Cracker) vocal on the engaging "The Cost" as it has such a laid back vibe to the track that matches the slower tempo and really gives the song swagger. The same can be said for the emotional "Before Our Hearts Explode" as Hangauer sadly states "you said you would be right back." This slower delivery really works for Fourth Of July and gives the band another dimension as they showcase a more Americana vibe.
Empty Moon is another solid album in Fourth Of July's catalog. The record has a very timeless appeal to it and becomes more engaging with every spin. This is a record that will be easy for new fans to pick up and go while longtime followers will be instantly hooked. Fourth Of July does not hide what they are and don't offer any gimmicks just rock n roll to keep you engaged. You can take it or leave it but I guarantee that if you give Empty Moon a spin you will be sold!
Key Tracks: "Empty Moon", "The Cost", "Eskimo Brothers"
Artists With Similar Fire: The Front Bottoms / Cracker / The Hold Steady
Fourth Of July Facebook
High Dive Records
-Reviewed by Christopher Anthony

Latest posts by Christopher Anthony
(see all)