Eisley


Currents
Equal Vision Records [2013]




Fire Note Says: Eisley return with an album that accentuates their best qualities.
Album Review: Eisley has been through a lot over the years, from the highs of opening for Coldplay and signing with Reprise Records, to the lows of being dropped from that label, touring issues, and personal problems. The latter seemed to be reflected in their last album, 2011's The Valley, which was a good record that felt like a band in transition, shedding some of their youthful optimism for a slightly more cynical view of the world they'd suddenly had to come to grips with. Thankfully, with Currents the band appears to have recovered their stride, resulting in an album that feels like a welcome return to the whimsical, ethereal Eisley that gave us Room Noises, but with a little more experience under their belts.
The album has a subtle "water" theme which is reflected in both its title and the lyrical content of its twelve tracks. The title track opens things up with tense piano chords and "watery" textures, and features some soaring, almost U2-esque guitar lines from Chauntelle DuPree-D'Agostino (the band, by the way, features all DuPrees: sisters Chauntelle, Sherri and Stacy, along with brother Weston and cousin Garron). The water theme continues with "Blue Fish" and "Drink the Water," both of which recall the vibe of "Marvelous Things" on Room Noises but with a more mature, nuanced sound. Layers of vocals, keys, guitars and strings provide a lush background for the lead vocals of Stacy, Sherri, or (for the first time) Chauntelle, each of which has its own distinct personality.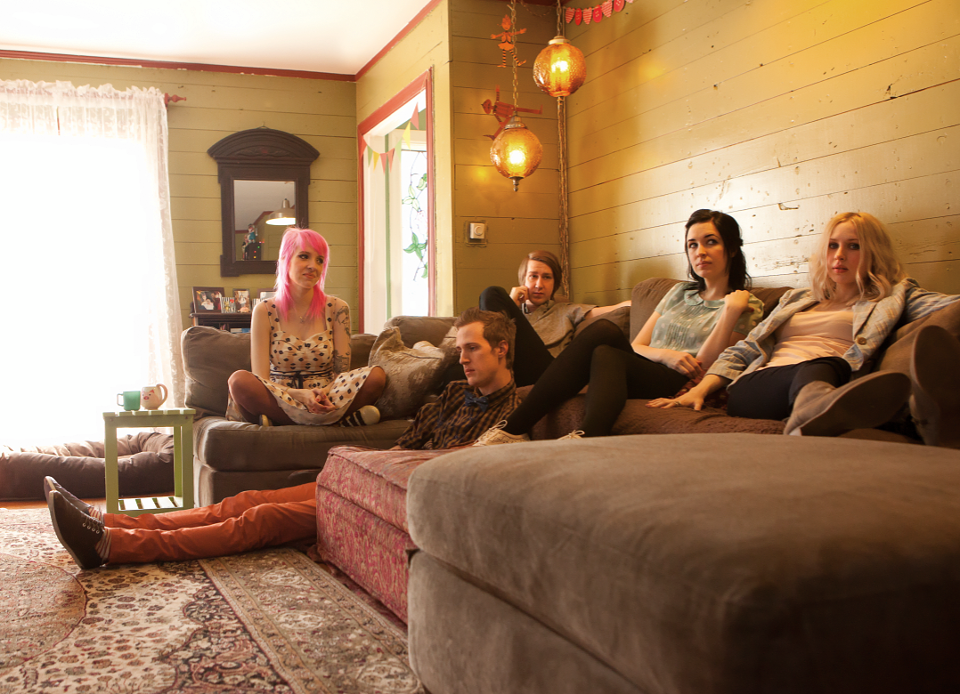 "Millstone" (Chauntelle's lead vocal debut) is a gentle acoustic ballad with interesting chord progressions, touches of mellotron and some excellent harmony vocals on the bridge. "Real World" follows, drawing attention to Stacy's vocals and piano playing during the verses before bringing in some driving guitar chords. The rhythm section of Weston (drums) and Garron (bass) are no slouches, though, and their work on this track is particularly good. "Wicked Child" features junior DuPree outfit Merriment, with youngest siblings Christie and Collin offering their talents on a breezy track that goes from minor keys to major, soft acoustic strums to dramatic baroque pop; it's five minutes of augmented-Eisley heaven.
And that just gets us to the beginning of the second half. On "Find Me Here" Sherri's vocals are a little more subtle than usual, recalling tracks like "I Wasn't Prepared" or the title track of 2007's Combinations. "Wonder English" and "Lost Enemies" both feature unusually heavy drum work from Weston that nevertheless works pretty well, the former with its acoustic strums and extensive use of harmony vocals, the latter with its spacey electric groove. "The Night Comes" is another mostly-acoustic ballad, but this one is almost scary in the verses, with ominous, rumbling orchestral backing helping to paint its bleak atmosphere. "Shelter," is an appropriate closer, its sweeping orchestral arrangement feeling like the perfect, uplifting finale to bring the album to an end. Currents may not be better than Room Noises, but the band gets closer than I thought possible to that album's near-perfect composition. These aren't just some of the best songs Eisley's written in the past few years; these are some of the best songs Eisley has written, period.
Key Tracks: "Currents", "Drink the Water" "Millstone", "Wicked Child (feat. Merriment)"
Artists With Similar Fire: Sixpence None The Richer / St. Vincent / The Innocence Mission
Eisley Website
Eisley Facebook
Equal Vision Records
-Reviewed by Simon Workman

Latest posts by Simon Workman
(see all)