Bob Dylan


Triplicate
Columbia Records [2017]


Fire Note Says: Dylan attempts to "uncover" these familiar songs.
Album Review: By now, any fan of Bob Dylan is familiar with that hilarious comment to the over-serious music journalist in the now infamous, televised 1965 press conference in San Francisco which can be found on youtube.com. Dylan had released two albums earlier that year, Bringing It All Back Home," with breakout tracks "Subterranean Homesick Blues," "Mr. Tambourine Man" and "Maggie's Farm;" and Highway 61 Revisited with harder rocking songs, "Like a Rolling Stone," "Just Like Tom Thumb's Blues," and "Desolation Row." The writer asked Dylan if he considered himself more a poet or a singer, after the noteworthy singer songwriter that he was peppered with questions about the intentions of his songs and the secret meanings in his lyrics. Dylan responded that he saw himself as a "song and dance man."
The obvious sarcasm and irony of that statement was challenged the following year by the release of his double album, Blonde on Blonde that included artful classics, "Rainy Day Woman #12 & 35," "Visions of Johanna," "Stuck Outside of Mobile With the Memphis Blues Again," and "Most Likely You Go Your Way and I'll Go Mine." And, of course for many of his fans as the decades have unwound, it's been his songwriting that most attracts them, not his voice, which novelist Joyce Carol Oates once famously described as a "seeming untrained voice, frankly nasal, as if sandpaper could sing," before she went on to say, "the effect was dramatic and electrifying."
And while many Dylan fans remember those mid-60's albums as masterpieces, it's been clear with each decade since that he's a songwriter and artist that can continue to grow and stretch. In the 70's there were great albums like Blood on the Tracks and Desire; in the 80's there was Shot of Love and Oh Mercy; in the 90's Time Out of Mind; and in the 2000's Love and Theft and Tempest. Since June of 1988, Dylan has played at least a 100 shows a year on his Never Ending Tour, and some years, like when he was out on a co-bill with Paul Simon, he seemed to pay special attention to his vocal performance and his song's original melodies and vocal diction, while on other tours there were shows when fans complained that he stuck to a murmuring growl all night long, making it impossible to tell one song from the next. In 2013, when he hit the road for the summer circuit with Wilco, My Morning Jacket, and Richard Thompson, Dylan stuck to the bluesy sound of Tempest and old favorites like "Tangled Up In Blue" were given a similar treatment, where Dylan's vocals were solid and serviceable.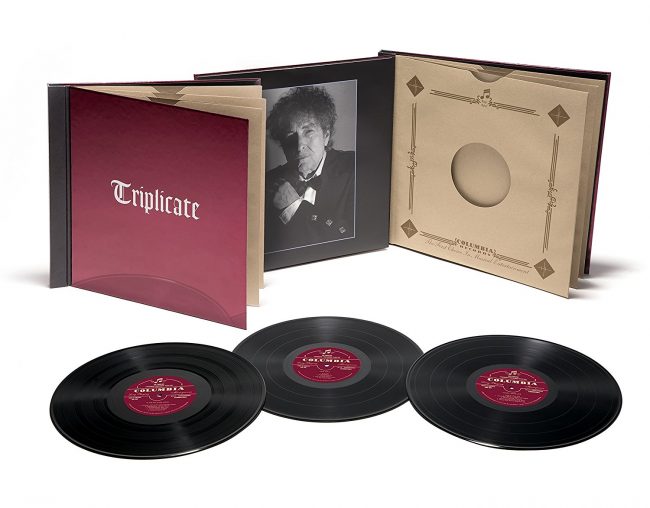 So, when Dylan released an album of songs from Frank Sinatra's repertoire, with 2015's Shadows of Night, it felt like a bit of a lark. After all, Sinatra is one of the best loved romantic pop-song crooners of the 50's & 60's until Elvis Presley's rock and roll outings made The Rat Pack movie star seem out of touch. But then he did it again with 2016's Fallen Angels, and now follows up with Triplicate, 30 classic songs on 3 discs. So, maybe he is a song and dance man.
In interviews, Dylan has described his efforts with these songs from the Sinatra era and the Great American Songbook, as an attempt to "uncover" these familiar songs, which he says have been lost in the various covers of Frank and others. Ably backed by his band – guitarists Charlie Sexton and Dean Parks, Donnie Heron on steel guitar, Tony Garnier on bass, and drummer George Receli – and the occasion string or horn section, Dylan stands at the microphone, and warbles these time-honored melodies over pretty straight-forward arrangements.
While one has to admit that some of these are some of the best songs ever written – "Stormy Weather," "As Time Goes By," "Sentimental Journey" one has to ask, if you wanted to hear these songs wouldn't you want to go back to Sinatra's recordings, or Etta James, or Ella Fitzgerald, or Mel Torme, or if you wanted a modern take, maybe Diana Krall. Given what Dylan has to work with, he does a valiant job with the phrasing and all, like on "That Old Feeling" and the album's first single, "I Could Have Told You," but still… this is not a voice you'd normally seek out apart from his 35 previous albums, where by and large, his appeal as a songwriter outshined his skill as a singer.
Key Tracks: "Stormy Weather" / "P.S. I Love You" / "Day In, Day Out"
Artists With Similar Fire: Frank Sinatra / Ella Fitzgerald / Mel Torme
Bob Dylan Website
Bob Dylan Facebook
Columbia Records
– Reviewed by Brian Q. Newcomb
Brian Quincy Newcomb has found work as rock critic and music journalist since the early 80's, contributing over the years to Billboard Magazine, Paste, The Riverfront Times, and The St. Louis Post-Dispatch.
Latest posts by Brian Q. Newcomb (see all)
Please follow and like us: