Warm Soda


Symbolic Dream
Castle Face Records [2015]



Fire Note Says: Symbolic Dream is a refreshing power pop gem!
Album Review: I didn't love Warm Soda's last album, Young Reckless Hearts. I felt like it was a pretty big letdown from their wonderful debut album, Someone For You, which ended up being one of my most played records of the year in 2013, and one that if I had to review over again, I would have given it a much higher score than I initially did. Symbolic Dream, the third album from Warm Soda, bounces back in a big way, and tells me that maybe there was just a bit of a sophomore slump, but now it's back to business as usual. Symbolic Dream is a rush of lo-fi power pop, full of crunchy guitars, upbeat melodies, and fast tempos. If you like your power pop with a soft sugary center but with some dirty garage rock on the exterior, then Warm Soda is a band for you!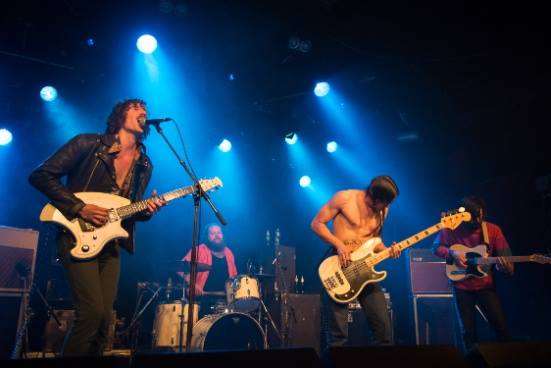 "I Wanna Know Her" opens the album and sets the tone immediately. You know from the start what the band sounds like, and the fun you are in for. This is a short blast of power pop coupled with a cool detached vocal that makes for a combustible combination. From there, the hits just keep coming, 12 songs in total in just about 27 minutes, it's fast, but not too fast. It's the kind of fast where you can listen to this one more time and it will be over before anyone has the time to complain about the noise. I could go on and on and tell you about each and every song and about how they each have massive hooks, or about how great the production sounds, how the guitars crunch just right, or the hi-hat sounds so perfect., and all of that would be true, but I would rather just tell you that this is a fantastic record that you should listen to over and over again. It might be your discovery of the year, or maybe it's a chance to reconnect with an old friend who lost you a little bit and maybe you weren't sure about them. Well, you can be sure now, Matthew Melton and the rest of Warm Soda have delivered on the power pop record of the summer. Symbolic Dream has a high replay value and only gets better the more you listen to it, go seek it out!
Key Tracks: "I Wanna Know Her" / "Can't Erase This Feeling" / "Symbolic Dream"
Artists With Similar Fire: The Strokes / Exploding Hearts / Gentleman Jesse

Warm Soda Website
Warm Soda Facebook
Castle Face Records
– Reviewed by Kevin Poindexter

Kevin has spent the past six years as a partner in an independent record label in addition to his duties at The Fire Note. Kevin prefers cd and digital to vinyl by a fairly wide margin and has begun the process of giving his vinyl away (not the valuable ones or the gbv related ones though so don't ask).

Latest posts by Kevin Poindexter (see all)
Please follow and like us: