Matthew Melton


Outside Of Paradise
Southpaw Records [2014]



Fire Note Says: Matthew Melton hits all the right chords on catchy sophomore outing.
Album Review: From the opening guitar ramble on Matthew Melton's sophomore album, Outside of Paradise, you just know that you are in for a really cool lo-fi garage ride. You may know Melton better from his resume of bands that includes Snake Flower 2, Bare Wires and most recently Warm Soda. Given his busy schedule, Outside of Paradise took a backseat somewhat in its creation, as it was recorded over an extended period of time from 2007–2014. Here is an important note – you would never know it!
Outside of Paradise is a tidy 34 minutes and flows seamlessly. I couldn't name you a really old song compared to a track Melton just created earlier this year. That gives Outside of Paradise a perfectly timeless status that includes fuzzy power pop on "Painted Signs," a little psychedelic closer in "Magic Spiral" and a more punk anthem with "Words I Never Learned." At times, Melton sounds like T. Rex dashed with the Strokes all tied up in the basement with The New York Dolls.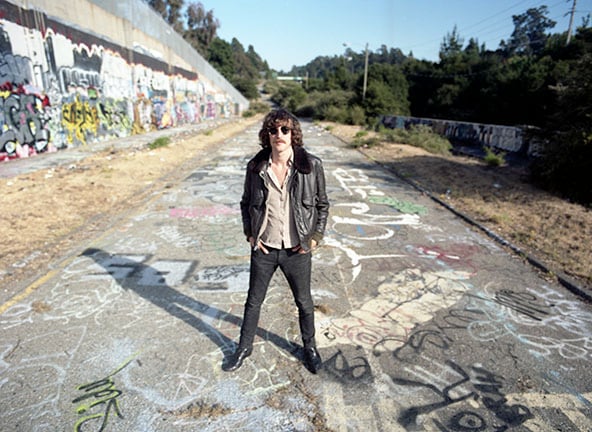 The real draw to Outside of Paradise is Melton's absolutely carefree delivery. The attitude is "hey – I recorded some songs – check em out. If you don't, no big deal." Of course, you stick with this album because of its swagger, great guitar work, classic vibe and high reward replay value. Matthew Melton is a true under the radar talent and if this year's Warm Soda record, Young Reckless Hearts, didn't quite hit the mark for you, Outside of Paradise will bring you back into his Fuzz City world. Just trust me – you are going to like it there!
Key Tracks: "Painted Sign" / "Images On The Sand" / "Glass Diamond Green Roses"
Artists With Similar Fire: Julian Casablancas / Robin Zander / Marc Bolan

Matthew Melton Facebook
Southpaw Records

– Reviewed by Christopher Anthony

After spending the early 90's managing a record store, the mid to late 90's producing alternative video shows and 00's blogging about the music scene Christopher Anthony is always ready to hear new music.

Latest posts by Christopher Anthony (see all)
Please follow and like us: