Tom Morgan


Orange Syringe
Fire Records [2013]



Fire Note Says: Orange Syringe is a stark and beautiful record that is well worth checking out.
Album Review: Let's get one thing out of the way right now; no one is ever going to call Tom Morgan a great singer. His vocal range is limited and is often strained when pushing his limits. He is the definition of an acquired taste. Think of someone like Robert Forster from the Go-Betweens and you have a pretty close comparison to what Morgan sounds like. Having said that, he is a great songwriter and musician, and we get all of that and more on his debut solo release, Orange Syringe.
The songs on Orange Syringe, are stripped bare of ornate instrumentation, often featuring only his acoustic guitar playing and some drums. The sparse song structures allow for his lyrics to take the spotlight, and Morgan uses this spotlight to weave his storytelling magic, covering a multitude of topics, that are often very dark and personal, but can also be upbeat and downright optimistic. And most importantly, his songs are always catchy.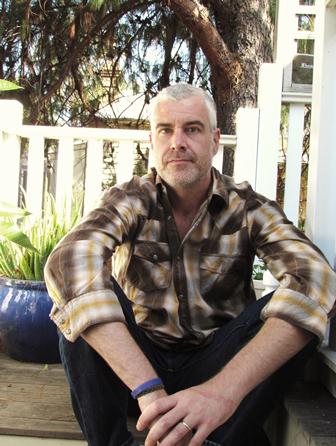 "Best Thing For My Baby" is about as fine of an example of haunting pop as you are going to hear. It's dark, bleak, and personal, and highly compelling to listen to. "Taste For Blood" is a fast charging song, but once again, very dark lyrically. "Awkward Living" is a slow burning song that sounds like it wouldn't have been out of place on Skip Spence's Oar lp. "I'll Provide the Wine" would have been one of the better songs on Robert Forster's highly underrated The Evangelist lp.
It's tempting to compare Orange Syringe to the work Tom Morgan did when he was working with Evan Dando and The Lemonheads. He wrote many of their better known songs, including "It's a Shame About Ray" and "Allison's Starting to Happen", but those comparisons are unfair. For one, that was a long time ago, and two Morgan doesn't sound anything like Dando's honey throated voice. However, it is completely fair to compare his songs from that era to the songs he is writing now, and they more than stand up. This is a stark record, but's it's also a beautiful record, and it is well worth your time to check it out.
Key Tracks: "I'll Provide the Wine", "Best Thing For My Baby", "Virtuoso"
Artists With Similar Fire: The Go-Betweens / Skip Spence / Robert Forster
Fire Records
-Reviewed by Kevin Poindexter

Latest posts by Kevin Poindexter
(see all)