The Skygreen Leopards


Family Crimes
Woodsist Records [2014]



Fire Note Says: Family Crimes is steeped in easygoing 60s folk-rock vibes.
Album Review: On paper, Skygreen Leopards' new record Family Crimes looks like something out of the Elephant 6 camp: a strange album cover, fourteen songs in barely over thirty minutes, straight-to-tape recording, and titles like "Crying Green and Purple" and "Mascara Priscilla"—you'd be forgiven for thinking this is a trippy album full of heavy psychedelic stoner jams. And what you get instead isn't bad, it just isn't heavy psychedelic stoner jams: rather, it's Byrds-inflected folk-rock with a hint of Velvet Underground attitude.
That attitude is partly thanks to the mid-fi recording set-up, but it's also helped along by the vocals, which aren't so much McGuinn, Crosby, Clark and Hillman as Bob Dylan meets Lou Reed, courtesy of the group's two main members, Donovan Quinn and Glenn Donaldson. While they're no match for The Byrds, the duo's laid back singing approach suits these quiet, country and folk-tinged tunes. There's plenty of acoustic guitar strumming, shuffling drum patterns, some twelve-string jangle, a bit of slide here and a touch of organ there. Some might find the production to be slightly "muddy," but it gives the songs a bit more of a punch, and the mixing makes sure that the guitars ring out where they need to.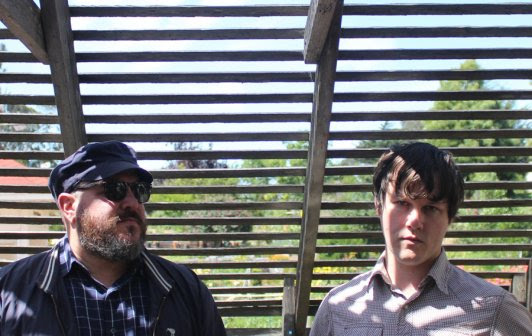 The first couple of tracks are strong, especially the opener "Leave the Family" (which gets reprised later on), but the first true standout is "My Friends," with its honky-tonk piano, rolling drums, driving bass and catchy melody. "It's Not Love" is another highlight and probably the album's most obvious homage to The Byrds, with its call-and-response lead vocals and guitar picking that sounds like it comes straight off Mr. Tambourine Man. "Josephine," is another Byrdsian winner, with one of the album's more memorable melodies, as is closer "Suburban Bibles," which is a little more psychedelic than most of the other tracks, though it's still not exactly Nuggets territory.
It may sound like I'm saying Skygreen Leopards are nothing but a Byrds rip-off, but that's not actually the case—they're just the easiest point of reference. In reality, though the band's sound is a little one-dimensional, there's enough good songwriting and musicianship on Family Crimes to make it worth investigating. If you like your 60s-style rock on the jangly side, Skygreen Leopards are more than happy to oblige.
Key Tracks: "My Friends," "It's Not Love," "Suburban Bibles"
Artists With Similar Fire: The Byrds / Circulatory System / The Turtles

Woodsist Records
-Reviewed by Simon Workman

Latest posts by Simon Workman
(see all)