OBN III's


Live In San Francisco
Castle Face Records [2014]



Fire Note Says: Explosive live set from aggressive Texas punk rockers.
Album Review: Castle Face Records hits another one out of the park with their latest entry in the Live in San Francisco series, this time out featuring Texas punks OBN IIIs. I didn't know much about this band when I first heard this album, but I now know that I want to learn as much as I can, because this is right in my wheelhouse. Loud, aggressive, sneering attitude, slash and burn guitars, confrontation, danger, you name it, it's all here on Live in San Francisco. Frontman Orville Bateman Neeley III is in your face from the get go, doing his best to illicit some sort of response from the crowd, either adoration or hatred, it matters not to him, he just wants something, and it is this element of confrontation that really kicks this recording up a notch, he pushes the band as hard as he can into a classic Detroit fury echoing the greats, The Stooges, Deniz Tek (Radio Birdman) and Sonic's Rendezvous Band in both style and substance. This record is like a higher fidelity and better performed Metallic KO, and believe me, that is high praise.
"Off the Grid" opens things off with a punch to the groin, its chugging guitars buried in distortion and chaos. Neeley's vocals are at times reminiscent of Jon Spencer, but here they are flat out full throated punk rock from the Iggy Pop school of rock vocals. "So What If We Die" is another face melter that begs to be cranked to maximum volume, heck the whole record is begging to be cranked, you better reinforce your woofers and tweeters. The real highlight of the record for me is the between song banter, particularly where he takes on the crowd, telling them they look like shit, and the guy in the v neck t shirt. It's awkwardly hilarious, elsewhere, he tells someone that the band is crashing with him at his house, he scolds the audience for not being able to follow directions, little seems to provoke the crowd, they just seem to take it, almost like they are afraid to say anything, like they will get their ass kicked by Neeley. "God ruined a perfectly good asshole when he gave you teeth" is the line that had me rolling. By the time "No Time For The Blues" closes the album with it's absolute perfect blend of punk and garage rock punch, I'm ready to start the record again and grab another beer from the fridge and do it all over again.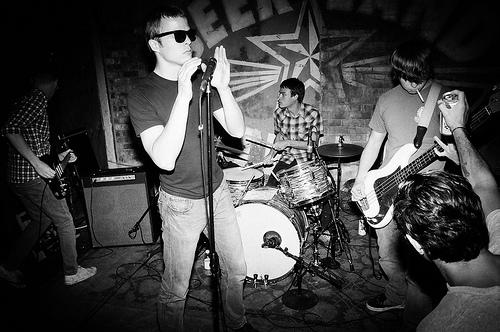 Live in San Francisco may not be the perfect live album, but it is certainly a perfect live album for the OBN III live experience. If you like your rock loud, fast, aggressive and catchy, get this record! This record is a worthy followup to both the White Fence and Fuzz entries in the series, here's hoping that Castle Face keeps this series going for a while!
Key Tracks: "If The Shit Fits" / "Off The Grid" / "No Time For The Blues"
Artists With Similar Fire: The Stooges / Sonic's Rendezvous Band / Radio Birdman

OBN III's Website
OBN III's Facebook
Castle Face Records
– Reviewed by Kevin Poindexter

Latest posts by Kevin Poindexter
(see all)