The Len Price 3


Nobody Knows
JLM Music [2014]



Fire Note Says: Nobody Knows shows why The Len Price 3 are the best kept secret in Rock!
Album Review: The Len Price 3 are one of the best kept secrets in Rock, of that there can be no doubt. The UK trio has just released their fourth album, Nobody Knows, and it is their best album yet. Pictures, released in 2010 received the seal of approval from Little Steven Van Zandt (who also served as executive producer of the album) and was the band's previous high water mark. Nobody Knows blows the doors off of that album, and just might end up being the garage rock album of the year when all is said and done in 2014.
The Len Price 3 wear their influences on their sleeve, they are a little Who here, a dash of Small Faces there, a bit of The Jam, and more than a touch of The Lyres, with a dose of The Kinks to keep things nice and British. I think you can probably figure out what they sound like just by reading that last sentence. They are no holds barred garage rockers with a heavy 60's mod influence that know when to ease off the throttle when it's called for, but always shift it into high gear when it is absolutely necessary. In other words, they are a ripping good time and for 13 songs and 35 minutes, these cats are going to melt your face.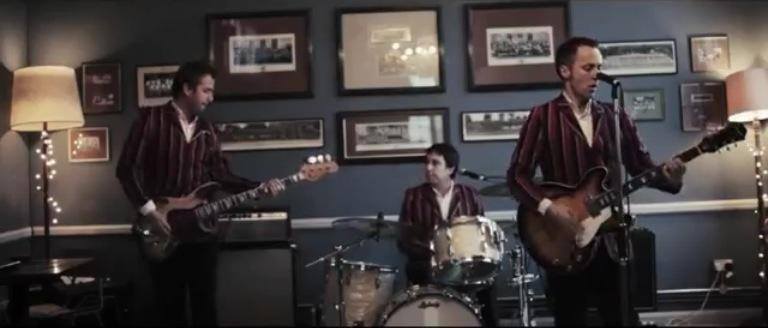 "Nobody Knows" opens the album with a bang, recalling the high energy attack of early Hives, it's pretty much the perfect garage song. The sing-along backing vocals and snarling lead guitar, coupled with a crunchy riff and catchy melody make this one a keeper. "Swing Like a Monkey" has a nifty little "96 Tears" style organ riff that will get stuck in your head, and it's used very sparingly, which leaves you wanting more. "Billy Mason" sounds like it could have been on The Jam's In The City lp, that is very high praise indeed. It's the most Mod influenced track on the record, and it definitely needs to be turned up as loud as possible to get the full effect. Tracks like "Couldn't Get Much Worse" and "Medway Sun" show off the bands gift for melody while slowing things down just a bit before exploding into the grand finale "The London Institute" which ends thing on an incredible high. Go ahead and hit repeat at this point and start the album over, because it just continues to get better and better with each listen.
Key Tracks: "The London Institute", "Billy Mason", "Nobody Knows"
Artists With Similar Fire: The Jam / Reigning Sound / The Who
)
The Len Price 3 Website
The Len Price 3 Facebook
JLM Music
– Reviewed by Christopher Anthony

Latest posts by Kevin Poindexter
(see all)