The Decemberists


What A Terrible World, What A Beautiful World
Capitol Records [2015]



Fire Note Says: Lighter and a bit brighter, The Decemberists have greater focus on their 7th studio record.
Album Review: The folky harmonica driven song that gives this 7th studio album from Portland, Oregon's The Decemberists its title is "12-17-12," a song that singer/songwriter Colin Meloy suggests grew from watching President Obama speak about the Newtown school shootings which took place three days after the horrid event. It's a parent's reflection on the gift of children amid the realization that there are some parents grieving the loss of their children, which asks "oh my God, what a world you have made here, what a terrible world, what a beautiful world, what a world you have made here?"
By now, fans of The Decemberists are used to Meloy's tendency to look back at some darker historic moments to create songs in the great narrative folk song traditions of the British Isles, a la Fairport Convention. That strong literary story-telling sensibility can be felt here in "Lake Song," "Till the Water is All Long Gone," "Carolina Low" and elsewhere, but Meloy & Co. have embraced their inner pop star sensibility with renewed passion in the four years since The King Is Dead.
Terrible/Beautiful World, true to the paradox suggested in the title, tends to see all of life's perplexities as a struggle between "either/or" and "both/and" thinking. Take his tongue in cheek ode to his fans in the aptly titled "The Singer Addresses His Audience," where Meloy sings: "we know you built your life around us." It's an ironic song about artistic identity, fame, and that delicate balance that defines the love/hate relationship with one's fans as one's art/music evolves over time. And interestingly enough, it starts out like an acoustic folk ballad and reaches it's climax in one of the disc's edgier rock moments.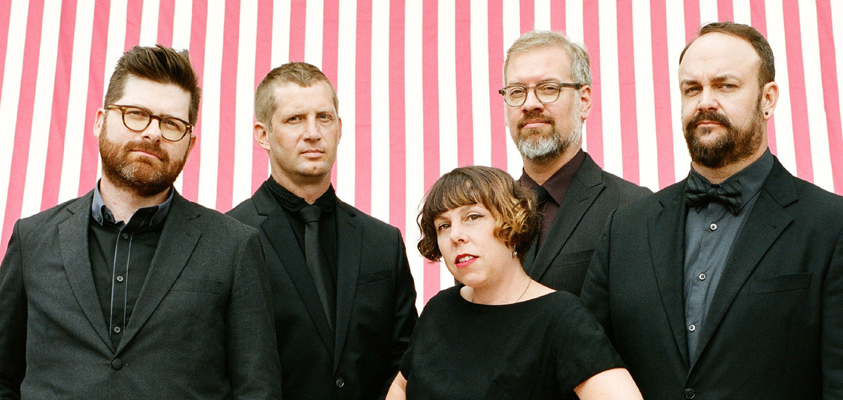 "Cavalry Captain" finds The Decemberists echoing the 80's Brit pop of the likes of The Housemartins, an up-tempo tone that carries on through "Philomena," which adopts a Spectoresque "wall of sound" in celebration of the fine art of oral love-making: "if only you'd let me go down." On tracks like "Better Not Wake the Baby," with it's Chieftains' like drone of bagpipe and banjo, finds the band in great form, touching on reliable older musical sounds to address Meloy's and every new parent's worry.
Lighter and a bit brighter, The Decemberists have greater focus, here on Terrible/Beautiful World. Meloy's wit and charm are a bit more accessible, and the band's instrumental support feels less "epic" and more to the point. The result is strong album of great pop songs rooted in the traditional musical forms that have long inspired them. "Carolina Low" plays off a blues riff, while "Mistral" builds on gospel influenced pop balladry. Fittingly, "A Beginning Song," ends the album, and like "Make You Better," seeks to take stock of the present moment's tasks and challenges and "document the world inside your skins… starting with your heart." Life indeed comes with terrible events and tragic moments, but here The Decemberists are looking past that for what makes the world beautiful as well: "I am hopeful," Meloy sings, "should I be hopeful?" I can't answer that, but this music certainly helps.
Key Tracks: "Cavalry Captain" / "Philomena" / "12-17-12"
Artists With Similar Fire: Fairport Convention / Richard Thompson / XTC / The Shins

The Decemberists Website
The Decemberists Facebook
Capitol Records
– Reviewed by Brian Q. Newcomb
Latest posts by Brian Q. Newcomb
(see all)