Parkay Quarts


Content Nausea
What's Your Rupture? Records [2014]


Fire Note Says: A late 2014 release from Parquet Courts offshoot project is a must have!
Album Review: Parkay Quarts is the side project of Andrew Savage and Austin Brown of Parquet Courts, and one can only assume that this side project is a way of both thumbing their nose at conventional wisdom and giving their fans more of what they want. Artists are constantly told not to flood the market with content because it confuses fans, which seems ridiculous to me as a fan, because I want to hear as much as possible from my bands, so Content Nausea is a welcome addition to my music collection. Following hot on the heels of Parquet Courts' excellent Sunbathing Animal, Content Nausea gives me more of what I want, yet is different enough from the main band to feel like an entirely different project.
To my ears the album feels more off the cuff, lower fi and stripped down. That's not to say that the songs are unfinished, because that is absolutely untrue, it's just that they feel more in the moment, like the duo didn't worry about nailing the perfect take. This gives the album a greater intimacy than Sunbathing Animal, and every bit as rewarding. In fact, I would go so far as to say this record is almost the equal of that critically acclaimed album. "Everyday It Starts" opens the album on a slightly off kilter, but completely awesome note. A simple beat, plus a two note bass line, with chanted vocals overtop, and then some stinging guitar leads. This song reveals its charms after a few listen. Elsewhere, particularly on the title track and "The Map" the band sounds like the Velvet Underground doing "The Gift" or "The Murder Mystery". "Slide Machine" recalls early Pavement or Silver Jews, with its laid back slacker vibe and ultra-cool vocal delivery.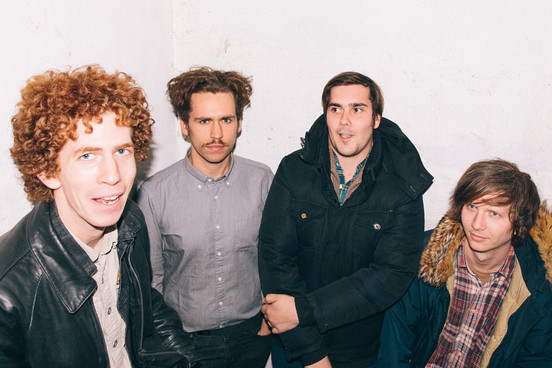 I've often heard the band compared to Pavement and never really got it until hearing this record, maybe it's the more casual feeling, but I can't quite put my finger on it, but I hear it now. The song that has gotten the most attention is their cover of "These Boots are Made For Walkin'" and rightfully so. It's every bit the equal to Nancy Sinatra's original, which is high praise since that is one of the most iconic singles of the 1960's.
This record is not only a great companion piece to Sunbathing Animal, but it is a pretty outstanding record in its own right. We missed the boat on this one as it slid in towards the end of last year, but it's a good one, and one to get if you haven't already!
Key Tracks: "Content Nausea"/ "These Boots are Made for Walkin'"/ "Pretty Machines"
Artists With Similar Fire: Pavement / The Fall / The Velvet Underground
Parkay Quarts Website
What's Your Rupture? Records
– Reviewed by Kevin Poindexter

Latest posts by Kevin Poindexter
(see all)