Rumspringer


Stay Afloat
Dirt Cult Records [2013]



Fire Note Says: Rumspringer drop a punk rock bombshell!
Album Review: Dirt Cult is quickly becoming a can't miss label for me, earlier this year they dropped the Big Dick record on me, and then a few months ago, the had the awesome Sundowners record, and now we have Tempe AZ band Rumspringer, and their epic new record, Stay Afloat, which is yet another possible contender for my top ten of the year.
Rumspringer play the kind of anthemic, fist pumping punk that never fails to get me charged up. It's fast, aggressive and most importantly melodic. The songs have an incredibly high replay value, and are easy to shout along to. "Air Raid Curfew" opens the record with a 30 second jazzy instrumental section before kicking in to some fast power pop punk. Think of it as the instrumental intro to the album, it draws you in, and then hits you over the head! "Hindsight is 20/20, Foresight is $200 an Hour" is not only an awesome title, but it's an even better song. This one had me jumping out of my chair immediately. Chugging guitars, a driving beat, some cool breakdowns, and a highly emotionally charged vocal are the perfect storm for me musically. "Stix & Stones" is more of the same potent combination, yet add a dynamic second vocal to the mix that really helps to set the song apart from the punk rock pack.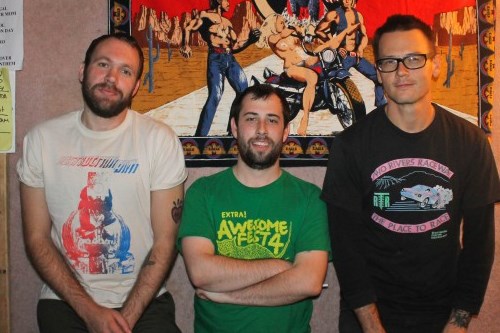 These guys seldom take their foot off the gas pedal for long on the 11 song Stay Afloat, with Tourists & Vagabonds being the only notable exception, but it gets there eventually, trust me! While that can normally lead to a feeling of redundancy for some bands, Rumspringer mix it up by having multiple singers (it sounds like two, but it could be all three of the guys). There isn't a bad track on this record and I encourage you to seek it out. These guys write and play the kind of music you probably wish you were playing if you ever wanted to be in a band. I know it's what I would be playing if I could! They recently announced some tour dates for next month, so make it a point to get out and check them out!
Key Tracks: "Tourists 7 Vagabonds", "Hindsight is 20/20, Foresight is $200 an Hour", "Shitfaced in a Bathroom Stall"
Artists With Similar Fire: Rancid / Minutemen / The Gaslight Anthem
Rumspringer Website
Rumspringer Facebook
Dirt Cult Records
-Reviewed by Kevin Poindexter

Latest posts by Kevin Poindexter
(see all)