Priests


Bodies and Control and Money and Power
Don Giovanni Records [2014]




Fire Note Says: Priests give indie punk rock a shot in the arm and then they pummel the injection site.
Album Review: Almost 10 months ago, I ran across a Priests video on YouTube. Cannot remember how I stumbled onto it, but it stuck with me. It was a simple video of the band performing outdoors in Monterey, CA, but the song was so catchy and had an air of honest anarchy to it, that I kept coming back to listen to the track over and over again. I was hooked.
They were performing "Design in Reach," the first track on their new EP, Bodies and Control and Money and Power. It is a stunning opener that sets the no nonsense tone for the record, a record that continues to impress through all seven tracks.
Priests are a Washington, D.C. area indie-punk outfit. They bring a fresh and explosive sound that is at once punk, but also nervous and jittery indie rock. The music is a perfect showcase for the urgent and exciting vocal assault frontwoman Katie Alice Greer puts her listeners through over the course of Bodies and Control and Money and Power.
The pummeling starts with the aforementioned "Design in Reach." The track sounds a lot fuller and more menacing than the live version from YouTube. Bouncy, staccato drumming and bass-line threaded with a catchy guitar riff and Greer's snarling vocals. If you can't dig this track, this band is not for you.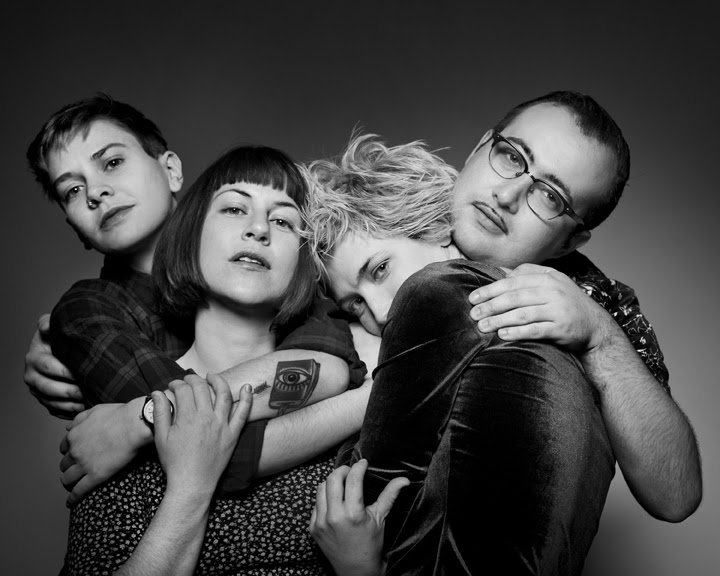 Track three, "New," is another enormously catchy track. Jittery guitar and a constant stop/start tempo punctuated with a shouted "5, 6, 7, 8!" hook. "Modern Love / No Weapon" is a classic post punk shout fest played at breakneck speed and has a great riff jam towards the end.
Things take a bit of turn with track six. "Right Wing" actually sounds more like an Exile in Guyville era Liz Phair song. This observation is not intended as a putdown. Early Liz Phair is a good thing. Greer shows off a voice that doesn't have to scream at you to get a point across. "Right Wing" is a fun and upbeat track and it adds a bit of welcome diversity to the EP.
Priests get back to their noise punk sound with gusto for the final track, "And Breeding." This is the angriest track on the EP. Greer screams about "fucking and breeding" while the song jumps between punk rock crunch peppered with Breeders or Blood on the Wall worthy bass-line grooves.
Seven tracks of indie punk angst. That is what I expected from Priests, and that is what I got. It sounds fresh, relevant, urgent, and even dangerous. Bodies and Control and Money and Power is an powerful EP and we should expect great things in the future from this band.
Key Tracks: "Design Within Reach" / "New" / "And Breeding"
Artists With Similar Fire: Babes In Toyland / The Breeders / Blood on the Wall

Priests Website
Don Giovanni Records
– Reviewed by Daniel Taylor
Latest posts by Daniel Taylor
(see all)