Phoenix


Bankrupt!
Glassnote Records [2013]


Fire Note Says: Phoenix took their time but come back with plenty of new avenues.
Album Review: Like many other bands coming off their biggest record, French electro-indie-pop artist Phoenix cautiously approached their follow up here as it has been four years since Wolfgang Amadeus Phoenix took the scene by storm. That kind of time off always leads to speculation and anticipation for the new record. It also builds up questions like what is the new album going to sound like? Is the band going to change? Are they going to release Wolfgang Part II? Is dubstep involved?
The safe route for Phoenix would have been to have Bankrupt! littered with similar super pop busters like "1901" and "Listomania". It would have been a full retread but probably propelled the group to the likes of the band fun.'s status. The good news for fans is that even though there is plenty of pop choruses to sing along with there are also a plethora of risky moves and complex song arrangements that showcase the band's talents and willingness to put it all on the line. Right from the opening "turning Japanese" effect that kicks off "Entertainment" you start to feel Phoenix has something up their sleeve for Bankrupt!. The rest of the track has a similar vibe with its upbeat tempo and catchy chorus. On the next track, "The Real Thing", you get the idea of where Phoenix is going as it dives backwards with its 80's synthesizers but fires you forward to the modern day when it swirls the music behind lead singer Thomas Mars vocals and creates an internal song battle that will keep your ear interested the entire track.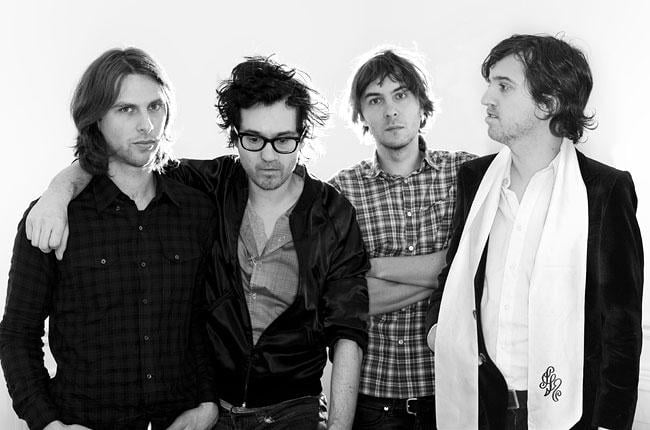 Some of the more straightforward numbers here like "Trying To Be Cool" and "Don't" represent the talent we already knew existed in Phoenix and have a little Strokes venom running through them while still blending their catchy power pop with synth-dance elements. "Don't" especially works as it speeds up right in the middle as you feel its mid-song energy shoot up through the roof. These tracks like the first single "Entertainment" create the base to the record but the songs that supply the filling to Bankrupt! are the more eclectic arrangements that are scattered throughout the album. The title track that almost hits the seven minute mark expands Phoenix's horizons as it ventures out into their fellow countrymen M83's territory with its electronic/shoegaze vibe because it rolls almost four and half minutes before you get vocals to close it down. "Chloroform" is another atmospheric track that uses space and tempo in order to pull the listener into its grasp. It also has a spectacular ending as the song winds down but its almost jazzy synth does not allow you to drift off. Initially I thought these tracks pulled the album down but as I listened more it turns out Bankrupt! is a grower. The same songs that I thought ruined Phoenix's appeal initially here are now the glue that gives Bankrupt! its swagger.
Bankrupt! may not have the initial appeal or commercial side that Wolfgang had but after several spins the record gets in your head. Singer Mars should grab tons of credit here as he drives most of the records progression and leads the listener through Phoenix's quick style changes with such a calm confidence that you can't turn away. The record has a strong 80's presence to it with its consistent bouncy keys but like in the past, Phoenix keep it moving on Bankrupt! and with Mars on vocals there is no way that this album does not grow on you. I don't think Bankrupt! surpasses Wolfgang as their best but it is a solid effort on its own that should maintain Phoenix's popularity that only continues to build.
Key Tracks: "Entertainment", "Chloroform", "Don't"
Artists With Similar Fire: M83 / The Strokes / Grizzly Bear
Phoenix Website
Phoenix Facebook
Glassnote Records
-Reviewed by Christopher Anthony

Latest posts by Christopher Anthony
(see all)