Jack White


Live From Bonnaroo 2014
Third Man Records [2014]


Fire Note Says: Jack White releases vault package #22 as a triple LP tour-de-force.
Album Review: 2015 is shaping up to be a hell of a year. A new Sleater-Kinney album, a new Radiohead album, The Jon Spencer Blues Explosion's Freedom Tower announced for March, a new Tool album, as well as a new Dead Weather record—and from what we've heard of that one, I'm cautiously optimistic. But while the world waits to digest more Jack White material we always know he and Third Man Records have us covered. Third Man Records' fourth-quarter offering, Vault package #22, Live From Bonnaroo 2014, is exactly as advertised, containing a 3 hour, 27-song setlist of familiar favorites, covers, and new material from just before the release of 2014's Lazaretto.
While I did enjoy the music I kept asking myself one question: has a full band diluted Jack White? Jack plays the stately role of bluesman philosopher/storyteller, connecting with the audience on a humble level and telling the origin stories of songs such as "Little Bird," "Steady, As She Goes," "We're Going to be Friends," and "Temporary Ground." But it was still the playing that left me reflecting on previous performances, and example being one of my favorite vaults, Jack White: Live at Third Man Records. The double LP attack of Live at Third Man with the Buzzards and the Peacocks harnessed an impressive setlist that highlighted the strengths of blues, country, and rock that Jack can provide—as well as one of the best "Dead Leaves and the Dirty Ground" performances I've ever heard. Not that Live from Bonnaroo doesn't have its merits: as with every live performance of "Ball and Biscuit" this one continues to live up to impressive standards. It even includes a great nod to famed bluesman Howlin' Wolf's "Smokestack Lightning." "Hotel Yorba" has impressive life as a full band country jam. There are also three impressive but short covers thrown in that include Led Zeppelin's "The Lemon Song" and two surf classics, "Pipeline" by The Chantays and Dick Dale's "Misirlou."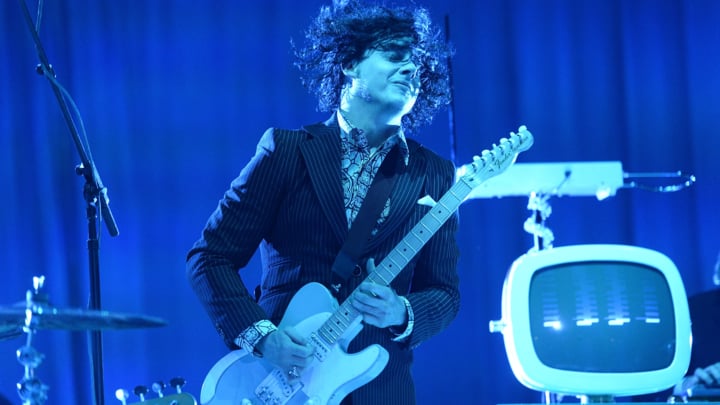 In Third Man's traditional style they never half-ass anything. Live from Bonnaroo 2014 includes a triple LP set of blue, black, and white colored vinyl. Also included is a professionally-edited DVD of the performance along with a custom designed USB flash drive and other goodies. One great note is that the vault is dedicated to Isaiah Ikey Owens (White's keyboardist), who we lost in 2014 (R.I.P.). Even with some of the weaker links such as "Three Women," "Cannon/The Kills-Fried My Little Brains" (usually a favorite), "Top Yourself," "Blue Blood Blues," and a standard "Seven Nation Army" the passion and appreciation is still there. For fans and vault members that's the reason we fell in love in the first place.
Key Tracks: "Freedom at 21" / "Ball and Biscuit" / "Little Bird"
Artists With Similar Fire: Led Zeppelin / Loretta Lynn / Band of Skulls
Jack White Website
Jack White Facebook
Third Man Records
-Reviewed by Christopher Tahy

Latest posts by Christopher Tahy
(see all)