Jack White


Lazaretto
Third Man/Columbia Records [2014]



Fire Note Says: Does Jack White's Blunderbuss follow up deserve the same praise?
Album Review: If you know anything about The Fire Note, it's that most of us here are Jack White fans. Whether it's subscribing to his record vault, traveling to his home base Third Man Record in Nashville, or following his career from The White Stripe to The Raconteurs to The Dead Weather as well as solo, we cannot get enough Jack White. I only gush to acknowledge bias-If the album was terrible never give unworthy praise. But we know our stuff and even named White's first solo outing.
Blunderbuss our #6 album of 2012, calling it "a record that maybe did not immediately awe fans but it had tremendous staying power." Man was Mr. Anthony right; my wife and I even used a title track in our wedding that year. So where are we now as we fast forward to 2014? Well, with a weird battle between White and The Black Keys, the impressive gimmicks of the Lazaretto ULTRA LP, and an apology letter, the actual release of Jack White's second solo album Lazaretto is finally upon us.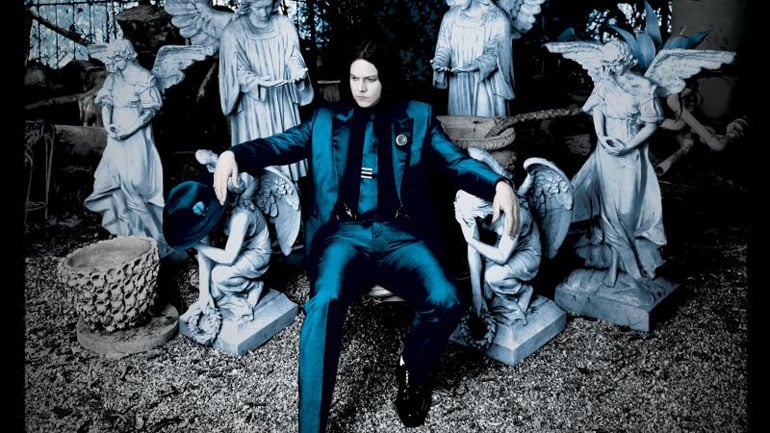 Now based on my own moral guidelines I find myself a tad cross with Mr. White. While this Black Keys nonsense has been raging from some time, it has never been necessary. Also, the fact that it flared with some "watered down" remarks, only then to be quelled with an "apology letter" around the release of Lazaretto could almost be perceived as bit of a publicity stunt. I'm not taking sides—I have plenty of Black Keys albums—I'm just thankful that this "white noise" hasn't affected my view of the album. Lazaretto, while not as potent as Blunderbuss, shows that it's Jack White himself (and not any particular album) that possesses the staying power. The fact that I had trouble picking three key tracks is a good indicator that White has stayed consistent. While I've seen phrases such as over-produced, same-y, rehash, too bombastic, etc., Lazaretto is strong enough to carry White through the storm of criticism. While the intro, "Three Women," comes off as a cheesy Nashvillian "Big Pimpin'" to me, it's the "White Moon" draw of closer "Want and Able" that hails back to the childlike Stripes days. "Temporary Ground" borrows some of its vocal hook from Marcy Playground 's "Sex and Candy," transforming it with the haunting beauty of 2012's "Love Interruption." "Would You Fight For My Love?" pairs the calm with the storm, the ivories are played with unearthly restraint and intimidating force.
Instead of flaking out with a Blunderbuss/career rehash, White still has the ability to deliver original big rock hooks. The title track avoids easy categorization with one of my favorite breakdowns White has ever done, while instrumental "High Ball Stepper" has a Dead Weather feel but keeps things big and brave, bold and fuzzy—both tracks are standouts that could easily carry past the life of the album. The only negativity I have toward Lazaretto is the few tracks that are extra simple or safe. Songs like "Just One Drink," "Entitlement," and "Alone In My Home" come to mind (as well as the aforementioned "Three Girls"). But on the majority of the album White and Co. seem to buck that trend, showing that Jack is not a dull boy, nor is he a one trick pony. Producing and writing with and for so many prevalent artists of yesteryear and today, you have to wonder if White holds back a bit and sticks some of those ideas in his back pocket for a rainy day. If Lazaretto is any indication, then I have a feeling that Wanda Jackson, Loretta Lynn, Neil Young, The Greenhorns, and Karen Elson might have gotten the short end of the stick.
Key Tracks: "Lazaretto" / "Temporary Ground" / "I Think I Found The Culprit"
Artists With Similar Fire: Loretta Lynn / Bill Monroe / The White Stripes
Jack White Website
Jack White Facebook
Third Man Records
Columbia Records
-Reviewed by Christopher Tahy

Latest posts by Christopher Tahy
(see all)