Heavy Times


Fix It Alone
HoZac Records [2013]


Fire Note Says: Heavy Times deliver a knockout blow with new album, Fix It Alone.
Album Review: HoZac Records has built up quite an impressive stable of artists, releasing albums in the past few years from the likes of Radar Eyes, GAMES and Idle Times to name a few. Out of all the great records they have put out my favorite thus far was the first Heavy Times lp, Jacker, so it's safe to say I was pretty excited to get a review copy of their new album, Fix It Alone. Hailing from Chicago, Heavy Times specialize in angular guitar riffs and quick and catchy sonic bursts of incredible pop that call to mind the a few heavyweights you might have heard of, Wire and Guided by Voices. That's not to say they sound like those bands, but they have taken the spirit of those bands, and the idea of trimming away the excess and keeping only the good parts in their songs. The songs are short and never outstay their welcome; in fact they keep you wanting more.
The 18 songs on Fix It Alone clock in at a mere 33 minutes, but they pack so many different ideas and sounds into those 33 minutes that one would never guess it was that brief. "Ouija Board" opens the record and hurtles past in less than two minutes. It has a really cool guitar riff that will have you playing your air guitar along with it if you are so inclined to do such things (I definitely am!). Also immediately noticeable on first listen is that there has been a bit of an upgrade in fidelity since Jacker. Not a huge upgrade, but enough to make you think that if these guys ever had a budget and got into a big studio they could make a huge record if they wanted to. Don't worry though, Heavy Times are still awash in feedback and reverb, at times I was reminded of that first amazing Black Rebel Motor Cycle Club record. "Trouble Walker" is a good example of what I'm talking about. It's a big rocker, that has a catchy vocal and a bit of a drone sound going on. "Tradition of Abuse" is another great track that benefits from the bigger production. The record still has plenty of rough edges to please longtime fans, "Future Creeps" is a :40 second burst of scuzzy punk and "Daylight" is cut from a similar cloth, so don't think they have cleaned up their sound too much, they have achieved a real nice balance in sound and style.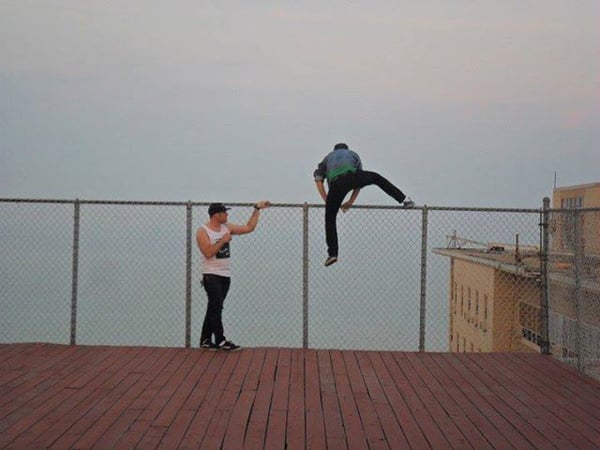 Fix It Alone shows some remarkable growth from Heavy Times. It's a record that demands your attention from the get go, and rewards you over repeated listenings. Play it loud and play it repeatedly and you'll see what I mean.
Key Tracks: "Trouble Walker", "Ouija Board", Tradition of Abuse"
Artists With Similar Fire: Black Rebel Motorcycle Club / Wire / Guided by Voices
Heavy Times Facebook
HoZac Records
-Reviewed by Kevin Poindexter

Latest posts by Kevin Poindexter
(see all)