Guided By Voices


English Little League
GBV Inc. [2013]


Fire Note Says: Guided By Voices return with the complex and addicting English Little League!
Album Review: After three roaring full lengths last year from Guided By Voices, the classic lineup are back with album number four – English Little League. It is a record that once again presents a different spirit and in my opinion ELL is exactly the record I thought GBV would release since I heard the news they were making an album back in 2011.
From the warm opening guitar strums on first track "Xeno Pariah", you get this sense that everyone involved is comfortable and focused. The song quickly builds as Pollard sings the first already classic line on the album, "Xeno Pariah get out of the pool, I'll fly you to school." If you like GBV, English Little League already feels like home. The satisfying tone is already set but quickly you get to the Tobin Sprout penned track, "Islands (She Talks In Rainbows)", which turns out to be one of the catchiest songs he has written in years! From the very start, it quietly builds up its first 17 seconds until it explodes with Sprout's confident soft lead vocals. The chorus is immediately ingrained in your head and the track only gets better as your crank up the volume. It is easily Sprout's best track so far from this era of recording. I almost guarantee that after you hear this song more than once you will start harmonizing the last line "so tell her mother, she's just fine." The confident flow of English Little League keeps rolling as the following Pollard lead song, "Trashcan Full Of Nails", has a marching drum beat and wordplay lyrics with an attitude that all combine for another album highlight.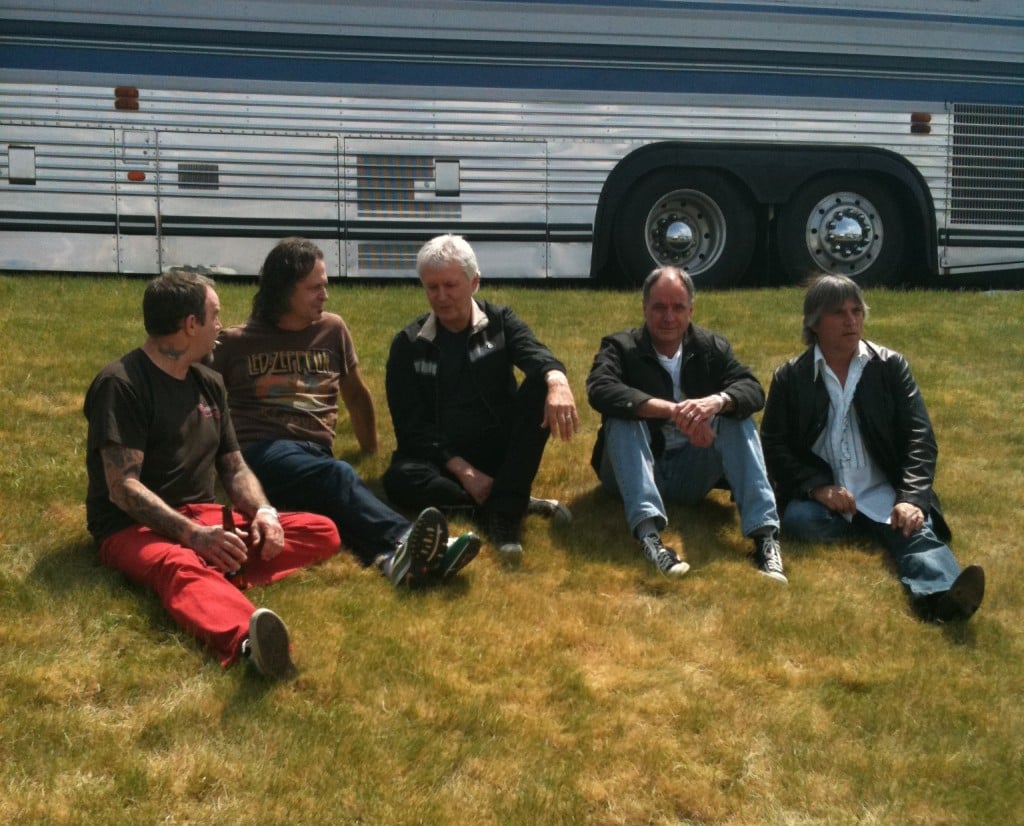 The other two singles on this record, "Noble Insect" and "Flunky Minnows", are also top notch but there are several other tracks that help English Little League succeed. "Send To Celeste" is the first, as its slower tempo has a commanding presence that almost makes you stand to salute while the loose "Crybaby 4 Star Hotel" feels like a mess at first until you get inside the raw rocker and let it just roll. The second half of English Little League is much more complex as songs like "Taciturn Cave" has Pollard reaching his lowest vocal range with some muscular guitar to help push it back up. The grooving "Birds" is another mid-tempo track that has a more retro-rock vibe going on before the "The Sudden Death Of Epstien's Way" showcases Sprout once again hitting a writing high point for English Little League.
English Little League is probably the least immediate album of the four recent GBV records to sink in. It represents a larger "grower factor" than say the large power pop on Class Clown Spot A UFO but it will turn out to be as equally gratifying in the end. By the time you hit the absolute Who type rocker, "W/ Glass In Foot" to close out the record, English Little League's style amazes you. I am not sure you can call this album "mature" because not one member in the band is getting any younger but I believe refined, skilled and on point are all better adjectives for an album that has a solid flow and just sounds great! Time will tell if we see another full length from this GBV lineup but right now, after four albums, fans can all safely say that it has been one hell of a fun ride – right down to the final rocking note!
Key Tracks: "Islands (She Talks In Rainbows)", "W/ Glass In Foot", "Trashcan Full Of Nails"
Artists With Similar Fire: Robyn Hitchcock / Chavez / The Who
Guided By Voices: Down By The Racetrack (EP) [Fire Note Album Review 1/22/13]
Guided By Voices: The Bears For Lunch [Fire Note Review 11/1/12] (#3 Top 50 2012)
Guided By Voices: Class Clown Spots A UFO [Fire Note Review 6/5/12] (#3 Top 50 2012)
Guided By Voices: Let's Go Eat The Factory [Fire Note Review 12/9/11] (#3 Top 50 2012)
Guided By Voices Website
Guided By Voices Facebook
Rockathon Records
-Reviewed by Christopher Anthony

Latest posts by Christopher Anthony
(see all)