Flotation Toy Warning


Bluffer's Guide To The Flight Deck
Talitres Records [2015]




Fire Note Says: This reissue should win FTW some new fans and it rewards their faithful listeners with a beautiful and worthy debut on vinyl.
Album Review: It all started for me in 2004 with "Happy 13," the opening track of Bluffer's Guide to the Flight Deck. The sound of waves lapping against creaky, ocean bloated wooden beams and a memorable lyric of "I've had dreams you couldn't even fit inside your head." A fitting analogy for Flotation Toy Warning's debut LP, Bluffer's Guide to the Flight Deck, a sumptuous album that can barely fit inside of the average music listener's head.
Talitres Records, home to Flotation Toy Warning, has reissued this splendid psychedelic/chamber pop album, giving it its first ever vinyl release. I have been a proud CD owner since 2004, but just holding this record and gatefold make it feel new again. This is a cherished album for me and to see it get the love and attention that it did from Talitres Records is heartwarming. The artwork is incredibly detailed and each record sleeve has the lyrics printed on them.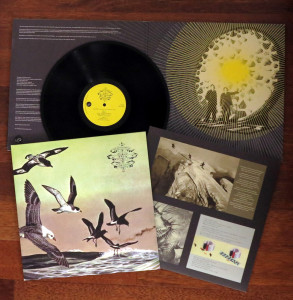 Trying to describe Flotation Toy Warning music is difficult. For comparisons sake, they have a bit of Grandaddy, Mercury Rev, Neutral Milk Hotel in their DNA, but for me, I liken them to a Pink Floyd for a new generation. Beguiling and genre defying. Something that will stun you and evoke moments of melancholy and unbridled joy. Hard to find a record that can make you cry and smile at the same time.
Each track on the LP is a musical journey. Flourishes of brass, strings, keyboards, and samples abound throughout each track; but never are they overused, instead they punctuate and make each track different from the next. This album exemplifies musicianship intertwined with artistry. Get onboard music fans; this is a modern classic.
Key Tracks: "Happy 13" / "Popstar Researching Oblivion" / "Even Fantastica"
Artists With Similar Fire: Grandaddy / Neutral Milk Hotel / Mercury Rev

Flotation Toy Warning Website
Flotation Toy Warning Facebook
Talitres Records
The Fire Note was lucky enough to talk to FTW front man, sampler, and programmer, Paul Carter for a short interview regarding the reissue.
TFN: Bluffer's Guide to the Flight Deck released in September 2004. Was this reissue a 10-year anniversary of sorts?
Paul Carter: We always hoped Bluffer's would be released on vinyl. Sean Bouchard, who runs Talitres (the record label we are on) made the decision to release it this year. He had always intended to do it one day. As to whether he picked this year because it is the 10th anniversary, we do not know.
TFN: Is the band happy with the final product for the reissue?
Paul Carter: Delighted. Sean only had the budget to release it with blank paper inner sleeves, but we knew this was not right. So, we all chipped in from our own pockets to fund the inner sleeves with the original artwork on. Vicky West, our keyboard player, put the design together herself based on what she originally put together for the CD all those years ago. As always, she has done an amazing job.
TFN: What are the origins of the two previously unreleased tracks, "Not a Lifesaver" and "Even Fantastica (Goodbye to the Flight Deck Mix)?"
Paul Carter: "This Is Not a Lifesaver" is a song from the same period as the rest of the album; it just never made the final cut. Not everyone in the band thought it was as strong as the other tracks, so it did not go on. Although I did not agree at the time, I have always felt an album should consist of ten tracks, so it worked in a way for me. That said; the second album will have eleven tracks I think, so I have relented since! Part of it appeared on the CD as a hidden track (skip back to track zero from one to find it). I feel great it has finally been released in full.
The semi-acoustic version of "Even Fantastica" is something we put together on request for an Earworm Records compilation. They asked for a track, as they liked our stuff. In the absence of anything unreleased or new, we put together a different version of one of our favorites.
TFN: Are there any more goodies in the vault from the Bluffer's era?
Paul Carter: Sadly, there is not much more in the vault from the Bluffer's or pre-Bluffer's era. There were so many songs written – we had a full set of songs as a three piece to start with, none of which were recorded. There was probably two albums worth of material that never made the album that is now lost to the mists of time. It is a shame really. It was all recorded in fragments on old-fashioned four-track tape recorders, but never finished. Times have changed – it is so much easier to record stuff now.
Our perfectionist tendencies mean that instead of completing three probably quite good albums, we whittled it down to one hopefully superior quality one.
The 'For Drusky' part of 'Losing Carolina' was originally part of a four-part extremely experimental song. I guess we did not realize at the time how special it was. I do wish we had released it as a 12" vinyl now. Looking back, I think it was absolutely outstanding. We often lacked a little self-belief in what we did at the time.
TFN: FTW have been on a hiatus of sorts, but from time to time there have been teases that the next album is almost done. Any insight on a future release from FTW?
Paul Carter: The album has been painfully close to completion for a long time. Sadly, to pay the bills we all have to work at least part time. We used to use up all our non-day job time to write. Alas, since several of us have had children over the past 6 years, that time has been eaten up. Time just evaporates when your life is that full.
That said, we have set a date for delivering a finished second album. It will happen this time. I am working hard on it now. Three tracks are complete – recorded, mixed, everything. Most of the rest are recorded and just need lyrics for the vocals to be finished. A couple still have not been fully written. How long will it take? Let us just say the proverbial piece of string is getting shorter…
– Review and Interview by Daniel Taylor
Latest posts by Daniel Taylor
(see all)