Deerhoof


La Isla Bonita
Polyvinyl Records [2014]



Fire Note Says: Nobody does avant-garde pop music like the insanely catchy Deerhoof.
Album Review: There are two kinds of people in this world, those that get Deerhoof and those that don't. I feel sorry for those that don't, because they have missed out on some of the craziest, most exciting music of the past fifteen years. Hell even my daughter understood Deerhoof at the ripe old age of three when she thought "Come See the Duck" was the best song ever, and I can't say that she was necessarily wrong. I think it helps to listen to Deerhoof with the ears of a child, not to say this is children's music or that it's simple, no in fact it is pretty damn far from it. What I mean is you have to have a completely unjaded and open mind, not polluted with any preconceived notions about what's good and what's not. This music is out there where the buses don't run, it's abstract, it's goofy, it's intoxicatingly fresh, and it's fun as hell to listen to, but it's not Arcade Fire, and it's not Bon Iver, it's a challenge to wrap your head around…or is it?
La Isla Bonita, the new album from Deerhoof is another in a long line of winners. It seems to me that every album the band has put out since 2002's Reveille has either been a masterwork or damn near one. La Isla Bonita is no masterwork, instead it's a near spontaneous stream of consciousness, a moment in time captured quickly and for all time. Parts of it a rawer than the band has been in a decade, and it's a welcome return. "Exit Only" brings the guitar rock like that band hasn't done since Reveille. Elsewhere, like on "Paradise Girls" we find the band in giddy dance/party mode, the drums mesh perfectly with the chicken scratch guitars on this cut, making it the most fun dance track of the Fall. "Mirror Monster" is a reverb drenched guitar piece that sets an eerie mood before bringing the fun back with "Doom". The beats on "Doom" are so precise and great that it is easy to forget that Greg Saunier is a real drummer and not a machine, but then again, that's why he is one of the best drummers around, he can pull off any style with ease.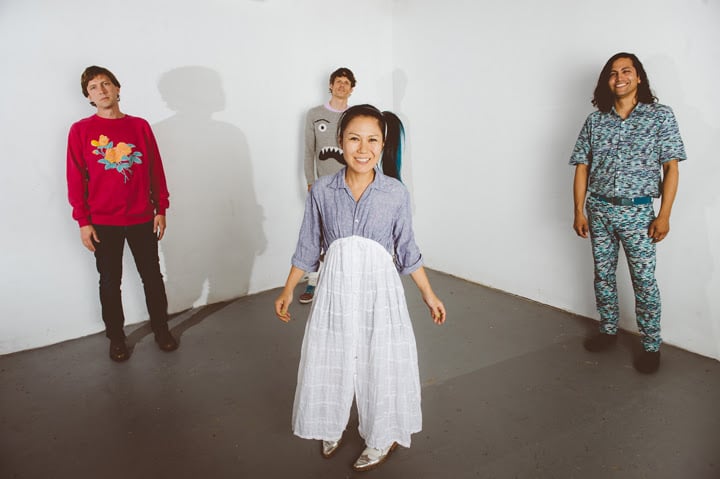 Every song on La Isla Bonita is fun, the band may no longer be jaw droppingly awesome, but they are still pretty great, and this record is on par with their last few, in fact, I like it better than Deerhoof Vs Evil and Breakup Song, though it falls a little short of Friend Opportunity for me. Deerhoof is always dependable and worth a listen, this one may stick with you a bit longer than their last two records, or maybe it won't but you will have fun while you listen to it, I can pretty much guarantee that. This is avant-garde pop music at its finest, check it out.

Key Tracks: "Exit Only"/ "Paradise Girls" / "Doom"
Artists With Similar Fire: Blonde Redhead / Beck / Dirty Projectors
Deerhoof Website
Deerhoof Facebook
Polyvinyl Records
– Reviewed by Kevin Poindexter

Latest posts by Kevin Poindexter
(see all)