Nada Surf


B-Sides
Barsuk Records [2014]



Fire Note Says: Nada Surf helps round out your collection.
Album Review: One of the cooler concert experiences I have had in the past several years was checking out a show from Nada Surf. Their set was solid but it was what happened after the show that was truly memorable. After about 20 minutes, a group of fans were still hanging out in the venue when singer Matthew Caws came out with his acoustic guitar, made a circle and just started playing songs. It was unscripted, laid back, note perfect and showed Caws enjoyment of music and appreciation of his fans. This same passion for their art shows itself on this new B-Sides release which consists of previously unreleased tracks and bonus material from the band's four previous studio albums.
For hardcore Nada Surf fans, that still buy physical CDs, many of these tracks might be in their collection already as most of the songs included here only appeared on limited edition CDs. For those of us that went digital or even old school wax many of these songs will be new to the listener. If you have been a fan of the band there is plenty to love here. The acoustic nature of Caws aftershow I witnessed fills much of B-Sides with 7 of its 15 tracks existing in that simple form. Highlights are both "When I Was Young" and "Waiting for Something" from their 2012 release The Stars Are Indifferent To Astronomy as well as "Whose Authority" from 2008's Lucky. B-Sides also features plenty of harmonic female vocal support as "No Quick Fix" pairs with Rachel Haden, "Fools" with Lianne Smith and "I Wanna Take You Home" by Juliana Hatfield which I'm sure was a precursor to their collaborative full length as Minor Alps that released last year.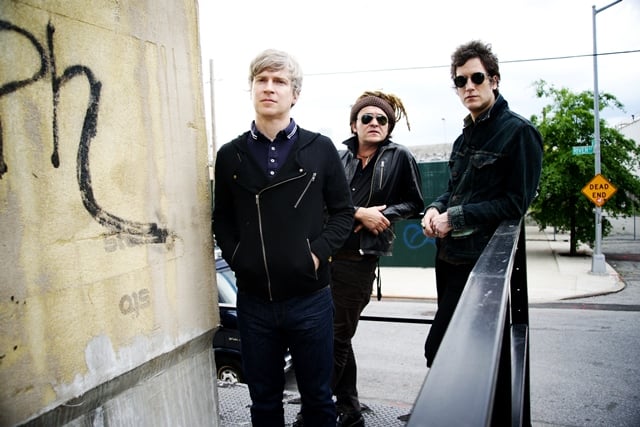 The only real rocking song included is "Everyone's On Tour" that hits right in the middle of the compilation as it almost feels like an intermission to their acoustic approach but also shows that style is not the only game in town. There is also the more electronic feeling "From The Rooftop Down" which reminds me of a Postal Service track. I don't know if this release will appeal to many people outside of the Nada Surf fan base but the songs are strong enough to make a case. These tracks are definitely not throwaways and honestly this outing makes me anxious for some new material from the band. Hopefully that will surface next year!
Key Tracks: "No Quick Fix" / "I Wanna Take You Home" / "When I Was Young (Acoustic)"
Artists With Similar Fire: Superdrag / Death Cab For Cutie / Minor Alps
Nada Surf Website
Nada Surf Facebook
Barsuk Records
– Reviewed by Christopher Anthony

Latest posts by Christopher Anthony
(see all)