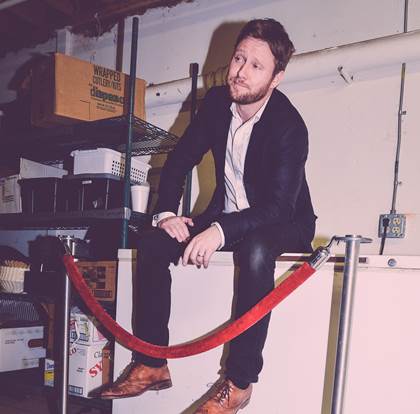 On August 19th, Nashville-based artist Cory Branan is releasing a new album, The No-Hit Wonder, on Bloodshot Records. There's a timeless craftsmanship in these deceptively simple songs about love and home, losses and dreams. Branan's had his fair share of each since completing his critically acclaimed Bloodshot debut MUTT in 2012, losing several beloved family members, getting married, and having two kids.
Branan spent all his time time touring heavily with artists across the spectrum, including The Gaslight Anthem and Jason Isbell (who appears here on "You Make Me" and "The Highway Home"). The No-Hit Wonder – song and album – is both a celebratory anthem of the world-weary, undefeated underdogs of the world, and a coming to terms with the cards life has dealt you.
For his fourth album Branan called on a who's who cast of heroes and no-hit-wonder peers to flash up the proceedings. Finn and Selvidge of the Hold Steady, Jason Isbell, Caitlin Rose and Austin Lucas ("All the Rivers in Colorado"), and Tim Easton ("Sour Mash") all lend their voices to the cause, while some of Nashville's finest players – Audley Freed (The Black Crowes), John Radford (Justin Townes Earle, Luella and The Sun), Sadler Vaden (The 400 Unit, Drivin and Cryin), and Robbie "The Man of Steel" Turner (Waylon Jennings, Charlie Rich) – hammer the damn thing home.
You can enjoy the track with Jason Isbell below.


Latest posts by Christopher Anthony
(see all)