The Donkeys


Ride The Black Wave
Easy Sound Recording Co. [2014]



Fire Note Says: The Donkey's fourth album is a great summer record with subtle nods to the past.
Album Review: The dog days of summer are upon us, which—if you're like me—means a shift towards listening to some warm, sunny music to go along with the weather. I'm sure The Donkeys feel the same way, which is why they've put together Ride the Black Wave, a collection of shimmering summertime pop heavy on the effects pedals. It's the San Diego band's fourth album in ten years, and their first on Easy Sound Recording Co., a new Los Angeles-based label. Ride the Black Wave combines the summer vibes of classic sunshine pop with more modern indie rock sounds for an album that covers a lot of ground but still feels cohesive.
While Ride the Black Wave is a thoroughly modern record, the ghosts of The Beach Boys, The Mamas & The Papas, The Association, and other left-coast sunshine popsters is definitely felt, at least in terms of the "spirit" of what's happening on the album. Harmonies float in and out of the mix, touches of piano, mellotron, and slide guitar accent catchy melodies, but the expert production (by the band themselves) and mixing (by Thom Monahan, who has worked with Medicine, Fruit Bats, Vetiver and others) is brings all the elements together instead of separating them out. That attention to detail means these songs are in many ways the direct descendants of those California pocket symphonies for the kids.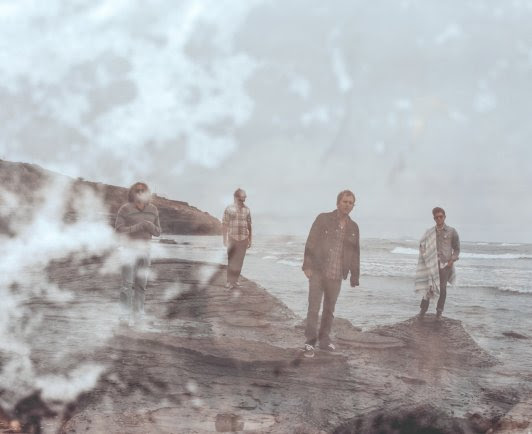 "Sunny Daze" opens the proceedings and sets the tone nicely, and even though it tops out at nearly seven minutes it doesn't feel as though there's any wasted space—it's an effective preview of the album as a whole. From there, Ride the Black Wave runs the gamut from lush, melancholy ballads like the affecting "Bahamas" (featuring the ambient sounds of waves and seagulls) to the more modern indie guitar pop of "Scissor Me Cigs," which reminds me of Modest Mouse's "We All Float On" in spots. Then there's the sitar-psych instrumental "Imperial Beach," which acts as a nice interlude separating the album's two halves, as well as soulful upbeat rock numbers like closing track "Shines."
And that's just a small sampling—you've also got the moody surf-inflected tune "The Manx," the Cali alt-country strummer "I Heart Alabama," the slightly funky (a-la Black Keys) title track, and the wobbly pre-war pop song "Brown Eyed Lady," which sounds like something Bob Dylan might find on a scratchy old 78 and turn into a crooner on his next album. Ride the Black Wave isn't for everybody, but if you miss Fleet Foxes' brand of folky Beach Boys harmony-laden Americana, give The Donkeys a try—they're a bit more quirky, a bit more "west coast," and they aren't afraid to add some electric guitar—but in my book those are all good things.
Key Tracks: "Bahamas" / "Sunny Daze" / "Shines"
Artists With Similar Fire: Yo La Tengo / Father John Misty / 70s Beach Boys

The Donkeys Website
The Donkeys Facebook
Easy Sound Recording Co. 

-Reviewed by Simon Workman

Latest posts by Simon Workman
(see all)