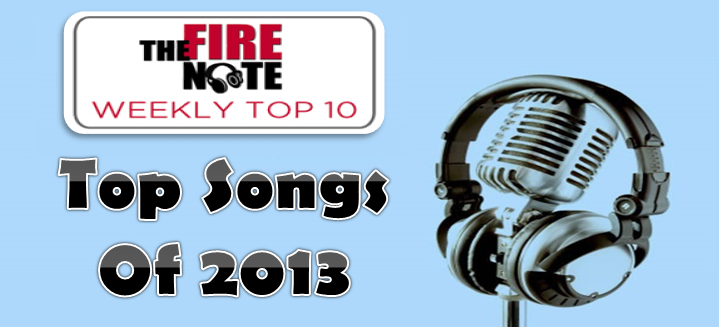 The Fire Note received over 20,000 songs this year to check out. Pairing them down to 10 was simply crazy but we did just that for this week's Top 10. Below you will find 10 tracks that simply made us listen again and again. Enjoy.
#10
"Bonnie Brae"


Harper Simon

The bar is already crazy high when your dad is Paul Simon but Harper still has his own sound. I wish his entire record Division Street was as catchy as this song. Its swift indie pacing and slight fuzzy guitar combines with his soft Simon vocals for something memorable.

#9
"Me & You & Jackie Mittoo"


Superchunk

"I hate music – what is it worth? / Can't bring anyone back to this earth" is the first ripping line from this return to perfect form Superchunk track. It has been three years since we heard new material from the band as this 2 minute song is an example of why we have loved them so!

#8
"Clash The Truth"


Beach Fossils

The lead off title track on Beach Fossils' new album was enough to sell me on the record as it is a solid two minute catchy indie rocker. It shows off a lyric wordplay during the track's last 45 seconds which features a list of thoughts and free-associated words that will leave the listener intrigued, charged and wanting more.

#7
"Philosophize In It! Chemicalize With It!"


Kishi Bashi

Kishi Bashi is an under the radar talent that keeps producing great material. This song is an early version of a track from his new album that is due out next year. The track features layered vocals, upbeat tempos and hand claps – Kishi style. I already have a feeling his new record will be showing up in our 2014 lists.

#6
"Don't Lie"


Tim Easton

"Don't Lie" is a foot tapping number from Nashville's Tim Easton that has a slight country twang and plenty of sassy lyrics that send an easy message with "baby don't lie, don't lie to me – it's going to come back on you!" This just over 2 minute track showcases how Easton can create a catchy line and plant it in your head!

#5
"Lesbian Wife"


Scott & Charlene's Wedding

Like some sort of mutant cross between The Clean and Pavement, Scott & Charlene's Wedding have perfected the art of jangle pop. "Lesbian Wife" is a prime example and even without a stand out hook or chorus the track just grabs you with its carefree vibe. That's why it is so addicting!

#4
"KV Crimes"


Kurt Vile

The opening guitar in this song instantly grabs my ear. By the time Vile starts delivering his hazy vocals I am already foot tapping. When the chorus kicks in, there is such a cool swagger going on there is only one thing to do – turn it up!
#3
"Come To My Party"


Black Joe Lewis

Raw rock is always a draw for me and Black Joe Lewis turns it up here with his throaty vocals, sizzling guitar and blaring horns. I am also fairly certain that this track is appropriate for all situations especially during the killer horn solo.

#2
"We The Common (For Valerie Bolden)"


Thao & The Get Down Stay Down

This song from Thao never gets old. It has swagger, it has a groove, it has several big sing along moments and most importantly – it beams out her personality.

#1
"I Killed A Man Who Looks Like You"


Robert Pollard

I have been humming this tune for about 7 months as it is one of the catchiest tracks Robert Pollard has ever penned. That is a big statement considering his endless catalog. The song not only captures this notable elder statesman of rock in a moment but it does so while being catchy, thought provoking and flowing smoothly with his crisp direct vocals. This is Robert Pollard at his best!

-Feature by Christopher Anthony
Latest posts by Fire Note Staff
(see all)