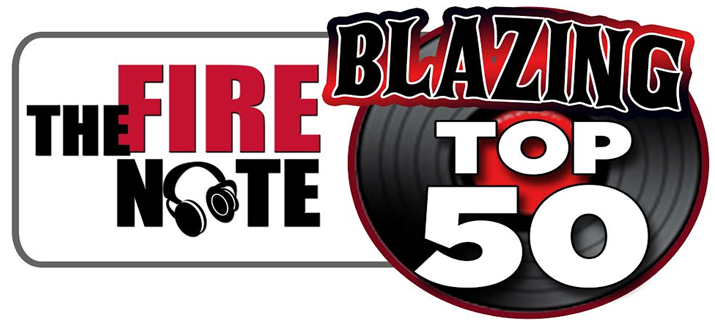 #50
Ty Segall & White Fence


Joy
Drag City Records [2018]
It wouldn't be a good year if there were not plenty of Ty Segall records to spin. Joy brought back Segall's buddy Tim Presley of White Fence for a sophomore collaboration. It has been six years since their 2012 debut and it feels like tons of water under the bridge but Joy captured the two talented artists once again delivering their own brand of indie rock that is completely entertaining. Joy also showed a mature growth since their debut and highlighted how the two artists are still on the creating edge of indie rock.
Ty Segall & White Fence: Joy [Fire Note Review 7/18/18]
#49
Sunwatchers


II
Trouble In Mind Records [2018]
This instrumental New York ensemble takes you on a ride here that hits all kinds of genres that includes funk, Ethiopian and Thai music. Fans of world music-based groups as well as Thee Oh Sees and King Gizzard should really like this sophomore record. The scorching upbeat saxophones and guitars do battle here and offer a blending of instruments that delivers Sunwatchers message flawlessly. This album won't be for everyone given its instrumental tour but if you are looking to branch out a bit make sure you find this one.
Sunwatchers: II [Fire Note Review 2/5/18]
#48
Remember Sports


Slow Buzz
Father/Daughter Records [2018]
Remember Sports is the new name taken by the band previously known as SPORT so that made Slow Buzz the group's third LP and finds them now officially claiming Philadelphia as home. This fresh beginning helped make Slow Buzz's success with its tight indie buzzsaw guitars, energetic drumming, and pulsing bass. There is one foot tapper after another and all the songs have hooks that grab hold of you. Remember Sports comes away from Slow Buzz – together, memorable and ready for you to turn the volume knob up!
Remember Sports: Slow Buzz [Fire Note Review 5/22/18]
#47
Kamasi Washington


Heaven And Earth
Young Turks [2018]
TFN does not feature many jazz records but Heaven And Earth bridged many genres and the progressive Kamasi Washington is fantastic. Heaven and Earth is a 2 hour and 24-minute journey that makes jazz cool for people that don't know much about it or may not even typically like jazz. Purists will critique this record as they can quote all the things they have heard before while TFN will tell you just to listen how well this record rolls and not get caught up in comparing pieces to the past greats.
Kamasi Washington: Heaven And Earth [Fire Note Review 7/19/18]
#46
Connections


Foreign Affairs
Trouble In Mind Records [2018]
Connections have been releasing a solid slice of lo-fi rock since their 2013 debut Private Airplane. That sound always goes a long way here at TFN and like all bands, Connections have evolved over the years but also have remained very dedicated to their core sound. Foreign Affairs is a product of that maturity as it is easily the most "complete" record from Connections when it comes to song structures. Connections are not fancy, stylistic or produced but create songs that are well written and memorable catchy hooks.
Connections: Foreign Affairs [Fire Note Review 5/14/18]
#45
Tropical Fuck Storm


A Laughing Death In Meatspace
Joyful Noise Recordings [2018]
Australia has really been a hot bed for what's good in music these days and TFN can't get enough. TFS not only has a great name but they delivered a twisted universe on A Laughing Death In Meatspace that deconstructs its' rock n roll with flares of psychedelics and post punk. Tropical Fuck Storm's debut is freaky and funky in equal parts which just made TFN want more!
Tropical Fuck Storm: A Laughing Death In Meatspace [Fire Note Review 11/27/18]
#44
Tim Easton


Paco & The Melodic Polaroids
Campfire Propaganda [2018]
Tim Easton is a TFN favorite and he can give you all different sides of the Americana movement but Paco was recorded direct to lacquer and it is a pure acoustic guitar, harmonica and story experience. Paco & The Melodic Polaroids features nine originals and one cover using a recording style which dates back 90 years. With recording the entire album direct to lacquer there is no overdubbing or board tweaking here. That means that you can hear every guitar strum, crackle in Tim's delivery and steady harmonica blow. Paco is better because of it and if there ever was a record to capture Easton's working musician lifestyle, Paco is it.
Tim Easton: Paco & The Melodic Polaroids [Fire Note Review 4/13/18]
#43
Stephen Malkmus & The Jicks


Sparkle Hard
Matador Records [2018]
Stephen Malkmus' 7th album with The Jicks continues to explore diverse musical approaches from his own post-punk point of view. Sparkle Hard benefits from Malkmus & the Jicks' diverse musical references like a kraut-rock electronic beat, country feels elsewhere and still plenty of indie pop accessibility. On this 7th album with the Jicks, Malkmus feels more self-confident and musically at home, and the result is a solid, fun, somewhat mature release, with some great songs, and lots of interesting guitar and musical juxtapositions.
Stephen Malkmus & The Jicks: Sparkle Hard [Fire Note Review 5/21/18]
#42
Ari Roar


Calm Down
Bella Union [2018]
Short and to-the-point tracks are exactly what you get on Ari Roar's debut record Calm Down. With an average of just 1:51 per song on a 15-track record you know right away that Ari Roar is all about telling his view of the world in a very concise matter. With a voice similar to James Mercer (Shins, Broken Bells) and a more DIY style of Mac DeMarco, Ari Roar presents songs with a simple lower-fi jangly song structure that really could be tracked all the way back to The Beatles.
Ari Roar: Calm Down [Fire Note Review 6/20/18]
#41
Car Seat Headrest


Twin Fantasy
Matador Records [2018]
Twin Fantasy is a re-recorded, re-imagined new version of Will Toledo's 2011 self-released Bandcamp record of the same name. What TFN liked on the newly re-imagined Twin Fantasy is how everything is cleaner. Being a big fan of lo-fi groups, you didn't want this record to lose any of its innocence from the bigger sound and it didn't. In fact, the album was already great but now it has been tuned up for the seven-piece band to hit the road as every track soars higher and wider and it should get the maximum volume. What the project may have lacked in originality it earned back all respect with execution.
Car Seat Headrest: Twin Fantasy [Fire Note Review 2/15/18]
#40
La Luz


Floating Features
Hardly Art Records [2018]
La Luz keep their surf/garage beginnings in tact here on their third record Floating Features. With the help of producer Dan Auerbach (The Black Keys), Floating Features has a more polished sound and has an up and down vibe like waves in the sea as the album never takes off but never dies down. Floating Features takes you to a calm place in your head and offers a surf lounge sound that has La Luz sounding tighter and more boasted than ever before.
La Luz: Floating Feature [Fire Note Review 5/17/18]
#39
Mercy Union


The Quarry
Self-Released [2018]
Mercy Union features the joint effort of Jared Hart from The Scandals and Benny Horowitz of The Gaslight Anthem, which makes this a New Jersey punk rock dream collaboration. At its heart, The Quarry is a windows-down rock n roll record with the brains, brawn and heart to make even the most burned-out, jaded 9-to-5er want to crank the volume, raise a beer, sing, dance and drink all night long. Like fellow Mid-Atlantic punk valedictorians Brian Fallon and Dave Hause, Mercy Union makes cranking out white hot American rock seem easy.
Mercy Union: The Quarry [Fire Note Review 11/1/18]
#38
Michael Rault


It's A New Day Tonight
Wick Records [2018]
It's A New Day Tonight is the follow up to Michael Rault's garage rock debut, Living Daylight, which was released on Burger Records in 2015. Rault has shifted his sound into a warm 70's vibe here that is completely infectious from the first note. Rault packages his chords, harmonies and lead vocals much like a modern George Harrison and showcases Rault's maturity with some thematic energy and spirit in its chorus. With classic nods to The Raspberries, Big Star and The Beatles, It's A New Day Tonight is a memorable indie stroll from beginning to end!
Michael Rault: It's A New Day Tonight [Fire Note Review 5/31/18]
#37
Arctic Monkeys


Tranquility Base Hotel & Casino
Domino Records [2018]
This was one of the most anticipated records of the year and probably is one of the most debated. Tranquility Base Hotel & Casino was a grower for sure as it added something to your listening experience with every spin. The Arctic Monkeys have always had a good set of lyrics and Tranquility Base Hotel & Casino is built on thematic statements and lyrical volleyball. The album succeeds on many plains because of it. There is plenty of Arctic Monkey swagger here in this lounge filled stroll and I believe it will hold up better with future listens.
Arctic Monkeys: Tranquility Base Hotel & Casino [Fire Note Review 5/23/18]
#36
Richard Thompson


13 Rivers
New West Records [2018]
At 69, Richard Thompson, is considered one of the world's best songwriters. Thompson brings it altogether on 13 Rivers, and created one of his better albums in his long and storied career. 13 Rivers is Thompson's 19th full-length studio album, which has a live in the studio feel throughout because Thompson produced the album himself, and is surrounded by a talented band. In a world where many albums feel like little more than three singles and a lot of filler, Richard Thompson has dug deep and created a full experience that was very satisfying in a musical way.
Richard Thompson: 13 Rivers [Fire Note Review 10/9/18]
#35
Cloud Nothings


Last Building Burning
Carpark Records [2018]
Cloud Nothings has always offered a solid indie rock edge and Last Building Burning brings their earlier angst back to the forefront. Their more recent releases brought more focus to their guitar pop talents but Last Building Burning arrives with such fury that it almost makes you forget about the past. Some fans may have been turned off by the punk and hardcore spirit here but Cloud Nothings has never made the same record twice and this "in your face" album is no different.
Cloud Nothing: Last Building Burning [Fire Note Review 11/8/18]
#34
Kal Marks


Universal Care
Exploding in Sound Records [2018]
Universal Care finds this Boston band evolving into a distinctive brand of intense and monolithic noise rock. It is still Kal Marks; they have not gone soft, just more varied in their delivery. Universal Care is another fantastic album in Kal Marks' remarkable discography. Highly recommended for listeners who like their rock noisy and dense. Fans of Pile, Baked, Washer, and the rest of Exploding in Sound Records artists should definitely give Universal Care a shot.
Kal Marks: Universal Care [Fire Note Review 2/23/18]
#33
ORB


The Space Between
ATO/Flightless Records [2018]
ORB is another Australian entry on the list this year with their fuzz-based sound that can be described as many things: Sabbath Worship, Stoner metal, Stoner doom, fist pumping arena rock, hard rock, stoner rock, psychedelic- the list goes on and on. ORB has been about heavy, fuzzy, fantastical songs since their conception but The Space Between takes ORB into a more progressive direction that TFN not only grooved to but would like to see them explore even deeper the next release.
ORB: The Space Between [Fire Note Review 10/11/18]
#32
Sleep


The Sciences
Third Man Records [2018]
San Jose, California's Sleep has been making music since music since 1990 but, it wasn't until their second album Holy Mountain that their true sound took shape. Then in 1998 after frustrating label battles Sleep's hour-long opus Jerusalem was released. Jerusalem was later released as Dopesmoker which was the album as the band intended. That record is still heavily collected and now brought us to the titan titled The Sciences. It's droning, sonic construction is therapeutic, almost meditative at times but still really heavy. This is a record that can seriously just play and not be interrupted as it will just carry you away.
Sleep: The Sciences [Fire Note Review 5/11/18]
#31
Jack White


Boarding House Reach
Third Man/Columbia Records [2018]
Here is another record that had no guarantees it would land in the top 50. Boarding House Reach is a completely different listen than anything in the Jack White catalog but is also very fluid. All that means is that Boarding House Reach is truly a perplexing listen and maybe fits a certain mood. White walked out on the thin branch here and continues to challenge the listener. It may not be popular with everyone at this moment but over time I believe Boarding House Reach will be a constant conversation piece in his catalog.
Jack White: Boarding House Reach [Fire Note Review 3/27/18]
#30
Ma Holos


Bee On A Rose
Quality Time Records [2018]
Ma Holos have come a long way and have noticeably matured on Bee On A Rose. Lyrics, musicianship and focus all are deeper as Ma Holos have in no way changed their core garage rock sound but also have found some newer avenues such as slower tracks that even have some synth effects. Ma Holos didn't recreate the garage rock genre on Bee On A Rose but they uphold its spirit and stay true to the sound while still giving fans something different with this entertaining listen!
Ma Holos: Bee On A Rose [Fire Note Review 6/25/18]
#29
Father John Misty


God's Favorite Customer
Sub Pop Records [2018]
There are not many artists out there right now that have the same swagger as Father John Misty. Josh Tillman aka Father John Misty, showed here that he is once again a music writer (and thinker's) dream. He provides material in each song, each album, that invites a strong reaction and curious reflection. Father John Misty succeeds again as Tillman presents a less detached, more engaged self on God's Favorite Customer.
Father John Misty: God's Favorite Customer [Fire Note Review 6/14/18]
#28
Canshaker Pi


Naughty Naughty Violence
Excelsior Recordings [2018]
Amsterdam-based Canshaker Pi's new record, Naughty Naughty Violence is a 35-minute throwback indie rocker that had TFN turning up the volume dial. The band's 2016 self-titled debut was produced by Stephen Malkmus, which was a rightful fit and the band has carried that torch to another level here. Canshaker Pi have a quirky and catchy delivery down to a tee as they surround themselves in punchy guitars and perfectly timed drums. Overall, Canshaker Pi are a band that have come into their own on Naughty Naughty Violence and it is refreshing to know that indie rock is still alive and well in other parts of the world!
Canshaker Pi: Naughty Naughty Violence [Fire Note Review 7/11/18]
#27
Jeff Rosenstock


POST-
Polyvinyl Records [2018]
Jeff Rosenstock started off this year with a bang as he released his third LP digitally for FREE on New Year's Day! That feels like a lifetime ago but POST- has held up, as the former leader of the ska/punk collective Bomb The Music Industry!, Jeff Rosenstock has quickly found himself a leader in the modern punk rock movement. In a time when hip-hop and electronic music is taking the headlines on major music festivals, Jeff Rosenstock is releasing his rally cry against the current social tensions and politics of today. POST- is full of big sing along anthems, call out vocals, chants and straight talk. Thank God for Jeff Rosenstock – 2020 anyone?!
Jeff Rosenstock: POST- [Fire Note Review 1/11/18]
#26
Baked Beans


Babble
Flightless Records [2018]
Psychedelic rock from Australia? Really? Alright, just kidding but TFN can't help if Flightless Records keeps releasing gems and the debut from Baked Beans takes you for a solid psych ride. Baked Beans strength is their determination to hang the tempo in the middle as most songs stay within this range. Baked Beans is another can't miss band from the surging Australian psych scene so if you have been a fan of other Flightless acts, Babble will be right in your wheelhouse.
Baked Beans: Babble [Fire Note Review 10/3/18]
#25
Low


Double Negative
Sub Pop Records [2018]
On Low's 12th album, they sketched a portrait of the dark and noisy residue of modern life, but still allow moments of beauty to break through the cracks. The album is full of distortion with several breaks in the nosier formula. The record is full of pressing darkness, and the challenge to ring some beauty and some light, out of what is offered. Ominous, threatening, and yet occasionally the humanity and artful beauty break through, that is Low's take on the world around us in Double Negative. Enjoy!
Low: Double Negative [Fire Note Review 9/18/18]
#24
GØGGS


Pre-Strike Sweep
In The Red [2018]
Much like Australia, Ty Segall has multiple entries in the Blazing Top 50 as his GØGGS band with buddies Charles Moothart (Fuzz, CFM) and Chris Shaw (Ex-Cult) released a full-on hardcore punk assault with sophomore album Pre-Strike Sweep. The album is chalk full of energy, has buzz saw riffs, and mosh-worthy anthems. The record has great pacing and is another Ty Segall album that carries his unique talents for different sounds to another level.
GØGGS: Pre-Strike Sweep [Fire Note Review 11/6/18]
#23
Beach House


7
Sub Pop Records [2018]
Seven albums in, it is a challenge for any band to continue to grow and refine their sound. You would never know it from listening to Beach House's aptly named LP, 7. Victoria Legrand and Alex Scally definitely work from the base that they've established over the past decade and a half. However, they introduce new tricks and play up other ones they've hinted at recently. It is nice to hear how Beach House continues to evolve; it's refreshing to hear a band be familiar but take their sound in new directions.
Beach House: 7 [Fire Note Review 6/21/18]
#22
Swamp Dogg


Love, Loss, And Auto-Tune
Joyful Noise Recordings [2018]
The new Swamp Dogg could have been easily forgettable. But tell that to the swag and sway of Jerry Williams Jr. because he is going stronger than ever at age 76. What makes Love, Loss, and Auto-Tune a fantastic album is all the levels that it works and succeeds on. The auto tune permeates the entire album and is never overbearing. The emotions are genuine and mixing that with humor strikes a great balance. Finally, the songwriting and song construction keep things fresh and free. Watch out Ye (Kanye) and T Pain – the original D-O double G is back and his bark and bite are fantastic.
Swamp Dogg: Love, Loss, And Auto-Tune [Fire Note Review 10/1/18]
#21
Sloan


12
Yep Roc Records [2018]
Twelve albums with all the original members is a rare achievement in the music world these days but that is exactly what we get here from Halifax, Nova Scotia's Sloan. The band returned with the appropriately titled album, 12, and it is another reminder of what makes a great power pop record. There are no tracks on 12 that should surprise anyone because Sloan plays this one right in their wheelhouse. Forty minutes of their signature Beatlesque power pop. Sloan have always been a great example of what good songwriting and knowing your strengths can do for a band. 12 was another example.
Sloan: 12 [Fire Note Review 4/5/18]
#20
Tony Molina


Kill The Lights
Slumberland Records [2018]
Tony Molina does not mess around with tracks. His new LP, Kill The Lights, offered up 10 new tunes in 14 minutes. Is that worthy of a Top 50 placement? When the 10 tunes have a soft Teenage Fanclub blended sound with vocals like Elliott Smith the answer will always be yes. With such a short running time there is no room for error and each song on Kill The Lights hits the right nerve. The simplistic beauty of how this record blends into a harmonic loop is fantastic and memorable. Kill The Lights has a timeless delivery and is a great sonic experience.
Tony Molina: Kill The Lights [Fire Note Review 7/25/18]
#19
Jon Spencer


Spencer Sings The Hits
In The Red [2018]
This solo debut is a loose romp for Jon Spencer that brings back sounds from his early years with Pussy Galore (and brings some Blues Explosion as well). You can hear that Jon Spencer feels no pressure as he does not stray too far from the snarling and groovy numbers that he concocts with the Blues Explosion but definitely goes off the rails (in a good way) with a more carefree attitude. This entire album represents a solid debut for a man that could easily just have called it in. Spencer has nothing to prove but proves it anyway as Spencer Sings The Hits represents one of the bolder rocking albums in his catalog.
Jon Spencer: Spencer Sings The Hits [Fire Note Review 12/4/18]
#18
Oh Sees


Smote Reverser
Castle Face Records [2018]
Smote Reverser is an album that has some of the strongest Oh Sees tracks ever written. The dual drums pound with a tribal precision while frontman John Dwyer coos. Dwyer's vocals dance sinister interweaving moves throughout the entire record as the band wrestles their instruments to shreds. Smote Reverser has some hooks that get deep into you. Oh Sees seem to be walking a tighter tight-rope here between experimental and psychedelic, garage, metal. Dwyer is a man that doesn't seem to be slowing down and for us, that's a great thing.
Oh Sees: Smote Reverser [Fire Note Review 8/28/18]
#17
Rick Rude


Verb For Dreaming
Exploding in Sound Records [2018]
Verb for Dreaming saw Rick Rude continuing their penchant for varied styles of rock wrapped up in a LP format. Just like their last LP, Rick Rude jump all over the place with different moods and rock genres on Verb for Dreaming. At first the variance in musical styles may not seem cohesive but after multiple listens Verb For Dreaming connects. Rick Rude continue to exceed expectations here and remain a "must hear" band.
Rick Rude: Verb For Dreaming [Fire Note Review 11/19/18]
#16
Chiller


Chiller
Rockstar/Dirt Cult Records [2018]
Here is another January release that held strong all year long. The debut record from Moncton, Canada punks Chiller delivered a fresh melodic punk that comes at you with both a male and female vocal. Chiller is a winner because they take their music seriously. Punk is not forgotten, it is not shelved, it is not underground. For Chiller, every delivered line on their self-titled debut sounds like it could be their last and that is what makes this debut fantastic.
Chiller: Chiller [Fire Note Review 1/31/18]
#15
Courtney Barnett


Tell Me How You Really Feel
Milk!/Mom + Pop Music [2018]
The good news here is that Courtney Barnett just picked up the guitar and made a straightforward and fun indie record that reminded us of veteran names to mind like Liz Phair, Kim Deal and Juliana Hatfield. She just shrugs and sings with no frills or overproduction but just presents songs that jam out with guitar and drums. Tell Me How You Really Feel is not a record that may be as intricately detailed as her early material but it is a record that captures why Courtney Barnett is one to continually watch.
Courtney Barnett: Tell Me How You Really Feel [Fire Note Review 5/25/18]
#14
Snail Mail


Lush
Matador Records [2018]
Snail Mail's notable debut is full of strong songwriting chops and impeccably layered arrangements. Lush may not sound all that unique on first listen, but after these songs start to sink in, it becomes apparent that Snail Mail combines standard rock elements in surprising and affecting ways. Each track tells its own story, each of which is a part of the larger whole both lyrically and musically. Lush is a very impressive first step for Snail Mail.
Snail Mail: Lush [Fire Note Review 7/12/18]
#13
Wild Pink


Yolk In The Fur
Tiny Engines [2018]
If you have followed Wild Pink since their 4 Songs cassette release in 2016 you will be completely blown away with their sophomore LP, Yolk In The Fur. The record takes an already good indie rock band and polishes their songs up until they shine just right. Yolk In The Fur is one fluid indie rock record with very developed songs as they contain catchy tempo shifts within the tracks. The aura that is created by Wild Pink here shows how far their songwriting has come in just two short years and was a must indie listen in 2018.
Wild Pink: Yolk In The Fur [Fire Note Review 7/31/18]
#12
Haley Heynderickx


I Need To Start A Garden
Mama Bird Recording Co [2018]
Here is another debut album that was a can't miss listen. Portland-based singer-songwriter Haley Heynderickx seems to have a strong understanding of the power of small details to make a musical performance. All eight of the songs on her debut album I Need to Start a Garden are so well realized that it feels as if she must have been living with these tunes for quite some time. Haley Henderickx's expressive voice was the key here which had perfect balance of strength and vulnerability. A great album, and an artist to watch.
Haley Heynderickx: I Need To Start A Garden [Fire Note Review 3/6/18]
#11
Sloucher


Be True
Swoon Records [2018]
There is no doubt that indie rock is not dead at TFN. Sloucher's debut full length is a catchy listen from front to back. Sloucher's melodic approach and layered vocals gives their songs depth while the band will pull some big guitar riffs out of nowhere. Sloucher can switch right into a floating Teenage Fanclub like harmony in a second which keeps their songs balanced and plays to their strength. Sloucher offers something unique that will catch your ear in every track and the album gets stronger with every listen.
Sloucher: Be True [Fire Note Review 11/21/18]
#10
IDLES


Joy As An Act Of Resistance
Partisan Records [2018]
Here is one of the most intense records you will hear this year. IDLES sophomore record Joy As An Act Of Resistance is a force to be reckoned with. IDLES masterfully navigate and negotiate a precarious balance between being joyful and righteously pissed off. Their disdain for current politics, immigration policies and societal norms that divide people, hits home with every line. The 12 tracks on Joy go by in a flash and is a refreshing middle finger to all that is wrong in the world.
Idles: Joy As An Act Of Resistance [Fire Note Review 10/25/18]
#9
The Beths


Future Me Hates Me
Carpark Records [2018]
New Zealand four-piece The Beths deliver high-energy guitar indie pop on their debut record that is full of big guitar riffs and infectious indie-rock hooks. Future Me Hates Me walks the perfect line with The Beth's note perfect vocals from lead singer Elizabeth Stokes and guitar buzz that always hits at the right moments. The New Zealand group will remind you of the 90's alt bands such as The Breeders and Velocity Girl with their indie grit which is a refreshing listen as The Beths put their hearts on their sleeves and go!
The Beths: Future Me Hates Me [Fire Note Review 11/28/18]
#8
Guided By Voices


Space Gun
GBV, Inc. [2018]
Who needed multiple releases from GBV this year when you have Space Gun?! Totally distinct songs that fit perfectly into the track sequence is what makes Space Gun stand out. The album has plenty of catchy twists and turns that keeps the listener guessing until the last minute where once again Robert Pollard's ability to write concise pop hooks is on full display. Make no mistake: there are no song fragments to be found here, no filler on Space Gun – just high production with a plenty of memorable tracks!
Guided By Voices: Space Gun [Fire Note Review 3/22/18]
#7
Rolling Blackouts Coastal Fever


Hope Downs
Sub Pop Records [2018]
Rolling Blackouts Coastal Fever's Hope Downs is another fantastic debut that landed in the Top 50 this year. The Australia quintet made us believe in rock again with their three-alternating singer-guitarists that blended perfectly. RBCF have a pop sense of Sloan and the college jangle at times like R.E.M. combined with the raw rock of The Replacements. It is a winning combination and at 35 minutes, Hope Downs cruises by in one satisfying rock n roll slice that should be checked out.
Rolling Blackouts Coastal Fever: Hope Downs [Fire Note Review 7/3/18]
#6
The Breeders


All Nerve
4AD [2018]
The Breeders returned this year with their classic Last Splash lineup and turned out one of the best "growers" in the list. All Nerve was a record that only got better after every spin and arrived with the signature sound of the Deal sisters harmony vocals, propulsive rhythms, dead pan lyrics, and atmospheric guitars. The emotional tone is dark, lonely and anxious, the songs often brief and to the point, the sound a mix of post-punk's brooding dissonance and alt rock accessibility. Its precision was its power as The Breeders are back in solid form.
The Breeders: All Nerve [Fire Note Review 3/2/18]
#5
Superchunk


What A Time To Be Alive
Merge Records [2018]
We have not loved a Superchunk album this much for many years as What A Time To Be Alive is a relentless and urgent slice of power-pop punk that never takes its foot off the gas. The album is a politically charged piece of indie rock protest music. It brims with scathing disgust over current U.S. politics and resulting social blemishes but balances with shards of hope that people can make a change. This is a timely and most welcome release as Superchunk are back and they brought a rally cry with them!
Superchunk: What A Time To Be Alive [Fire Note Review 2/27/18]
#4
Amen Dunes


Freedom
Sacred Bones Records [2018]
Amen Dunes fifth record, Freedom, is exactly why you stick with an artist. Every record in Amen Dunes discography has been stronger than the one before and Freedom keeps the trend going as it is Damon McMahon's finest work to date. Amen Dunes brings such a high level of sophistication to its psychedelic indie here as its intricate details just pour out. These compositions talk about life and all the challenges it can bring a person. That emotion and storytelling, when flawlessly executed, makes for a fantastic listen. That is what you get in Freedom!
Amen Dunes: Freedom [Fire Note Review 4/18/18]
#3
Parquet Courts


Wide Awake!
Rough Trade Records [2018]
Parquet Courts are the kings of tempo shifts as Wide Awake! surges when the band switches mid-track and turns the listener on their head. Wide Awake! is Parquet Courts most diverse album to date. A few tracks that are decidedly Parquet Courts' brand of indie rock but the rest is a pleasant merger of funk, punk, 90's indie rock, 60's psychedelic rock, and even some hip-hop. Wide Awake! is a fun and refreshing album. Parquet Courts were not afraid to take some chances and it pays off.
Parquet Courts: Wide Awake! [Fire Note Review 5/18/18]
#2
Mitski


Be The Cowboy
Dead Oceans [2018]
Mitski has turned out to be one of the biggest indie artists of the 2018 and her surge was propelled by the fantastic Be The Cowboy. You can hear Mitski in full control and basically giving the indie world a jolt of well thought out rock pop. The confidence that shines out of Be The Cowboy is the key ingredient to Mitski's success here because on every track she sounds fierce, in control and never wavering. Mitski accomplishes her best album to date with concise pieces that all work together and her songs never come off fragile but instead powerful statements.
Mitski: Be The Cowboy [Fire Note Review 8/23/18]
#1
Ty Segall


Freedom's Goblin
Drag City Records [2018]
Ty Segall returns to the top with the fluid classic double album – Freedom's Goblin. This album was a strong contender from the beginning back in February as its loose journey takes the listener through multiple genres, musicians, styles, and tempos that bring both highs and lows with a full-on twist of Ty. Once you get over the massiveness of Freedom's Goblin, the record will connect. Freedom's Goblin has such a mix that honestly it should not have worked but instead comes off as genius. Ty Segall never makes a "bad" record but the colossal Freedom's Goblin showcases his maturity as a writer and a willingness to push his own already expanded boundaries. The album is not only one of his best records but is TFN pick as the top release of 2018!
Ty Segall: Freedom's Goblin [Fire Note Review 2/6/18]
Latest posts by Fire Note Staff
(see all)