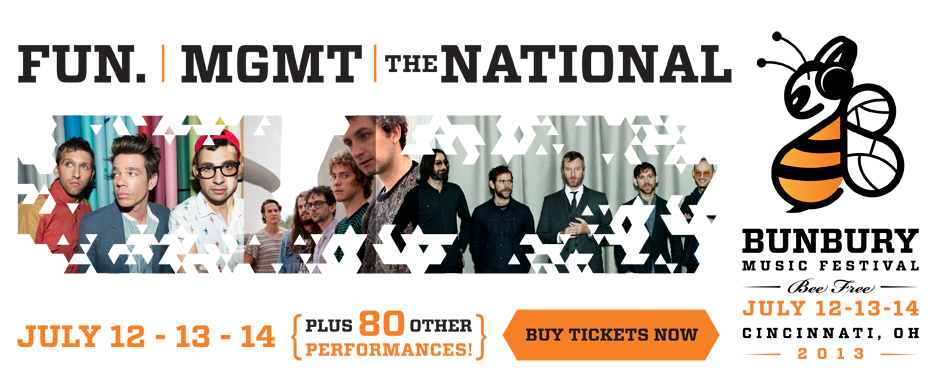 Day 2 at Cincinnati's Bunbury Music Festival brought higher temperatures but that did not stop any of the artists from putting on killer sets. You can read below what several of our writers had to say about the fun at day 2 and we hope you enjoy the pictures!
Saturday (Day 2)
Culture Queer (Bud Light Stage)
[easyrotator]erc_40_1374381426[/easyrotator]
Civil Twilight (Rockstar Stage)
Scot Lade: I arrived just in time to catch Civil Twilight perform on the Rockstar stage. The South African group's studio work is heavily indebted to U2, Coldplay and the like but the resemblance to those world-conquering bands is even more striking live. Lead singer Steven McKellar's voice was in top form and as I was walking into the festival he sounded, from a distance, not too dissimilar to Jeff Buckley. Or Thom Yorke. Either way, they played a great set for the faithful – a 3:30 start time is still pretty early.
Empires (Main Stage)
[easyrotator]erc_19_1374382008[/easyrotator]
Matt Heiner: Empires' hard propulsive sound played well on the main stage.
Vacationer (Bud Light Stage)
Matt Heiner: Vacationer impressed with a dream-pop sound that played well in the open air. Reminded this listener of Vampire Weekend's sound.
The Bears Of Blue River (Lawn Stage)
[easyrotator]erc_93_1374381702[/easyrotator]
Matt Heiner: Chicago's The Bears of Blue River had a rock-folksy sound that was a breath of fresh air. The band had reportedly been on hiatus for a while but didn't show any rust in their performance.
Robert Delong (Main Stage)
Scot Lade: On the Main Stage, EDM artist Robert Delong got a decidedly larger crowd moving with his house-rave one man act. Using video game joysticks as triggers and fusing many electronic elements into his weird brew, Delong's set was better than I expected. He has a clear love of indie and pop but it was his nods to The Beatles (the set ended with a "Day In The Life" sample) and Rolling Stones (a full-blown "Miss You" cover) that demonstrated a better record collection than most.
The Mowgli's (Bud Light Stage)
[easyrotator]erc_88_1374382192[/easyrotator]
Matt Heiner: The Mowgli's command of the stage with their eight members was something to behold. Their upbeat music also brought a shine to an already sunny day.
Chairlift (Rockstar Stage)
Scot Lade: Back over to the Rockstar stage to take in Chairlift. With a solid sophomore album (finally!) under their belt, the synth pop duo (rounded out to a trio live) had some issues with the sound guy getting the keyboards right in the mix. It's always tough on those guys when you go from guitar-based rock to an electronics-based band though in the end it definitely got better. But no matter. The star on that stage was Caroline Polachek. Her voice cut through the muddled sound like an ice pick through Jell-O. And "Bruises" live was terrific.
Black Owls (Lawn Stage)
[easyrotator]erc_7_1374382460[/easyrotator]
Matt Heiner: Black Owls played hard and fast on the Lawn Stage. Definitely a blues-rock flavor that felt right at home.
Oberhofer (Bud Light Stage)
[easyrotator]erc_77_1374382575[/easyrotator]
Scot Lade: Going off the board a little, I skipped Twenty-One Pilots for the lesser known Oberhofer who were playing at the Bud Light stage. Being a huge fan of their Steve Lillywhite-produced 2012 debut full-length, Time Capsules II, I was really hoping Brad Oberhofer and his little band of Brooklyn hipsters would not disappoint. They did not. Coming across like a tiny, dark-haired version of Christopher Owens (without the Yves Saint Laurent threads, of course) Oberhofer's energy did not waver in the intense heat of the July sun. Those few who weren't at the Main Stage were treated to the highlight of Bunbury's Saturday line-up.
Matt Heiner: Oberhofer brought their A-game with their set. They engaged with the crowd with their energy and dance-ready songs.
Cake (Main Stage)
[easyrotator]erc_92_1374382731[/easyrotator]
Scot Lade: By the time I had made my way back over to the Main Stage a very large mass of people had descended to witness a fantastic set by Cake. Oddly enough I think most of the Twenty-One Pilots fans stayed put to hear what could rightly be called a Greatest Hits Live set. All six albums were represented with three songs from Fashion Nugget and Prolonging The Magic, two from Motorcade Of Generosity and Showroom Of Compassion, and one each from Pressure Chief and Comfort Eagle. They also did a Black Sabbath cover which would have been way cooler if it had not been "War Pigs." I mean, that's like covering Led Zeppelin and doing "Stairway To Heaven" but it was awesome just the same.
Matt Heiner: Cake commanded the stage from the start and played both crowd favorites and newer material. Their set reminded me of why I continue to listen to the band after 18 years.
Atlas Genius (Bud Light Stage)
[easyrotator]erc_39_1374382922[/easyrotator]
Matt Heiner: Atlas Genius, all the way from Australia, took their alt-rock sound that is also infused with a New Wave sound to the Bud Light stage. The crowd ate up everything they served.
Scot Lade: On my way to see Atlas Genius I ran into Christopher Paul Stelling at the Cincinnatus Stage. He was wrapping things up but I got a chance to talk to him and he even let me play his beat up Gibson nylon string guitar. This guy is a super talent and I wish I would have seen his whole set. Atlas Genius had a good crowd as their set was sandwiched between Cake and Divine Fits. Having seen them last year in Columbus I can say they were much sharper. Some time on the road has done them a world of good. Now if they can do an entire album of material as good as "Trojans." But I am beginning to understand what Warner Brothers saw in this Australian band. Maybe Keith Jeffery (who really is Atlas Genius in the same way Robert Pollard is GbV) isn't a one hit wonder after all.
Divine Fits (Rockstar Stage)
Scot Lade: As Divine Fits went on I decided that it was getting late and I had a long drive back but as much as I wanted to get on the road they kept pulling me back in. The songs on A Thing Called Divine Fits are nice enough but pick any Spoon or Wolf Parade album and, well, you know. So I stayed for one song. Then another. And another. And then a Tom Petty cover ("You Got Lucky." Good choice. Not too obvious!) They were the biggest surprise of the day. I entered liking them and left listening to the CD the whole way home!
MGMT (Main Stage)
[easyrotator]erc_58_1374383107[/easyrotator]
Matt Heiner: MGMT brought their unique style to their headlining show. The trippy light show and their poppy psychedelic sound ended Saturday night on a high note. Pun intended.
Scot Lade: Being the headliner, MGMT packed 'em in like nobody's business. I couldn't get within 500 feet of the stage. They opened with a new song, "Alien Days," that sounded pretty good and I started making my way to the parking garage. Along the way I heard them do "Flash Delirium" off Congratulations and "The Youth" from their first album. There was some guilt about leaving in the middle of their set but not too much. For a crusty old punk I think I held up alright. Besides I needed some merch and the lines were crazy all day. But all eyes were on the Main Stage so not only did I get my Bunbury T-shirt on my way out, I did so secure in the knowledge that with age does indeed come wisdom.
Latest posts by Fire Note Staff
(see all)