Local Natives


"Palms" b/w "Wooly Mammoth"
Turntable Kitchen [2013]


We have featured Turntable Kitchen in this section before as the site offers a unique experience that combines a limited 7-inch with a special ingredient and delicious recipes to make a complete package. The very first edition (TK01) featured one of our favorite bands, Motel Beds, so we have been hooked ever since the launch. Fast-forward to TK26 and the subscription series has just paired up with their biggest artist yet in Local Natives. Already building steam from their excellent sophomore record Hummingbird (TFN Review) this group keeps growing which also makes this limited 7-inch even more special and collectible.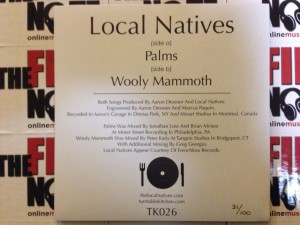 The A-side, "Palms," was previously only available as a digital-only bonus track on the deluxe edition of Hummingbird so it officially makes its debut on wax here. The song is an emotionally driven ballad that is filled with musical layers and hits its point when the band slides into the chorus and sings "Sleep alone / Start all over." Nobody ever said relationships were easy! The B-side here is "Wooly Mammoth" which was a deeper cut on the new album that is just full of the Local Natives stylish rhythms. It is also important to note that like Hummingbird both tracks here were produced by The National's Aaron Dessner.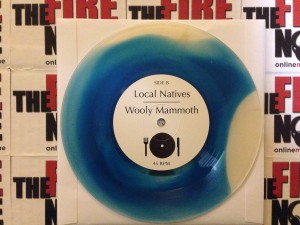 The jacket here is a normal cardboard cover with art on the front and the standard Turntable Kitchen design of info on the back. This 7-inch is part of the special edition hand-numbered pressing of 100 copies on sea blue within milky clear color-in-color wax for gold club members. There also was a limited-edition, hand-numbered pressing of 400 copies on transparent sea blue vinyl for regular members. If you want one I suggest looking on second hand sites as Turntable Kitchen sold out. Also the food pairing with this 7-inch was Pizza so this package was a win-win!

Local Natives Website
Local Natives Facebook
Turntable Kitchen
-Feature by Christopher Anthony

Latest posts by Christopher Anthony
(see all)