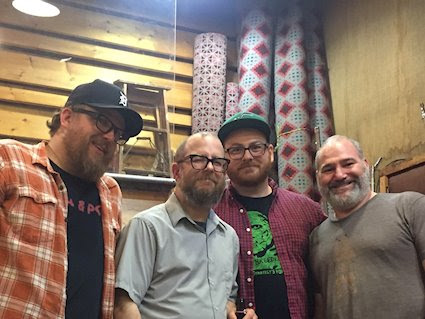 We couldn't be more excited today to premiere this new track, "Bowling Ball" from Columbus Ohio's Kyle Sowashes. The track is included on their new album, I Don't Know What To Tell You, that is being released on September 13, 2019 via Anyway Records.
On "Bowling Ball" you will quickly hear that the The Kyle Sowashes have delivered the same type of indie rock grit found on their earlier releases while driving with a confidence that only years in the business could make possible. You also get the life perspective here that I am sure many of us can relate to when sometimes it feels like we are our own barrier to success.

The track itself represents the changing times of today as it was written on a cell phone and its surprising inspiration came from the catchiness found in Miley Cyrus' 2013 hit "Wrecking Ball." At the end of the day, it all boils down to what kind of ball you want to be!
The Kyle Sowashes are gearing up for their September album release but for those that live in Pittsburgh and Brooklyn you have a chance to see them live this weekend! Those lucky guests will not only get to hear some new music off of I Don't Know What To Tell You but a chance to pick up limited cassingles of "Bowling Ball" at the merch table. All of The Kyle Sowashes tour dates are below and make sure you give "Bowling Ball" a spin today and look for the new album soon!
Tour Dates:
Fri Jul 19 – Pittsburgh, PA @ Howler's
Sat Jul 20 – Brooklyn, NY @ The Way Station
Fri Sep 13 – Columbus, OH @ Ace of Cups
Sat Sep 14 – Cincinnati, OH @ The Comet
Fri Sep 27 – Bloomington, IN @ The Bishop
Sat Sep 28 – Chicago, IL @ G Man Tavern
The Kyle Sowashes Website
The Kyle Sowashes Facebook
Anyway Records
Online Music Magazine: Independent Music Reviews, Vinyl Spotlights, Music News, Videos, 7-inch record features + more!
Latest posts by Fire Note Staff (see all)
Please follow and like us: