Sorority Noise


You're Not As_____As You Think
Triple Crown Records [2017]


Fire Note Says: Ever-evolving emo rockers Sorority Noise fully come into their own on their third full length, deftly blending anguish, wisdom and their trademark massive guitars to produce a mature, extremely well-balanced record.
Album Review: Sorority Noise is a complicated band. For every lyric about suicide, there's a searing, 1980's hard rock guitar solo. For every four-on-the-floor burst of teenage angst, there's a painful, whispered couplet, creaking under the weight of its own honesty. For every bit of spoken word poetry shouted over a crescendo of crunchy guitars, there's a poppy hook guaranteed to make you dance, sing or scream. They're a band with a sound so polarized, it's completely balanced. For every low, there's an equal, opposite high.
Never before has that balance been represented as perfectly as it is on their exuberant third record You're Not As ______ As You Think. A moody, mature work that promises both longtime fans and newcomers alike much to unpack, decipher and treasure.
Over the course of the young band's rapidly blooming career, lead singer Cameron Boucher has received–and deserves–immense praise for never shying away from candid lyrics that take listeners to intimate, personal headspaces while backing his words with emotion so instantly palpable that his songs never lose their freshness. Boucher's lyrics–even the ones he utters, whispers or yelps–are consistent sledgehammers to the gut.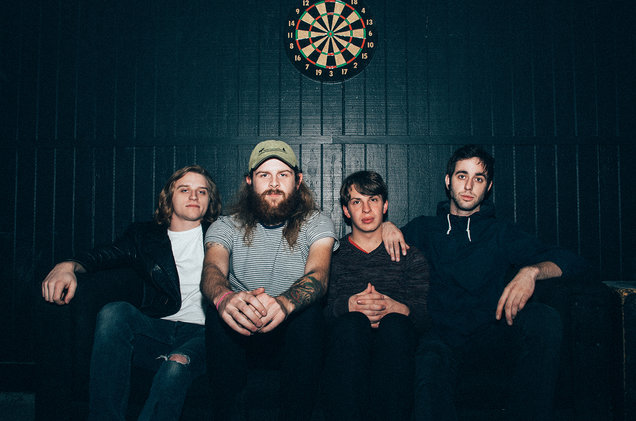 But on You're Not As______As You Think, he explodes through that mold, penning the cleverest, wisest and, at times, even the most religious songs of his career to date, treating listeners to unexpected poetry and humor alongside his trademark gut-punches. He conducts an opaque current of self-awareness deep beneath the surface of the record that can only be detected after a number of close listens; it's a hidden, emotional gem for those who have followed Boucher and appreciate his career-long mental health message, activism and advocacy. Everything fans have come to expect from Boucher's lyrics is well represented on You're Not As______As You Think–but on this record, he delivers so much more: a rich, lyrical evolution that promises to never to sacrifice its original form.
Starting with album opener and lead single "No Halo," lead guitar player Adam Ackerman takes the band to new heights, doubling down on the massive riffs and solos that won "Joy, Departed" widespread praise and effectively counterbalancing Boucher's lyrical headiness and heftiness. In nearly every song, just when the tension and pent-up angst is approaching a level too intense to bear, Ackerman comes screaming in with a euphoric guitar lead just in the nick of time; the sound of badly needed relief at the very last moment.
You're Not As______As You Think is Sorority Noise at their absolute best and most mature to date. With the band's tension and contradictions proudly on full display, and enough reflective content to connect with thousands of new fans, it raises the exact questions Sorority Noise ought to be raising at this point in their career. Is it possible to have this much fun while feeling this sad? Is it possible to feel this alive while so consumed with death?
On You're Not As ______ As You Think, the only answer is "Of course." After all, Sorority Noise is a complicated band, and for every low, there's an equal, opposite high.
Key Tracks: "No Halo" / "First Letter From St. Sean" / "Car"
Artists With Similar Fire: Brand New / Pinegove / The Menzingers

Sorority Noise Website
Sorority Noise Facebook
Triple Crown Records
– Reviewed by Dylan Gallimore
Dylan Gallimore is a writer from New Jersey, now living in Philadelphia, whose fiction and nonfiction have been published online and in journals across the country. Like every other Millennial, he's got dozens of The Killers' lyrics tattooed across his brain, and he's A-OK with it.
Latest posts by Dylan Gallimore (see all)
Please follow and like us: