Case/Lang/Veirs


Case/Lang/Veirs
ANTI- [2016]


Fire Note Says: This isn't just your typical collaboration.
Album Review: To borrow a phrase from this record's boldest rocker, in a world dominated by American Idol Voices, Disney divas and flash in the pan pop star wannabes, the collaboration of k.d. lang, Neko Casa and Laura Veirs proves to be one of the world's best kept secrets.
Of course, Canadian lang has had a long and celebrated career, since first arriving on the scene singing cowbilly pop on Absolute Torch and Twang fronting the country & western band, The Reclines. She went on to a diva star turn with her solo album, Ingenue, while winning the Grammy for Best Female Vocal Performance for her hit, "Constant Craving," and then shared the Grammy for Best Traditional Vocal Album with Tony Bennett for a full album of duets, A Wonderful World.
And in many circles, Neko Case's output is equally praise-worthy, whether on her own critically acclaimed alt-country pop/rock solo albums, Fox Confessor Brings the Flood ('06), Middle Cyclone ('09), and The Worse Things Get… ('13), or sitting in with the Canadian indie rock band, The New Pornographers. Indie singer/songwriter Laura Veirs, who like lang lives in Portland, Ore., may be the least well-known of these three collaborators, but she's been no less productive, recording 9 solo albums, and working with Sufjan Stevens on one of the strongest recordings of the last year, his album, Carrie and Lowell.
For this collaborative debut, these three strong independent artistic voices have found a great balance, a way to work together that allows each of their strengths plenty of room to shine, while weaving their voices together in beautiful harmony. On the opening track each one takes a phrase on the opening lines in turns, "I'm not the freckled maid," "I'm not the fair-haired girl," and "I'm not the pail of milk for you to spoil," an expression of their willingness to work together, made all the more beautifully clear in their harmonies throughout.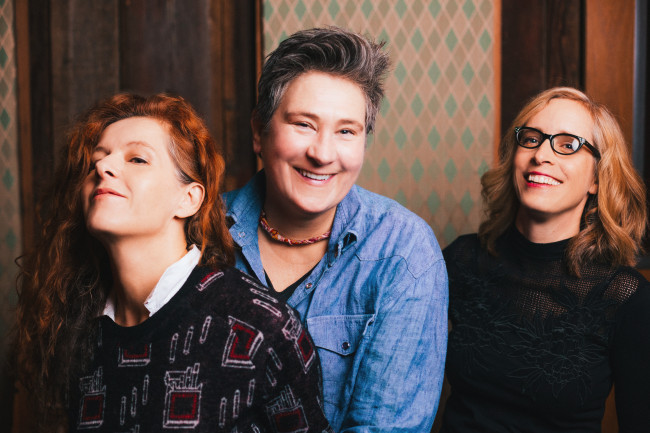 There are obvious torch song leanings that favor lang, "Honey and Smoke," "Blue Fires," "1000 Miles Away," and "Why Do We Fight," more aggressive pop/rockers that lean toward Case, "Delirium" and "Best Kept Secret" and folky songs that draw out Veirs, "Song for Judee" and "Behind the Armory," still everywhere you turn their voices converge on choruses that seal the deal. And this elegant approach to song craft is made all the more beautiful by the lush arrangement and full orchestrations contributed by producer Tucker Martine, who also happens to be married to Veirs.
Given the super-group expectations and writing collaboratively, the songs still ring personally true, whether defiant and self-assured, confessional and filled with regret, or hopeful and resilient, you never doubt that veracity of the declaration. "Song for Judee" celebrates 70's folk singer/songwriter Judee Sills, while "Supermoon" and "Georgia Stars" are taken from the natural phenomenon described in the title.
The opening line of "I Want to Be Here With You," "I just want to be hear with you, not bracing for what comes next," may address personal calamity, but offers a word of hope in a world routinely rocked by acts of violence and terror. Here and across the 14 tracks of this strong group effort, one is constantly reminded that no matter how capable each individual is, here and elsewhere the sum is truly even greater than its parts.
Key Tracks: "Atomic Number" / "Delirium" / "Best Kept Secret"
Artists With Similar Fire: Crosby, Stills & Nash / Indigo Girls / Parton, Harris & Ronstadt
Case/Lang/Veirs Website
ANTI-
– Reviewed by Brian Q. Newcomb
Brian Quincy Newcomb has found work as rock critic and music journalist since the early 80's, contributing over the years to Billboard Magazine, Paste, The Riverfront Times, and The St. Louis Post-Dispatch.
Latest posts by Brian Q. Newcomb (see all)
Please follow and like us: