Yak


Alas Salvation
Octopus Electrical/Kobalt [2016]


Fire Note Says: It might be a bit early in the year to call Album of the Year…but Debut of the Year is a lock.
Album Review: London –based Yak has hit the ground running. Alas Salvation is a frenetic and enormously interesting debut LP. Alas Salvation is a hodge podge of quite a few influences, all of them smashed together to create an effective and interesting LP that sounds familiar, yet fresh.
Album opener, "Victorious (National Anthem)" starts with a thrashy riff before transitioning towards a bottomed out, blown out rendition of The White Stripes' "Aluminum." The White Stipes' sound comes up a few times through the course of Alas Salvation, most notably on tracks "Victorious," "Alas Salvation," and "Smile." "Smile" sounds like a sexy and drunken mashup of Stripes, Bowie, and Leonard Cohen working together to churn out a track for a Quentin Tarantino film.
There are many more influences worn on Yak's proverbial sleeves."Doo Wah" channels The Strokes (when they could still write a song), a few tracks ("Hungry Heart" and "Curtain Twitcher") dip into heavy psychedelic stomper territory not unlike Morning Teleportation's psychotic and all-over-the-place sound. I hear shades of Black Rebel Motorcycle Club, Velvet Underground, and even some Funeral era Arcade Fire. Production-wise, Alas Salvation reminds me of fellow UK lads, The Wytches and their heavy, rich, and thick sounds.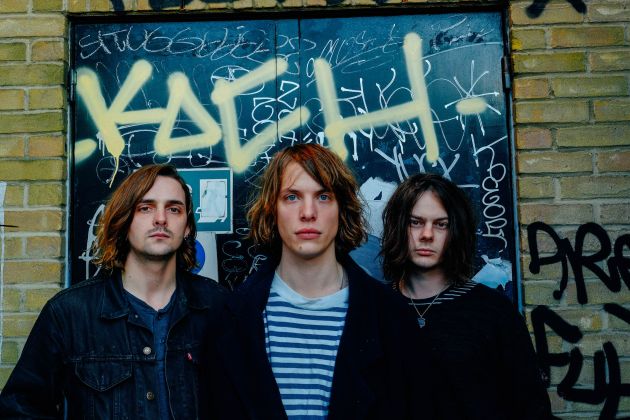 Yak's frontman has a tremendous amount of swagger going for him. Oliver Burslem's vocal range can morph from Lou Reed, to Bowie to Mark Arm (Mudhoney). Burlem has what it takes to be a lead singer in a rock band. He can go soft and reflective on mellow tracks like "Roll Another", and he can turn on a dime and gut check you with his grit on coked up rockers like "Harbour the Feelings".
All these influences are rolled-up into one giant sonic spitball that Yak hurls it straight towards your head, and when it hits, it sticks, and it stings. All 13 tracks are engaging and offer something different to the listener. It is not afraid to rock. It can be heavy, it can be mellow. It is not afraid to be belligerent. It is not afraid to be sexy. Most of all, it is just so damned catchy.
This is sex, drugs and rock and roll. I am glad there is new generation of musicians that are not afraid to do rock the right way. Alas Salvation is an amazing debut. Go buy this now!
Key Tracks: "Victorious (National Anthem)" / "Harbour the Feeling" / "Please Don't Wait for Me"
Artists With Similar Fire: The White Stripes / The Wytches / Black Rebel Motorcycle Club
Yak Website
Yak Facebook
– Reviewed by Daniel Taylor
Photographer/journalist for the U.S. Navy for 26 years. Music fan since forever. Music really hit him in the early 90's when he heard the Pixies' Doolittle LP. After that came Pavement and then Guided by Voices. His love for those bands formed his taste in music and he continues to search for that musical "high" today. Married for 18 years and currently lives in Japan.
Latest posts by Daniel Taylor (see all)
Please follow and like us: