Santana


Santana IV
Santana IV Reocrds [2016]


Fire Note Says: This collaboration is long overdue and worth the wait.
Album Review: At the Woodstock Festival in 1969, Carlos Santana and the band that bears his name was coming into their full musical power. In the next two years they produced three of their most memorable albums, Santana, Abraxas and Santana III, bringing Latin rhythms and Carlos' incredible guitar soloing to rock radio with hits like "Evil Ways," a reworking of Fleetwood Mac's "Black Magic Woman" with "Gypsy Queen" "Oye Como Va" and "Samba Pa Ti."
Formed in San Francisco in the ever growing wake of the Grateful Dead, which launched thousands of jam bands, Santana had discovered a unique sound mixing the Latin percussion with blues and improvisational jazz and rock instrumentation. By the time they got around to recording III, the 17-year-old Neal Schon had come on board as second guitarist, and those are his solos on the album's two biggest singles, "Everybody's Everything" and "No One to Depend On."
Schon recorded on one more album with the band, Caravanserai, a jazz oriented step in a different direction for Santana, then joined up with keyboardist Gregg Rolie to start their own band, Journey. Over the next four plus decades, Santana experienced a variety of personal changes, while Carlos took Santana in a more experimental direction.
It took music industry genius Clive Davis to harness Carlos Santana's raw creative talent in 1999 to make his biggest selling album of all time, Supernatural, which paired him up with vocalist Rob Thomas for the album's monster single, "Smooth," and included collaborations with Everlast, Lauryn Hill and CeeLo Green, Dave Matthews, and Eric Clapton.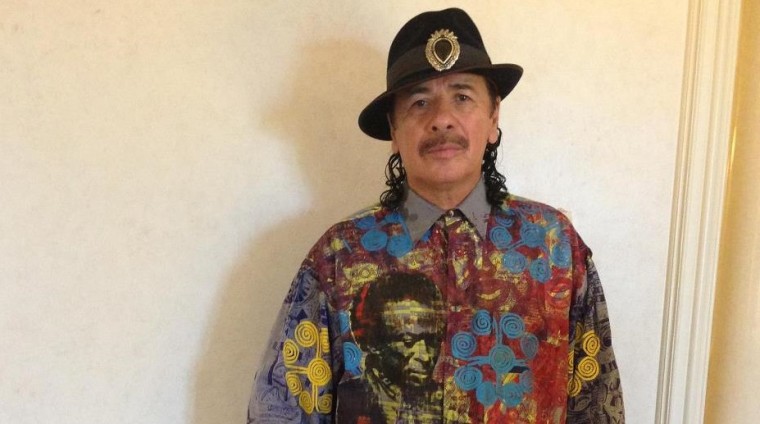 After all these years, Santana IV marks the reunion of the 5 main players that drove the sound and success of III: Carlos Santana, Neal Schon, Greg Rolie (keyboards), Michael Shrieve (drums), and Michael Carabello (percussion), in addition to two long-time Santana players, bassist Benny Rietveld and percussionist Karl Perazzo.
Santana IV finds the band at their best on the rather expansive instrumental tracks, the expansive 7+ minute jam that pays tribute to the historic venue, "Filmore East," the powerfully rhythmic "Echizo," and riff heavy but too short "All Aboard," and the quiet ballad "Suenos," the bluesy "Leave Me Alone," and the set opening "Yambu," sung in Spanish.
Musically, tracks like "Shake It," "Anywhere You Want to Go," and "Choo Choo" work well, bring strong grooves and solid, emotive soloing, but are tainted immature lyrics dripping with sexual innuendo. No matter how good the music is, and these songs are often great, I don't think anybody wants to hear a guy in his 60's tell a "sweet young girl" to come sit on their lap.
But if you can overlook these lapses in good taste, the 16 tracks here created and performed by these veteran musicians have much to commend them. The two songs featuring guest vocalist Ronald Isley, "Love Makes the World Go Round" and "Freedom In Your Mind," aim toward a more elevated, even spiritual connection, but even here the lyrics feel hastily written, and lacking in poetic depth.
On the whole, it's great to hear these players pulling such strong performances out of each other. Schon, Santana and Rolie all shine on their instruments, each one trying to out-do the others. This collaboration is long overdue, and aside from those lyrical missteps, it's certainly worth the wait.
Key Tracks: "Yambu" / "All Aboard" / "Leave Me Alone"
Artists With Similar Fire: Los Lobos / Grateful Dead / Alejandro Escovedo
Santana Website
Santana Facebook
– Reviewed by Brian Q. Newcomb
Latest posts by Brian Q. Newcomb
(see all)