The Hold Steady


Teeth Dreams
Washington Square/Razor & Tie Records [2014]



Fire Note Says: The Hold Steady beef up the guitars and expand the songs on the arena ready Teeth Dreams.
Album Review: In today's music scene I challenge you to start naming legitimate rock groups that have only released albums this decade. Sure, you might name a few but more now than ever there is a sub-genre to all things rock. It could be pre, post, radio, chill, wave-something, neo-something or Nickelback-like (which does not count) or some other combination of terms to describe a splinter sound of rock. That brings us to The Hold Steady's sixth album Teeth Dreams. It is the group's first release in four years and two years since lead singer Craig Finn's solo record. It is also the first album that I will concede that The Hold Steady feel like a rock band that separates themselves out from Finn's early Lifter Puller days and their first several albums that I feel have a more indie edge to them.
Stamping this elder statesman of rock tag on The Hold Steady is a dangerous game because part of me is afraid that their catchy bar rock is totally going the wayside of these more flushed out song structures. Teeth Dreams backs that fear up on the surface as the album possesses ten tracks averaging almost five minutes apiece. That is a lot of bang for the buck but does their more cautious approach work? Yes and no. On the plus side, The Hold Steady have added former Lucero guitarist Steve Selvidge to the ranks as a full-fledged member. This sets up an interesting dynamic with mainstay Tad Kubler. It also makes Teeth Dreams sound big as they use the extra muscle to bust out guitar duels that work perfectly with the layered vocals. The combination of the two is made for an arena size space. This bigger canvas also allows Finn to show off his vocals and lyrics more like on the closing just over 9 minute "Oaks." It is a song that emphasizes that things are never the same and that time does not necessarily heal as everyone just tries to hang on in an anxious filled world. Deep stuff but a big closer for big record.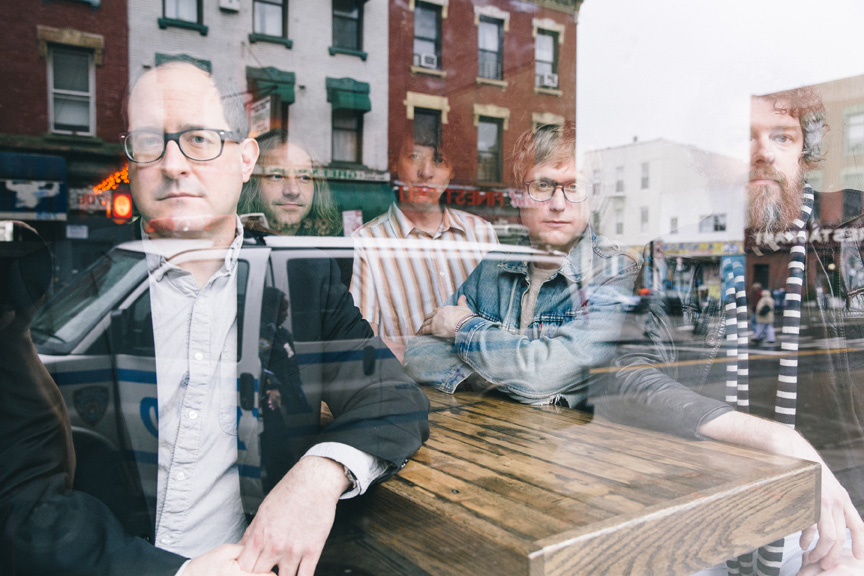 The downside of the Hold Steady's move into this expansive rock environment is that several tracks feel too long. I do like the single "Spinners" but the minute shorter radio edit is even better. "The Ambassador" is a "lighter up" soaring ballad that keeps rolling past the five minute mark and for me starts off the middle of the album unnecessarily too slow. You also get a more generic sounding track like "The Only Thing" that just has no zip and keeps a mid-tempo beat that never got anywhere for me.
Teeth Dreams is not a bad record by any standard as it is a good representation of where The Hold Steady are today. Are they a modern Bruce? Not sure, but this record, more so than anything they have released, has that large appeal sound that possibly could grab a larger fan base. With their previous sharp bar rock smoothed out with the help of producer Nick Raskulinecz (Foo Fighters, Rush, Deftones) The Hold Steady have made an album that does not take many risks but overall is a grower. Like most of their albums, Teeth Dreams does get better upon repeat listens. Take em or leave em, fans need to make a decision if they are willing to evolve with The Hold Steady. If you are, then Teeth Dreams will work just fine – If not, you might want to go crank their 2005 single "Your Little Hoodrat Friend" from Separation Sunday and drink a beer to the good times. Despite which side you land on, The Hold Steady are one of the closest things currently to a rock band as Teeth Dreams is a honest record that may not have all their earlier edge but still sounds pretty good when you turn up the volume and guaranteed to play great live!
Key Tracks: "I Hope This Whole Thing Didn't Frighten You", "Spinners", "On With The Business"
Artists With Similar Fire: The Replacements / U2 / Foo Fighters

The Hold Steady Website
The Hold Steady Facebook
Washington Square Music
Razor & Tie Records
– Reviewed by Christopher Anthony

After spending the early 90's managing a record store, the mid to late 90's producing alternative video shows and 00's blogging about the music scene Christopher Anthony is always ready to hear new music.

Latest posts by Christopher Anthony (see all)
Please follow and like us: