Biffy Clryo: Opposites [Album Review]

Biffy Clyro


Opposites
Warner Bros. Records [2013]



Fire Note Says: Biffy Clyro makes a mainstream (double!) alternative rock album with Opposites.
Album Review: Biffy Clyro – the name sounded like nonsense when I saw that I had a new album to review. The Scottish band primarily consists of Simon Neil, James Johnston, and Ben Johnston and Opposites is their sixth studio album. Biffy Clyro's name is of mysterious origins; as I listened to the album the first time I imagined what its etiology was. Could it have been a reference to an obscure Monty Python sketch? Or a forlorn crag somewhere in Scotland? Or some kind of spoonerism (turns out this is one of the explanations that the band itself offers)? Regardless of the name I was surprised that I'd never of it before after many years and five previous LP's – this album was solid and harkened back to 1990's alternative rock.
Opposites is a double album and to its credit does not feel filled with fluff. In fact, the end of the second album held many of my favorite songs. Album one kicks off with standout track "Different People," whose organ and vocals reminded me of Coldplay. About two minutes in the sparse arrangement is forsaken and the song turns into an arena rock anthem. There was a syncopated beat that reminded me of Rush or the Pixies. In fact, Biffy Clyro borrows from many bands throughout the album. I heard traces of the aforementioned bands, as well as Foo Fighters, Incubus, Nirvana, and Weezer. Yeah, basically all the bands I listened to in high school. Opposites takes a hard turn after the first three tracks, but there remains a nice balance between straight-up rock and a harder, crunchier sound. I found the poppier tracks on the first album, like "Biblical," to be more to my liking.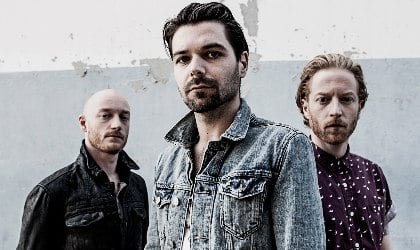 The sound diversifies on the second album. "Spanish Radio" begins with a trumpet intoning a mariachi sound. That track and "Trumpet or Tap" made great use of the offbeat, syncopated rhythm that kept the pace moving. I felt compelled to move when I heard these tracks. "Spanish Radio" also gives a great example of the harmonies that provide the backbone of many of Opposites' songs. "Pocket" is sandwiched on the second album and makes use of keyboard and guitar. The song does nothing new but what it does it does very well. Maybe it's the Scottish brogue that Neil sings with but the songs sounded new or distinct enough to keep my interest.
It's easy to see why Opposites was Biffy Clyro's first number one album in the UK; it's a great (double) album. I found the album to be accessible and diverse enough to keep my interest over 78 minutes. If you enjoyed 80's and 90's alternative music you will find yourself right at home with Biffy Clyro – I'm astounded that this was my first exposure to the band. I'm eager to look both backwards and forwards into their catalog.
Key Tracks: "Different People", "Biblical," "Pocket", "Spanish Radio", "Trumpet or Tap"
Artists With Similar Fire: Coldplay / Incubus / Frightened Rabbit
Biffy Clyro Website
Biffy Clyro Facebook
Warner Bros. Records
-Reviewed by Matthew Heiner

I appreciate being able to write for The Fire Note, as it gives me an excuse to keep up with what's happening in new music.

By day I am a dad and a psychologist; I often use music as a way to connect with both my kids and my clients. One of my proudest moments as a father was when my 12-year-old daughter told me of her undying love for Radiohead.

Latest posts by Matthew Heiner (see all)
Please follow and like us: