Tim Kasher


Adult Film
Saddle Creek Records [2013]


Fire Note Says: Tim Kasher returns to a more straightforward rock sound on his solo sophomore album.
Album Review: Tim Kasher is still best known as the frontman for Cursive and The Good Life, but Adult Film represents his sophomore solo record. To call Kasher theatrical is typically an understatement as his emotionally driven records have always been filled with an indie rock passion. 2010's debut solo effort, The Game Of Monogamy, was much more an orchestrated affair that added in strings, harp, oboe, flute and trombone courtesy of the Glacier National Symphony. It was a record that was grandiose in every sense but seemed like an appropriate avenue for Kasher's solo record debut. Going down the same road on Adult Film would have been a mistake, as it would have equaled a been there done that type of retread. The good news is that Kasher turns the solo ship back around and brings his guitar along for the ride.
This blend of rock and pop is more fitting with his earlier Cursive work although Adult Film still is more reserved. Some of this is because Kasher is still a man of words and stories as his lyrics reflect on aging and mortality, growing up and growing older and how these things impact our relationships. Basically getting older is a bitch. Already knowing that may extinguish some of the edge to this batch of tracks and if you are young – you probably don't care. Not that the lyrical content is going to drive tons of fans to Adult Film but what will are several of the catchy rock numbers included on this album. The pounding beat of the deeper album cut, "A Raincloud Is A Raincloud," is a winner, as it still slips in some horns and has this bouncy chorus that is instantly memorable, as it ends with Kasher asking "why do rainclouds have silver linings?"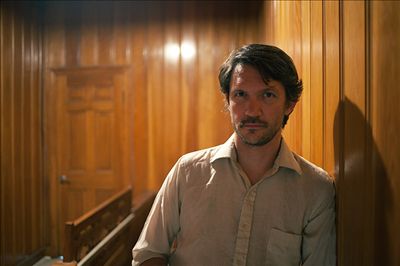 This bigger sound flows throughout Adult Film and the record is better for it. "The Willing Cuckold" has an anthem sing along to it as Kasher repeats "honestly honestly, I don't care who you are out with" that confidently addresses his position on a relationship. Other tracks, like the heavy hitting guitar riffs in "A Looping Distress Signal" make you take notice while there are some electronics swimming around in the backdrop. The synths make a more prominent appearance on "Truly Freaking Out" which has a new flavor for Kasher but combined with his driving vocals it works. Some of the slower songs here hold the album back a bit for my ear but it is more about smooth album transitions than anything else as the songs independently are not that bad. I just like to hear Kasher when he is rocking it out on Adult Film.
If you have been a longtime fan of Tim Kasher's work then Adult Film should be added to your collection. At its core, it is the same type of music that he has been producing for years. It probably is not enough to draw in a younger audience but can hold the indie scene's attention if the record is just given a chance. With Adult Film being his 13 full length record since 1997, both as a solo artist and with his bands Cursive and The Good Life, I don't need to sell you on Kasher's talent. With that said, he is not an easy pick up and play artist, so I would recommend having some time to sit with this album. Given the proper spins, Adult Film is a solid entry point into Kasher's catalog and should please both followers and newbies alike!
Key Tracks: "The Willing Cuckold", "Truly Freaking Out", "A Raincloud Is A Raincloud"
Artists With Similar Fire: Bright Eyes / Rocky Votolato / Lou Barlow
Tim Kasher Website
Tim Kasher Facebook
Saddle Creek Records
– Reviewed by Christopher Anthony

Latest posts by Christopher Anthony
(see all)