The Virginmarys


King Of Conflict
Wind-Up Records [2013]



Fire Note Says: The Virginmarys birth some immaculate rock n roll!
Album Review: When a new band of British blokes hit's the scene, they seem to garner a lot of attention and hype. Whether or not that's warranted or not The Virginmarys show us that the proof is in the pudding. The Macclesfield, U.K. trio knows how to pour it on thick. With names like producer/mixer Mike Fraser (AC/DC, Aerosmith, Metallica), Toby Jepson, and Chris Sheldon (Pixies, Foo Fighters, Biffy Clyro) their debut album, King Of Conflict, shows chops for days. The album, recorded live in the studio, is the definition of excess, grandiose rock n roll fantasy. It's the reason that we fell in love with bands like Led Zeppelin, Foo Fighters, AC/DC, and The Rolling Stones.
The Virginmarys put up an intense front from rancorous riff ragers, spontaneous sing alongs, and heavy hitting skin pounders. It may sound like I'm setting up expectations for cock rock, and that may be true but it's the use of different styles and recreation techniques that helped me shed that notion. "Dead Man's Shoes" tears into your ears with a straightforward palm muted riff that bursts into full on rock n roll. One thing that I found surprising is the chorus that takes lessons from Dave Grohl. "Portrait of Red" commands that you take a listen with lyrics such as "Come on and do me some harm," or "A pain from her hell feels like a pain from my heaven," and let's not forget "Baby treat my body like a canvas." It's very clever and shows substance other than being a one trick pony.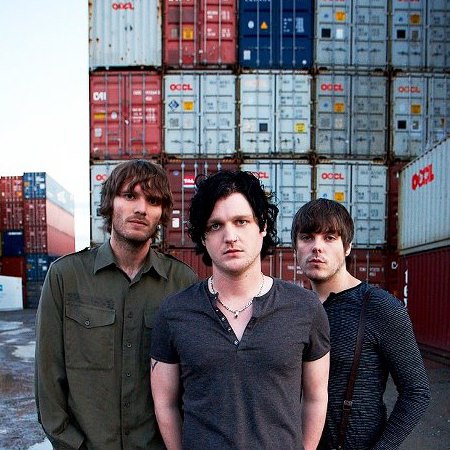 One of my personal favorites, "Out of Mind" is the AC/DC song that they never wrote. If you listen hard enough, Malcolm Young holds down the rock steady rhythm-the only thing missing here is Angus Young's blue scales antics over top. "Running For My Life" is a clever dynamic of gruff Brit vocals, a medium soft finger stroke pattern, and my favorite part, an Audioslave Tom Morello induced riff that tears the song apart with confidence-yes, its guitar wankery, but it's wankery done right. "Dressed to Kill" goes for the same playful loud/soft dynamic and still manages to keep things interesting. "My Little Girl" is the tribute to blues garage rock riffers all over, except this one goes to 11. Album book end, "Ends Don't Mend" is the all-encompassing big rock finish that only helps the album further. It's "Let There Be Rock", "Since I've Been Loving You", and "Smoke On The Water" all wrapped into one. After the dead silence and hidden near the end of this 14 minuet monster is an interesting singer/songwriter 21st century Dylan ridden ballad of true feeling, love, and loss. It honestly felt like a fitting ending to the fray.
When I received The Virginmarys' King Of Conflict I was already predicting disappointment. I have no idea where these preconceived notions came from because, this trio set me straight. Call me a sucker for falling for the hype and fantasy. It gave me the crunchy riffs, big rock style, and larger than life attitude that drew me to the rock act of yesteryear. King Of Conflict is a record to crank and jam for endless air guitarists to come.
Key Tracks: "Out Of Mind", "Running For My Life", "Ends Don't Mend"
Artists With Similar Fire: Led Zeppelin / Audioslave / Heaven's Basement
The Virginmarys Website
The Virginmarys Facebook
Wind-Up Records
-Reviewed by Christopher Tahy

Latest posts by Christopher Tahy
(see all)